Account-based marketing or what you commonly hear being referred to as ABM is a hot term in the B2B space. Taking into account the increasing competition, noise on digital platforms and the constant battle to get your message noticed in their inbox, it's only obvious that B2B marketers are increasingly choosing a targeted approach. 
What is account-based marketing? 
Account-based marketing is a focused growth strategy wherein a B2B marketer treats an individual customer as a single market. In this approach, the B2B marketer focuses on creating content, events, and campaigns that are solely dedicated to the prospect accounts, instead of the entire industry in general.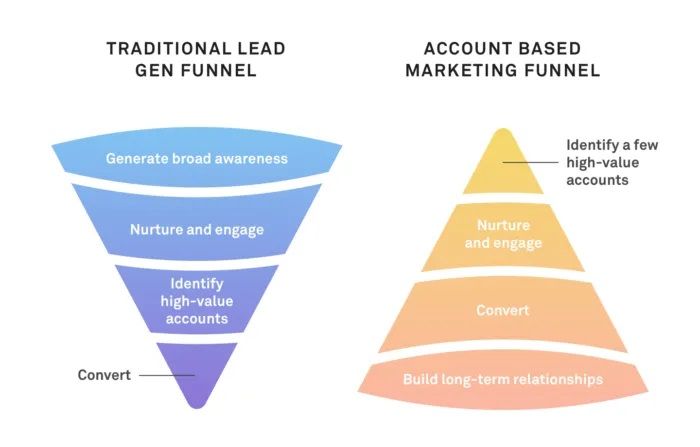 Why use account-based marketing in B2B? 
As the digital landscape grows, new B2B technology is making it easier for modern marketer to reach their target audience. But as it becomes easier to reach consumers, there's also an upsurge in ill-targeted campaigns and spam. 
Think about the last time you selected at least ten emails in your inbox to delete – all without even opening them. 
So while a B2B marketer is reaching their target audience, they're not really able to get their message conveyed. With low engagement rates, comes an even lower conversion rate! 
That's where account-based marketing in B2B comes in. 
1. Streamlined targeting
Account-based marketing focuses only on accounts that truly matter to a business. So all your marketing efforts like creating content, email drip campaigns and social media posts become more targeted and personalized. With better personalization, the likelihood of standing out increases, driving in higher engagement and conversions. 
2. Simplified buying
With the number of people involved in a B2B buying group increasing, the sales cycles are getting longer. Account-based marketing takes away the focus from generating leads to streamlining all efforts to the 'buying group'. The strategy in account-based marketing focuses on the 'way' a company makes purchases. 
3. Prioritized pipeline
Typically, a B2B marketer would create multiple marketing and sales campaigns to address all the leads coming in. But with account-based marketing, the efforts for the pipeline can be prioritized based on the size of the target account. For instance, if there's an enterprise lead which is further along in the sales cycle, the campaigns can be targeted at them specifically – the rest can be nurtured using marketing automation. 
The targeted approach to the pipeline helps businesses shorten the sales cycle. 
4. Improved relationships
An average business loses 15% of its customers every year. But with the increasing competition across industries, customer retention has become more important than ever. Since account-based marketing follows a hyper-targeted, personalized approach, it strengthens your bond with the client right from the start. It also aligns your marketing, sales and customer support teams to ensure the customer renews contracts at defined periods. 
5. Measurable returns
One of the biggest challenges that a B2B marketer faces today, is attribution. Typically a business needs to be present on multiple channels to reach its target audience. This makes it tougher for marketers to associate campaigns with the revenue they bring in. Most performance data leads to assumptions on what's working and what's not. 
But with account-based marketing, you know which campaigns are being used to reach a prospect and engage them. For instance, you're easily able to see what a three-month email marketing campaign was able to bring in as revenue vs the campaign you were running on LinkedIn. 
In case you're wondering just how many companies are really using account-based marketing, here's some data from Smart Insights. 
How to run an account-based marketing campaign? 
Account-based marketing is extremely targeted. That's why it's important to follow a strategic approach to creating a campaign. A typical B2B marketing agency would go through the following steps to create a high-performing campaign: 
1. Identify and define your target audience
First things first, account-based marketing focuses on targeting organizations. So don't confuse the defining of your target audience and creating customer personas. 
When creating your target audience for account-based marketing, look into data like industry, size, location and the annual revenue of the company. Additionally, look at how much market influence the brand has, its purchase behaviour, probability of repeat purchases and the expected profit margin. For this, the marketing and the sales teams need to work together. 
2. Research your ideal prospect accounts
In account-based marketing, you're reaching out to organizations. But each of those organizations should be treated as a single persona. Just like you would in creating a customer persona, it's a good idea to get detailed information and representation of your clients. 
For example, knowing the key players at every stage of decision-making can help streamline your outreach. Similarly, knowing factors that influence an account's purchase decisions, can help you make an offer that is tailor-made to their needs.
A good place to do your research for account-based marketing is the LinkedIn Sales Navigator. 
3. Choose your marketing channels
The Pew Research Center profiled social media users on five major platforms – LinkedIn, Twitter, Facebook, Instagram and Pinterest. The study shares how different channels are being used by people, why and how they consume content on each. So go back to your account research to see what channels are being used by your prospects and for what. 
For instance, they could be using Facebook solely for the purpose of publishing company updates. But they could be using LinkedIn more aggressively to look for solutions to grow their business. Since the content consumption is different on both platforms, you will need to tweak your content strategy accordingly or choose the one that suits your content the most.
4. Create personalized and targeted content
Now that you know who you're targeting and have a list of accounts you'd like to reach out to, it's time to engage them. This is where inbound marketing comes in and you're required to create new and contextual content for each of the prospects. 
The content needs to be personalized based on what the company is looking for, what they want to achieve, what content they're already engaging with and what their purchase behavior looks like for similar products/ services. But more importantly, also what channels the prospect is using to consume such content. 
Content can include micro-blogs, articles, case studies, targeted webinars and more. It entirely depends on what format your accounts are engaging with. 
Before starting, read our guide on how to use data to create better content for your customers.  
5. Run your campaign in a consistent manner
Once you have all the above in place, it's time to run your account-based marketing campaign. But what you need to ensure is consistency while doing so. 
You need to maintain a consistent message across all the channels you use for marketing. You will need to ensure that your outreach campaign is being sent out at the right time, to the right account – with a message that doesn't confuse the prospect, and helps nurture them into the next stage of the sales cycle. 
Don't be afraid to use marketing automation or mix in a few manual outreaches into your account-based marketing campaign. Keep account-based marketing best practices in mind to create high-converting campaigns. 
6. Test, measure and optimize campaigns
Account-based marketing campaigns should be no different than your other business growth strategies. Even though you know exactly who you're reaching, why and how, you need to closely measure the performance of your campaigns. 
A few metrics you should be keeping an eye on are your pipeline growth, target account engagement rate and the revenue generated from each account. 
As you notice changes in the way target accounts are interacting with your campaigns, also continually test different approaches. Change small aspects of your campaign – one at a time and measure their impact on the conversation and how they lead the account through the sales cycle. 
Continually testing, measuring and optimizing your account-based marketing campaigns is the secret to success. 
Do you need account-based marketing? 
About 67% of CMOs have trouble proving the ROI being generated from different marketing efforts. This often results in companies spreading themselves too thin to reach their target accounts and not being able to identify the channels working for them.  
That's where account-based marketing comes in. 
B2B marketers are able to reach their audience in a targeted manner and with hyper-personalization. This defines the prospect market they look into and the tactics they use to reach them, making it easier to measure the impact of any effort made. 
Making data-backed marketing decisions equals more ROI for your business. Is your organization ready for account-based marketing success?
Ready to get started with account-based marketing? Get in touch with us.