Enterprise accounts are goldmine clients for most B2B companies. However, your general campaigns just won't cut it for these premium brands. Instead, you need highly targeted customer journey funnels with personalized messaging to successfully convert these accounts. For this, you need a well-strategized account-based marketing plan.
In simple terms, account-based marketing is when you identify the accounts you will be targeting, engage them with personalized campaigns, build a lasting relationship with them and finally, convert them into a client.
If you aren't familiar with account-based marketing, you can read about the benefits of this tactic and how it works.
Let's dive into the top 8 account-based marketing tips you need to keep your eye on for next year.
Top 8 Account-Based Marketing Tips for 2020
1. Align sales and marketing
Account-based marketing is the best way for businesses to acquire large accounts. It has helped marketers successfully increase their ROI, with lower acquisition costs involved.
But, ABM is a strategy that works at the intersection of sales and marketing. This means that both marketing and sales teams need to work in sync to create a seamless customer funnel for these crucial accounts. From picking the targeted leads, prioritizing them based on insightful data sending them personalized content to getting on a tutorial call with them, account-based marketing is tangled between the two departments.
But, one of the biggest challenges in ABM is the lack of alignment between the two departments. Oftentimes, there is little clarity about the status of their campaigns between the teams and a lack of constant communication causes problems with converting the account successfully.
An integrated work management dashboard can help both teams track every lead and stay in the loop at all times. Many companies use marketing and sales suites like Hubspot to easily interlink data and track their funnel across the board.
2. Leverage predictive analysis
Analytics is a great way to understand how your current marketing and sales strategy is working. But, your past data wouldn't give you accurate insights to create a high converting account-based marketing plan. Since accounts are dynamic, their needs and problems are highly specific. This is where predictive analytics would help.
Predictive analytics can help you prioritize accounts that are sure to convert and buy from you, ensuring you aren't pitching to accounts that need more time to consider you. Your sales and marketing teams can use predictive analytics to generate new leads and better profile the accounts.
Use these predicted insights to understand what messaging works for which account and customize your content, personalizing it to the account and their needs. This means intelligent engagement, better targeting, personalized content, and higher conversion rates.
3. Personalize
Personalization has always been a proven way to increase engagement. It allows you to talk directly to the person you are pitching to, providing them with exact solutions rather than sending messages that are generic to your audiences.
90% of marketers using personalization report a measurable lift in visitor engagement (59%) and conversion rates (61%). In fact, 74% of marketers believe that personalization should be a bigger priority in their business as it helps build better customer relationships and experiences.
Personalization is integrated into account-based marketing. The large businesses you are selling to don't want to be given a generic solution. When marketing to accounts, you must personalize your message to the needs and problems of the account. Since you already have a profile of each account you are targeting, this wouldn't be hard.
Companies that use ABM to acquire clients have found innovative ways to pitch their products and solutions by personalizing their strategy to the account they are talking to. Read a few examples of how they did it.
4. Deep dive into SEO
What do you do when you see an advertisement about a product you are interested in? You do a Google search to learn more about it and its alternatives. The accounts you are targeting are wired the same way. They will be doing the necessary research to find the best option— reading how-to guides, finding reviews of the products, and watching a tutorial on how the solution works.
Marketing teams need to focus on long-tail and LSI keywords to capture accounts that searching for specific solutions. Use past data, conduct customer research on their search trends, and monitor the performance of their keyword usage to optimize your ABM strategy and nurture leads easily.
Read this blog by Marketo on using SEO in your account-based marketing strategy.
5. Automation
With so many moving parts involved in account-based marketing, you need to automate many of your tasks to nurture leads, monitor performance, and make smarter decisions.
With automation, you can hyper-target your marketing efforts and understand how your potential accounts are arriving at your website and what pages they are looking at. If you haven't already set up automation within your Account-based marketing campaigns, it's about time you do. Tools like Marketo, HubSpot and ActiveCampaign can help you set up these campaigns with ease.
With automation, you can:
Tag and segment your accounts

Set up workflows that run based on the conditions specified to provide a personalized experience to your targeted accounts

Tailor content that is sent to the right accounts at the right time

Get insightful results that help you test and optimize your future steps
Use automation to halve your workload and ensure higher success!
6. Webinars
Unlike a blog or an ebook, webinars are more personalized and dynamic to the live audience. Your target audience can ask you questions, get solutions on the spot, and engage with you deeply.
If you have the time and the budget, webinars can help you tap into the industry you are focused on and target the accounts more specifically. Webinars are about attracting quality leads and not about gathering a large audience. Set up webinars with a small audience, know what gaps your participating accounts have, and give them time to present their problem and walk through possible solutions with them.
After the webinar, send each of your participants a summary of the webinar and suggest getting on a call to getting on a sales call with them to see where your business can help theirs. This strategic approach shows them you care about helping them succeed and you are more likely to convert them when you start talking sales.
Read more about setting up a webinar and quickly start planning your first one.
7. Create highly personalized content
Account-based marketing is all about how close you can get your strategy to what the target account needs. So when you're focusing on making reach outs in a personalized manner, why create content that is generic?
Now there are 3 effective ways of personalizing your content:
Create a personalized collection of content – if you're targeting hundreds of accounts at once and still want to make your outreach contextual (one to many)

Update existing content for different industry verticals or buyer persona – this is when you're targeting small segments of target accounts based on their industry, technology and other parameters (one to few)

Organize content for personalized sales outreach – ideal for six to seven-figure deals where you're targeting only a handful of accounts and have adequate information on them for personalization (one to one)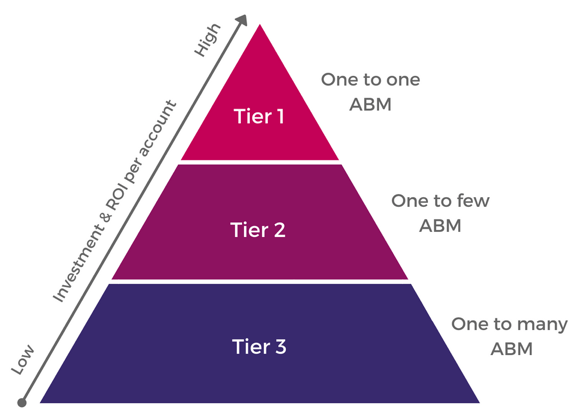 source
But just creating content that is targeted at specific accounts isn't enough. You need to make sure you're reaching out to the accounts and offering this piece of content to them in as personalized a manner – be it on LinkedIn or email.
Most marketers choose to create a generic strategy for content. The reason is that it can get really difficult to personalize content for all target accounts. If you think about it, looking into individual needs, challenges, preferences and other parameters can be overwhelming.
But you can create personalized content at scale for account-based marketing. We wrote a step-by-step guide on creating personalized content along with a framework we swear by. Read it here.
8. B2B influencers
B2B influencers are a very new concept for businesses running ABM initiatives but, it's sure to fast-track account acquisition. When marketing to specific accounts or enterprise accounts within an industry, you might want to incorporate B2B influencers within your strategy.
Unlike your lifestyle influencers on Instagram, B2B influencers are known to recommend top tools and products they have their eye on or even an article they read that they loved. Personalities like GaryVee and Neil Patel are great examples of influencers within the B2B domain. These influencers are trusted experts within their field and people are more likely to trust and take action on a recommendation from them over any brand-driven messaging.
Think of the top B2B influencers within the field that you are targeting. This doesn't have to be limited to just well-known people; even popular companies can be an influencer to your audience. Find ways to get their approval— it can either be a well-crafted article you wrote that mentioned the influencer or you could have a video of how powerful your product that catches their eye. Look through your existing client base and find one who would endorse you online.
Ready to attract enterprise businesses with account-based marketing? Get in touch to plan a smart ABM strategy now!