One of the reasons most brands shy away from content marketing is the false belief that content marketing doesn't always tie back to a business outcome.
The reason for such a conception is that the way content is measured by most people is the same as other marketing channels like SEO and Paid advertising. Which are leads and traffic.
Although content marketing can deliver both leads and traffic there are multiple ways content can add value to your business.
Unlike other channels where the focus is on immediate conversion; content marketing gives your business leverage and delivers a snowball effect of trust and attention which is a cornerstone for any business which wants to win in 2017.
The other false belief that most companies have about content is that one has to have complex tools to understand the true impact of content marketing.
The impact of content marketing can be measured using free tools like Google Analytics (GA) and all reports can be automated.
Using this guide you can prove better ROI of your content marketing efforts and get more backing of time and investment from your management.
Before you learn to measure, learn to segment
Segments are subdivisions or dimensions which one uses to get deeper insights into the problem.
For example, if the number of shares is a metric; content type (text, video, image) is a segment.
Metrics are not just a way to measure progress. It should be used to derive actionable insights from it.
Metrics by themselves rarely show problem areas in your campaigns.
Using segments one can spotlight where exactly the problem is and what can be done to keep improving the overall metrics.
Few popular segments every content marketer can use
Channel Type – Helps you understand which social channel your content is not firing
Content Type – You can know what type of content your industry like most.
Time and Day – Understand the browsing behaviors of prospects in your niche.
Here are 7 metrics that you need to measure to see the progress of your content marketing efforts:
1. Amplification Rate
As per Avinash Kaushik, the amplification rate is the Number of people who share the piece of content received by the number of posts submitted on the particular channel.
For instance, if you submitted 10 blog posts in August and they got shared 234 times across all social channels then the amplification rate for your blog for August is 23.4.
Amplification rates can be measured across multiple segments like content types, channels, time, and day.
2. Conversation Rate
Putting a piece of content that doesn't attract comments is not rewarding.
Conversations bring attention to peer groups and you're being part of it, will get your trust.
The conversation rate is a measure of the number of people who comment on your posts for the number of posts published.
If you published 25 posts on Facebook in September and 56 people participated through commenting. Then the conversation rate for Facebook for the month of September is 56/25 which is 2.24.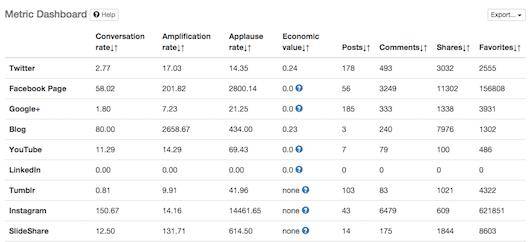 By connecting your social media and WordPress accounts to TrueSocialMetrics you can measure amplification and conversation rate.
If you don't want to use a third-party tool you can use independent official tools for this purpose
Measure the amplification and conversation rate of your Facebook posts using Facebook Analytics
Measure amplification and conversation rate of Twitter using Twitter analytics
Measure amplification and conversation rate of Pinterest using a Pinterest Business account.
Measure the amplification and conversation rate of your website content using this guide and share count API.
3. A visitor to Lead Conversion Rate
Leads are the closest marketing metric that ties to immediate business outcomes.
Measuring visitor-to-lead conversion rate gives you the exact measure of how much your content marketing efforts are contributing to the entire B2B marketing mix.
You can measure visitor-to-lead conversion rate by using Google analytics.
To Be Noted
Make sure all macro and micro goals are set up.
Tag URLs – To measure campaign performance use the campaign URL builder.
Check for assisted conversions, not just conversions.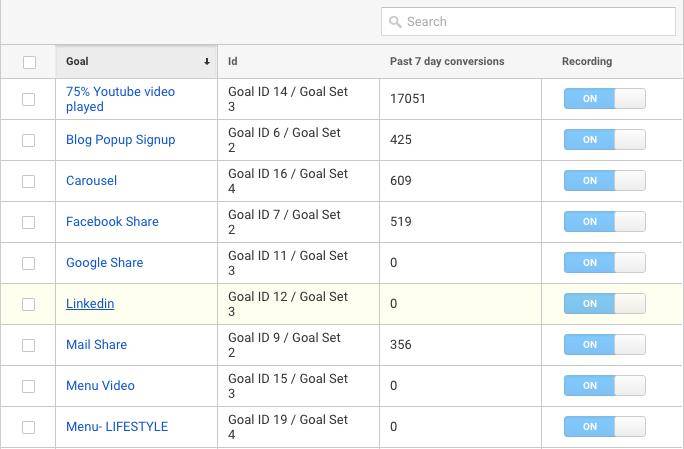 4. Revenue Delivered
Pushing up the top line of the company is where the prime focus of a B2B marketer.
With correct URL tagging and the right tools, one can attribute how much revenue your content marketing efforts have contributed to the company's growth.
You can measure this using Google Analytics once you know the average revenue every lead drives to your business.
5. '%' time decrease on each call
Content marketing is not just bringing in users to your site and converting them. It is also about retaining your existing user base.
Having valuable articles and a support base filled with detailed tutorials on how to use your service or product makes the life of the customer service team a lot easier.
This directly shows up in how many times or how many customers need to call you for help. The same can be measured in your business phone service system by the number of calls and time spent on each call attended by the customer service executive.
6. No. of journalists and bloggers in your subscribers' list
Once a blog starts getting traction it can be used as a free-standing platform to make announcements.
Once you open up an option for users to subscribe to your blog you are opening up a channel for free PR.
If your blog is subscribed to by popular publishers and bloggers, all your product or business announcements will hit their inboxes without a need for you to hire a PR agency to get the word out.
Check in to your current email subscriber base and see how many of the subscribers are from other popular publications in your industry.
7. No. of Relationships Built with Influencers
Content marketing helps to build long-term relationships.
Writing great content gets you referred to in popular online publications.
Contributing to others' blogs as a guest blogger gets you a new audience and builds relationships with other authors on the blog.
When other publishers see that your blog is building traction they will be willing to contribute to your blog.
As a beginner, you can start by using this Google analytics dashboard to picture how your current content marketing efforts are doing.
Sometimes a professional team may be hired to build your content calendar and guide you with the metrics.