Table of Contents:
The B2B marketing landscape in a post-pandemic world is starkly different from what it used to be. Businesses have had to rethink and realign their marketing strategies in radical ways. 
The global health emergency saw B2B buyers and sellers take to online channels en masse, an anti-crisis response that has now become the new norm.
According to McKinsey research, about 70-80% of B2B decision-makers prefer digital self-service or remote customer interactions. However, the B2B marketing environment abounds with challenges, and businesses must constantly adapt to stay on top of their game.
As businesses strive to find ways to generate new leads and improve performance, inbound marketing is something B2B marketers should not miss out on. First, let's explore what inbound marketing is all about before we get into what it can do.
Understanding Inbound Marketing
Before we address the challenges of modern B2B marketing and how to approach them, it is pertinent to revisit what inbound marketing strategy is.
Inbound marketing strategies attract and engage leads through valuable and relatable content. Unlike traditional or outbound marketing methods, inbound marketing focuses on creating and delivering content for a tailored experience.
While the sole intention of outbound marketing is getting customers to buy your products, inbound marketing connects with the audience, nurtures leads, solves their problems, and delivers the content they want. As such, inbound marketing campaigns work in three ways:
1. Attracts the right audience with valuable content
2. Engages the audience with insights and solutions that address their pain points
3. Delights and empowers customers with support and assistance post-purchase.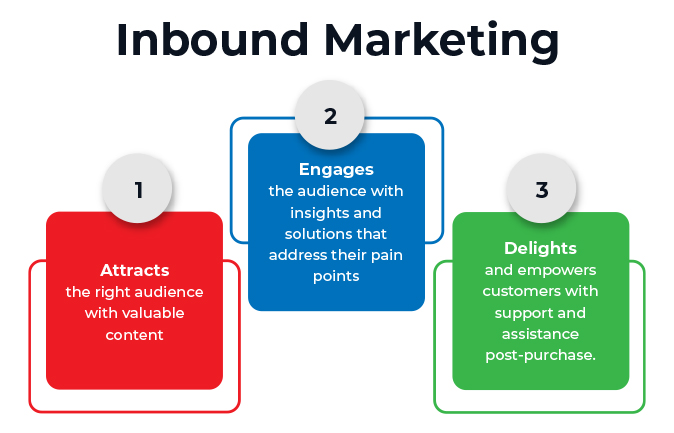 Marketers keen on leveraging the inbound strategy invest in creating interactive content and authentic brand stories that resonate with the audience while reflecting the brand's values. 
Inbound marketing strategy influences people to interact with brands through social media, email marketing campaigns, webinars, blog comments, polls, quizzes, and the like. As a result, inbound marketing strategies are more impactful for creating brand awareness, targeting audiences, fostering leads, and retaining customers.
Solving Modern B2B Marketing Challenges With Inbound Marketing


When it comes to modern B2B interaction challenges, inbound marketing offers innovative solutions for brands to keep up with customer demands and expectations. From creating, producing, and publishing high-quality content to attracting and engaging audiences, inbound marketing services provide the best value to B2B organizations.
While the massive shift to digital channels has worked in favor of companies, the transition has not been smooth. B2B inbound marketing comes to the rescue with trends and technologies to overcome the challenges.
Let's dive deep into some of the most common B2B marketing challenges and how inbound marketing strategies can help resolve marketing challenges.
1. Creating brand awareness
Establishing brand awareness is a significant challenge modern B2B companies face. A business may fail to grow because potential customers don't know about its existence or may confuse it for another brand. Increasing brand visibility helps people to discover your business, reinforces your existing customer base, and helps you compete against market rivals.
Inbound marketing campaigns help generate brand awareness and spread the word about your brand to the right markets. There are several inbound marketing strategies for building brand awareness, including
Publishing quality content
Promotion through social media networks
Communicating your message with videos, webinars, and other multimedia content
Guest blogging
Collaborating with different brands and influencers
Creating referral programs
Using hashtags
Creating audience polls
2. Attracting and nurturing leads
B2B inbound marketing strategies are crucial in acquiring and nurturing leads through engaging content. You can increase your sales funnel conversions and revenue. Traditional marketing strategies are not effective in securing the attention of potential leads. Besides, conventional marketing methods leave little scope for sales teams to follow up with interested parties.
On the contrary, a B2B inbound marketing strategy enables interested parties to connect with your brand, increasing the likelihood of conversions and building lasting customer relationships.
A key inbound marketing strategy for this is identifying the buyer persona and curating content to meet their needs, interests, and pain points.
Also, creating and distributing gated content (whitepapers, case studies, e-books, and the like), SEO optimization for generating organic leads, mobile-friendly websites, social media, email marketing, and paid advertising are good strategies.
3. Retaining current customers
Attracting leads is one thing, but holding on to them is an entirely different ball game. The average customer lifespan for 30% of organizations is 0-12 months. The implication of the numbers becomes a concern because attracting a new customer is five times as expensive as retaining an existing one. Existing customers spend more than new ones and are 51% more likely to try new products. 89% of companies consider customer experience a decisive factor in increasing customer loyalty and retention. The key is to keep your customers onboard for longer, and, once again, inbound marketing is the solution.
You can adopt several B2B inbound marketing strategies to create and sustain a loyal customer base. An excellent practice is regularly publishing honest and exclusive content to establish yourself as a thought leader. Use customer buying behavior and relevant data to tailor content for your audience.
Other customer retention strategies include making your website a one-stop shop for free industry resources, creating online communities to help customers connect, and sending personalized perks or exclusive promos/offers to individual customers.
4. Dealing with slow ROI
B2B digital marketing efforts are a long haul, and some of the most effective inbound marketing strategies take time to show ROI. For instance, developing content and optimizing for search engines (SEO) is time-consuming. It is not within the marketing team's control to speed up search engine crawling or improve domain and page authority in the blink of an eye.
It is frustrating to wait for inbound marketing efforts to pay off, especially when teams across the organization have unrealistic expectations of what marketing can achieve.
Inbound marketing strategies help marketing teams set achievable and realistic goals with performance monitoring and quantifiable metrics.
Unlike outbound methods, inbound marketing techniques give better control over what is happening, especially for boosting lead generation and revenue. Consequently, businesses increased transparency of how their marketing campaigns are performing. In addition, investing in pay-per-click (PPC) campaigns speed up conversions, setting the stage for early success.
5. Improving email engagement
Globally, the number of email users stood at four billion in 2020, and the user base is likely to grow to 4.6 billion by 2025. The figures clearly show that brands should not miss out on the potential of email marketing to generate leads and retain customers. Besides, email marketing campaigns have an impressive ROI of 3600%. In other words, you can expect a $36 return for every dollar you spend on email marketing.
Despite the glaring importance of email marketing, increasing email engagement is a major challenge for 56% of B2B marketers. Also, about 62% of B2B marketers deem personalization as one of the most critical areas for improving the success of their email marketing campaigns.
Your approach to email communication determines the ROI of your email campaigns. Customers prefer to engage with brands that align with their needs and preferences. Thus, your emails must be targeted, personalized, and relevant if you want to see more subscribers and soaring engagement rates. Rethink the inbox environment by understanding your subscribers' interests, needs, preferences, devices, locations, and time zones to deliver personalized and timely emails.
6. Hiring talent
Did you know that 76% of recruiters find it challenging to attract the right talent? Another 63% say that talent shortage is their biggest hurdle. The figures are not surprising because acquiring valuable talent takes time, effort, and resources, and not every organization can afford it.
Inbound marketing helps acquire and retain the best quality hires.
Known as inbound recruitment marketing, the strategy focuses on delivering relevant content to job seekers to help Hiring Managers target talent better, interact with them, and find employee prospects.
Defining your company values and determining candidate personas are the foundation of an effective inbound recruitment marketing strategy. Similar to promoting your brand, the success of inbound recruitment relies on meaningful content that job hunters are looking for by including keywords in their searches.
The content you create for job searchers can include company culture videos, blogs highlighting work opportunities, job search tools, landing pages, and social media posts highlighting job postings.
7. Leveraging data
Data is a crucial asset for organizations thriving in today's digital age. Without data, it is impossible to understand customer behavior and tailor experiences that align with their needs and preferences. However, the key to driving personalization and business growth with data depends on how you can analyze the data to extract meaningful insights.
A 2021 survey on companies across Europe reports that 63% of businesses struggle to make sense of unconnected data sets, failing to get a holistic view of customer behavior.
Simply collecting data isn't enough – unlocking the power of data involves deriving insights and using them to drive actions and measure outcomes.
With inbound marketing analytics, you can gauge the effectiveness of your marketing strategies and derive actionable insights when needed. Tracking metrics like blog posts, internal link signups, organic and social traffic, demo signups, lead conversions, and returning visitor rates with marketing analytics tools will give you a complete picture of your performance along the inbound marketing funnel.
Inbound Marketing Best Practices for B2B Challenges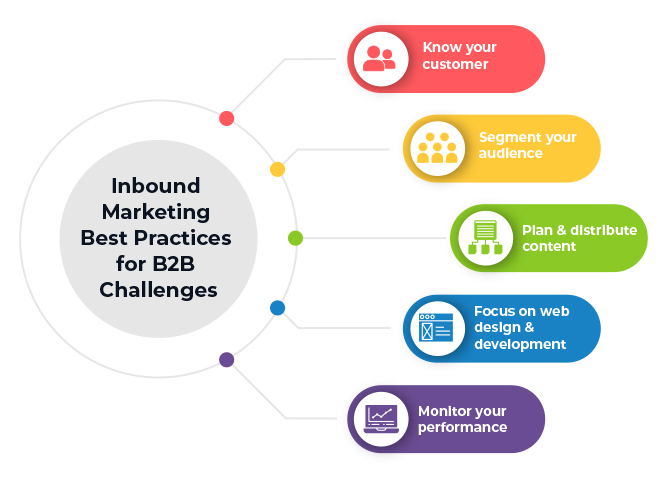 Are you a B2B company struggling to acquire and convert qualified leads through inbound marketing strategies?
These inbound marketing best practices can drive organic traffic to your site, attracting more customers over time.
Know your customer: Understanding your customers' pain points and requirements is the first step to developing an effective inbound marketing strategy. Knowing your audience is crucial to identifying the challenges they face, the goals they are trying to attain, and how to best communicate with them with value-driven content.
Segment your audience: Segmenting your audience is highly effective in streamlining email marketing campaigns. Email marketing aims to personalize, and you can connect with your audience better by categorizing them and sending targeted emails. Demographics, click-through rates, web activity, and purchase history are vital for audience segmentation.
Plan and distribute content: Content creation and distribution are integral to inbound marketing, and you must have a solid content strategy. A well-defined content strategy will help you identify the type of content your audience likes, the best platforms to attract customers, and your consistency in content production.
Focus on web design and development: Your business website's layout and design significantly impact lead generation and customer retention. Users expect a clean and appealing design with simple navigation features. No matter how solid your inbound marketing strategies are, none of those will show results without a user-friendly website.
Monitor your performance: Most importantly, track your performance and measure results to fuel data-driven decisions. Monitor your site's SEO performance and customer behavior to identify metrics like low bounce rates, content that drives conversions, customer feedback, and channels that direct the most traffic to your site.
Make the Most Out of Inbound Marketing
Outbound marketing strategies have long been the refuge for marketers to increase brand reach and capture leads. However, it lacked a targeted approach and relied on cold calls, email newsletters, print media, radio/television ads, and other methods to help brands simultaneously target a heterogeneous audience.
The global digital revolution and the COVID-19 pandemic have been game-changers, relegating outbound marketing strategies to a secondary position to inbound marketing.
Inbound marketing has become the most effective technique to increase organic traffic and boost conversion rates. Unlike traditional tactics, inbound strategies position your brand in a way that increases visibility to prospects looking for the solutions you offer.
However, inbound marketing cannot solve your business problems overnight. It takes time and consistent efforts via the right strategies to get the maximum ROI from inbound marketing.
How The Smarketers Can Help You in Your B2B Inbound Marketing Journey?
As a full-service B2B marketing agency, we are dedicated to helping businesses worldwide get the most out of their inbound and account-based marketing efforts.
As ABM and inbound marketing specialists, we help companies build brand awareness, attract the right prospects, nurture leads, drive conversions, and improve profitability.
Talk to a Smarketer to learn more about how we fulfill your B2B marketing needs!