Table of Contents:
Introduction
Google introduced Google Analytics in November 2005, revolutionizing how organizations managed SEO and search engine marketing through digital channels. Today, marketers worldwide swear by Google Analytics for extracting meaningful insights and marketing patterns.
The last decade has seen newer and better versions of Google Analytics. Each version offered brand-new features/tools, allowing marketers to fetch better market insights and create well-planned strategies for customer-brand engagement. As Google plans to wrap up Universal Analytics (UA) by July 2023, it recently released the next-gen Google Analytics – Google Analytics 4 (GA4).
While there's been digital chatter about web analysts being unenthusiastic about Google Analytics 3 sunset, the new version is promising for marketers. GA4 will offer several customizable features and tools to take Search Engine Optimization and SEM to the next level. Undoubtedly, it'll take time for marketers and brand owners to embrace and work with Google Analytics 4.
This comprehensive guide on Google Analytics 4 will help you understand the GA4 setup and how users can get the best out of it.
What is Google Analytics?
Google Analytics is a web analytics service offering data tracking and analysis for SEO and measuring your online performance metrics. It includes various statistical and analytical tools to analyze and interpret data for more intelligent business decisions.
Now, let's move on to what web analysts are asking! Is Google Analytics 4 just an upgraded version of Google Analytics 3? Not really.
Google Analytics 4 is starkly different from its predecessors. While Universal Analytics focuses on tracking online data from cookies and independent sessions, GA4 takes a privacy-first approach. Essentially, it will reduce the dependency on web cookies to track and collect data. It is compatible with several platforms and leverages an event-based data model for accurate online measurement.
Why is Google Analytics 4 more beneficial than its predecessors?
GA4 is designed in sync with the present and future analytics needs. It can track and analyze multiple user experiences and adapt to new digital technologies and developments in digital campaigning.
Besides a customizable interface, GA4 offers better, more detailed custom reports in real time. GA4's new data model lets analysts collect the data for tracking user traits, traffic, etc., as events, fuelling data-driven insights. Using GA4's new DeBug View, analysts can view and collect real-time data and test their implementation.
Previously, web analysts using Universal Analytics had to set up custom tracking. However, Google Analytics 4 eliminates this, thanks to its Enhanced Measurement that automatically tracks website user behavior. Consequently, the reliance on cookies is very low. Data reporting becomes easier because GA4 provides granular data, letting analysts generate real-time reports per their requirements.
We'll take you through a comprehensive list of benefits once we give you an overview of GA4's features.
Google Analytics 4 – Features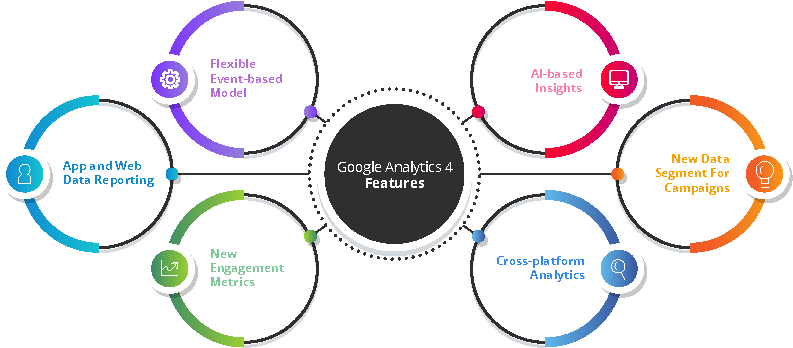 Below is a rundown of the most crucial features of Google Analytics 4 promoting better marketing decisions:
Merging app and web data for enhanced reporting – GA4 will allow the merging of web and app data for improved, comprehensive reporting. You can consolidate users arriving from multiple platforms into one place for a 360-degree data overview and better marketing strategies.
Flexible event-based model – The new system can track every user's unique behavior on a website. Instead of measuring at a broader session level, GA4 dives deeply into data metrics. It can track metrics like page views, scrolls, clicks, file downloads, etc., letting analysts measure website events.
New engagement metrics – With a flexible event-based model, GA4 includes advanced engagement metrics, including engagement rate, engagement time, and engaging sessions. These metrics will pinpoint what content works best for which digital medium.
Cross-platform analytics – With features like Exploration, Funnel, and Path Analysis, analysts can generate meaningful insights from existing business data. Web analysts can simply drag and drop a data set to measure a property. They can view a buyer's progress in the sales funnel and decode the reasons for slow or no conversions. It will allow analysts to view the customer journey, from acquisition and engagement to monetization and retention.
AI-based insights: Predictive analytics is vital for making data-driven business decisions. GA4's predictive metrics (measuring purchase & churn probability and revenue prediction) can help analysts categorize audiences based on their online behavior. Thus, they can create specific target personas and attract and engage them with highly personalized marketing strategies.
Google Analytics 4 – Benefits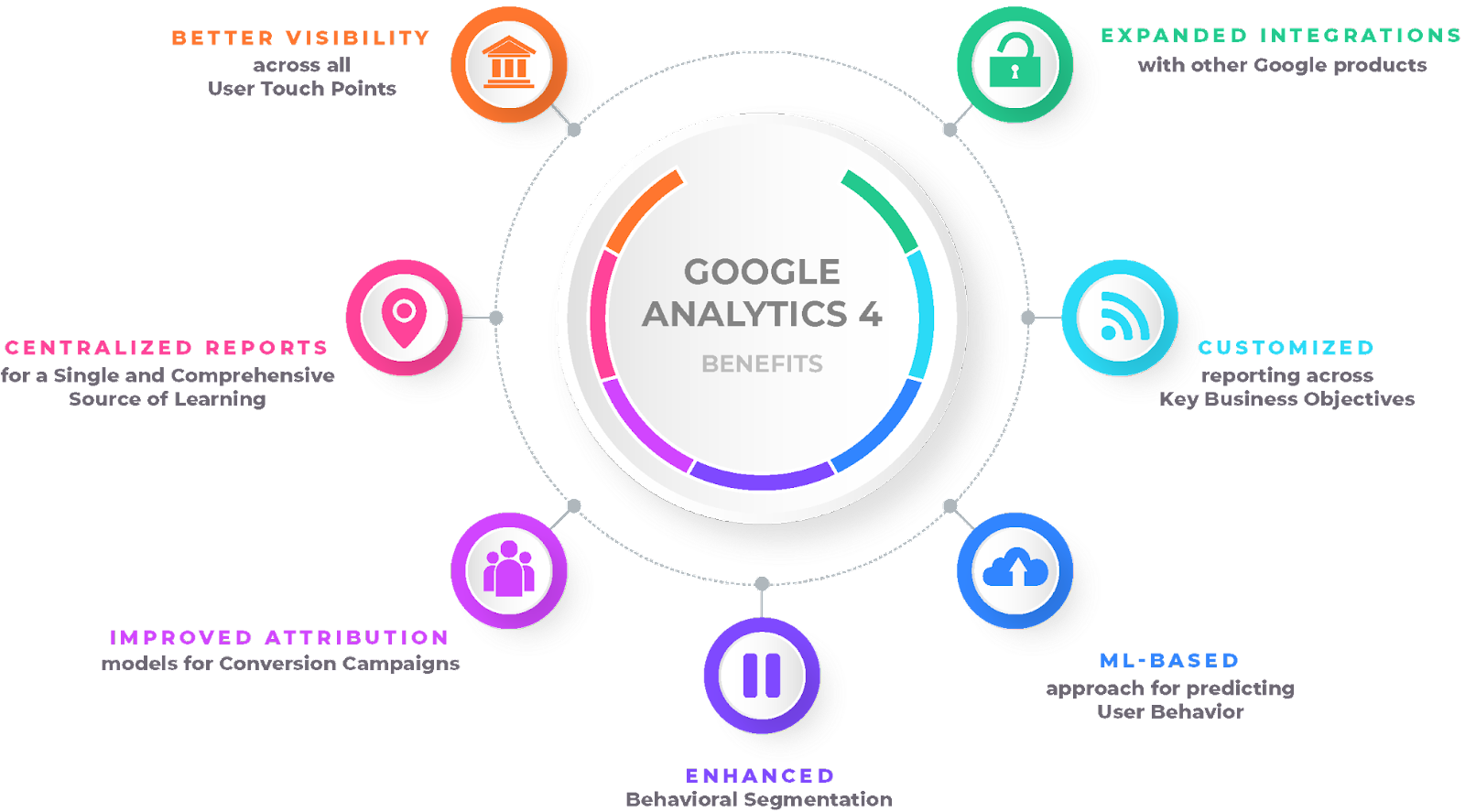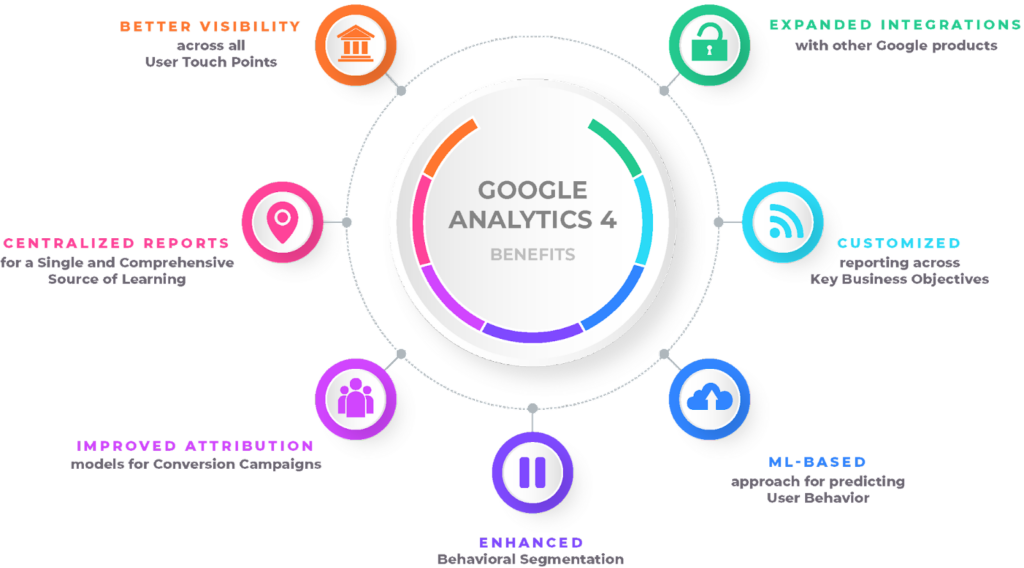 The best ways Google Analytics 4 promises to deliver numerous business benefits –
Better visibility across all user touch points: GA4 offers marketers and campaign managers a 360-degree view of their campaigns' performance. Brands can leverage GA4's features to understand the customer journey, not just independent sessions. Naturally, marketers can gather deeper insights and predict user behavior more accurately.
Centralized reports for a single and comprehensive source of learning: The new GA4 offers a centralized reporting system. Data analysts can unify data reports across the web and digital apps and consolidate data in a centralized report. Comprehensive data reports will allow for a quicker reaction time if user behavior deviates. They can also improve campaign mapping for future marketing campaigns.
Improved attribution models for conversion campaigns – Google Analytics 4 includes conversion attributions across all user touch points. So, data analysts and marketers can derive actionable insights to modify existing campaigns and design future campaigns. This attribution model branches into four categories: Cross-channel rules-based model, Ads-preferred rules-based model, Data-driven attribution model, and Reporting attribution model.
Enhanced behavioral segmentation – Instead of focusing on demographic segmentation, GA4 prioritizes tracking all behavioral data segments. Thus, the insights derived from such segmentation are richer, letting marketers build a deeper connection with their target market. They can engage the right people through customized strategies, even converting leads into potential buyers. Also, because Google Analytics 4 has a privacy-first approach, it will help businesses comply with privacy regulations.
ML-based approach for predicting user behavior – GA4 leverages AI and ML to generate insights on three key metrics around user behavior – purchase probability, churn probability, and expected revenue. Its predictive learning capabilities offer insights into user activity concerning potential visits, purchases, and potential revenue generation from one user. Brands can use this information to optimize and steer their communication strategies to customers highly likely to make a purchase.
Customized reporting across crucial business objectives – UA offers around 20 static events like page views, the number of transactions, etc. However, GA4 can track 30 customizable events. Google Analytics 4 will reduce the number of default reports generated. Marketers can generate personalized reports for their business, incorporating key objectives like user lifetime, acquisition, eCommerce, cohort exploration, etc.
Expanded integrations with other Google products: The new GA4 update expands integration with other Google products, including Ads 360. Marketers can enjoy cross-channel reporting with reports on the model comparison, conversion paths, etc. Additionally, marketers can also access user, session, and conversion metrics across different dimensions of sources, campaigns, and channels.
Along with Ads 360, here is a complete list of GA4 integrations:
Google Ads
BigQuery Export
Display & Video 360
Google Merchant Centre
Firebase
Google Ads Manager
Google Optimise
Salesforce Marketing Cloud
Search Console
Analytics Search Ads 360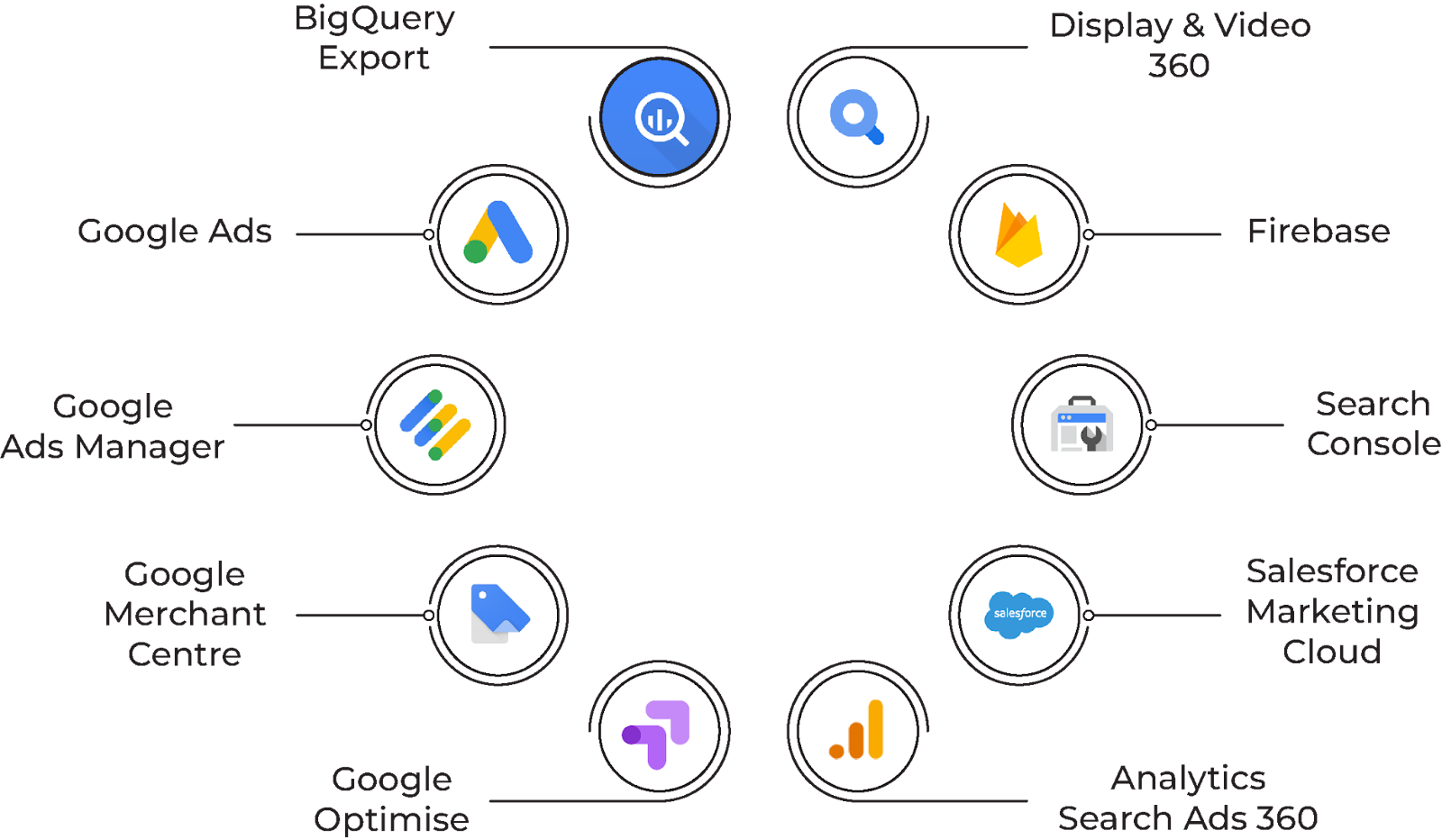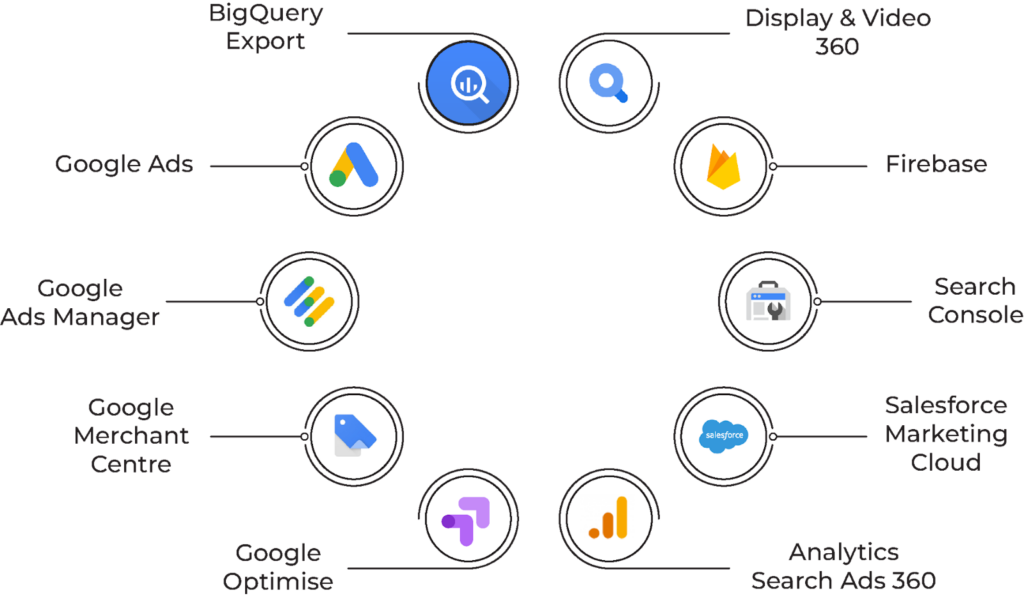 Google Analytics 4 – Limitations
Analytical experts have spoken of changes in GA4 that could be a roadblock for businesses. Let's understand these limitations.
Changes in certain reporting metrics: Google will discard some metrics available with Universal Analytics. As a result, GA4 will contain other specific metrics and data segments. Marketers accustomed to generating certain report types must redesign their reporting strategies accordingly. However, GA4 can be customized to add functionality UA provides, such as integrating Google Search Console data and replicating Landing Pages reports.
Challenges with data migration: You cannot migrate historical data from UA to GA4. But you have the option of dual-tagging both properties on your site. Global experts call for an easier data migration process as people face challenges. To learn more about GA4 migration, you can visit the Developer Migration Center.
Specific UA properties will end: Google plans to stop collecting data from UA starting July 2023 and delete UA properties six months after that date. Since GA4 is accessible now, data specialists encourage brands to switch to GA4 setup as soon as possible. In addition, GA4 has switched the metrics from session-based to event-based 'engagement session,' which alters the foundation of UA. The once-familiar demographics of UA are replaced with the more nuanced collection of GA4.
GDPR compliance issues: Google Analytics 4 is not fully GDPR-compliant. In other words, the data protection measures adopted by GA4 do not adhere to GDPR standards. However, since Google only acts as a data processor, the onus of aligning GA4 accounts with GDPR standards falls on the data controllers – marketers, business owners, and agencies.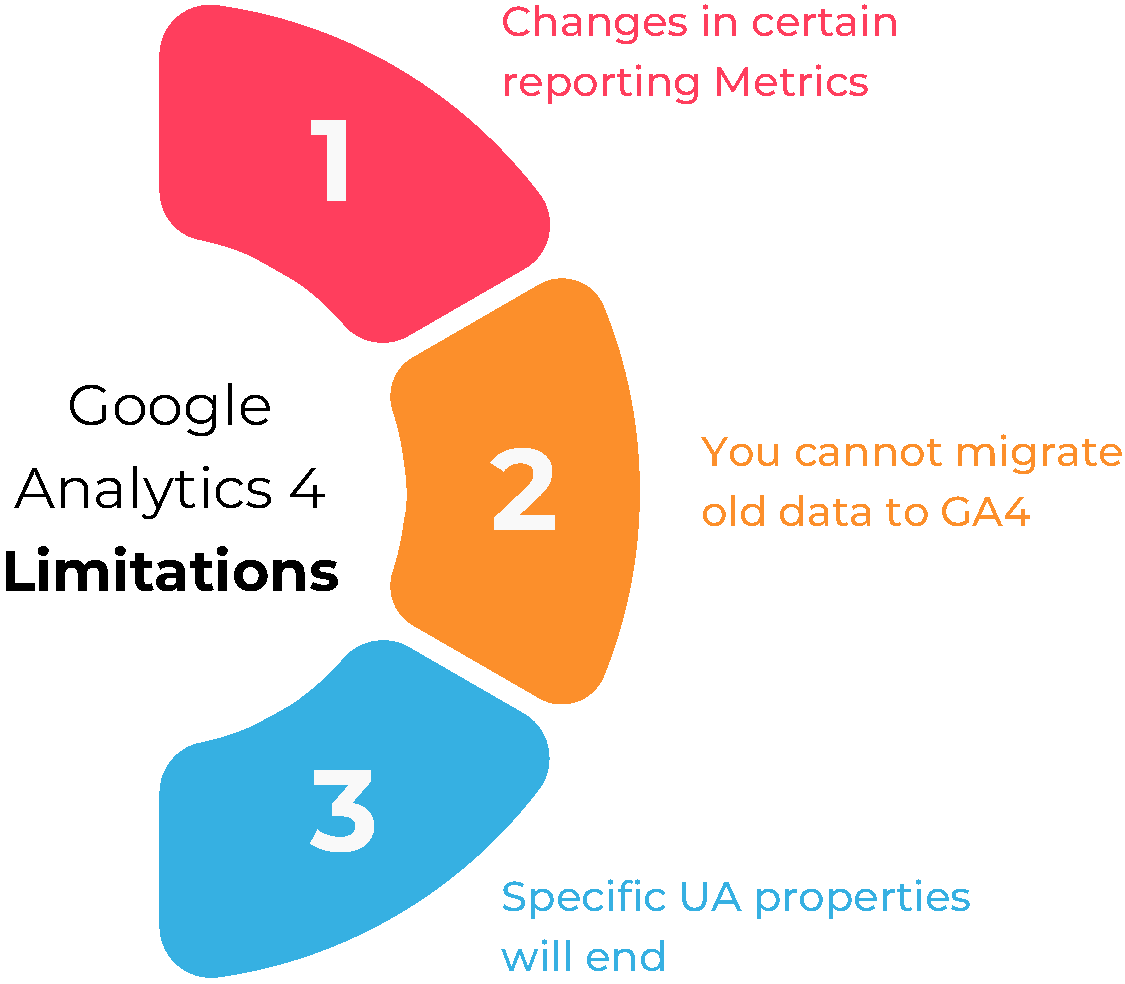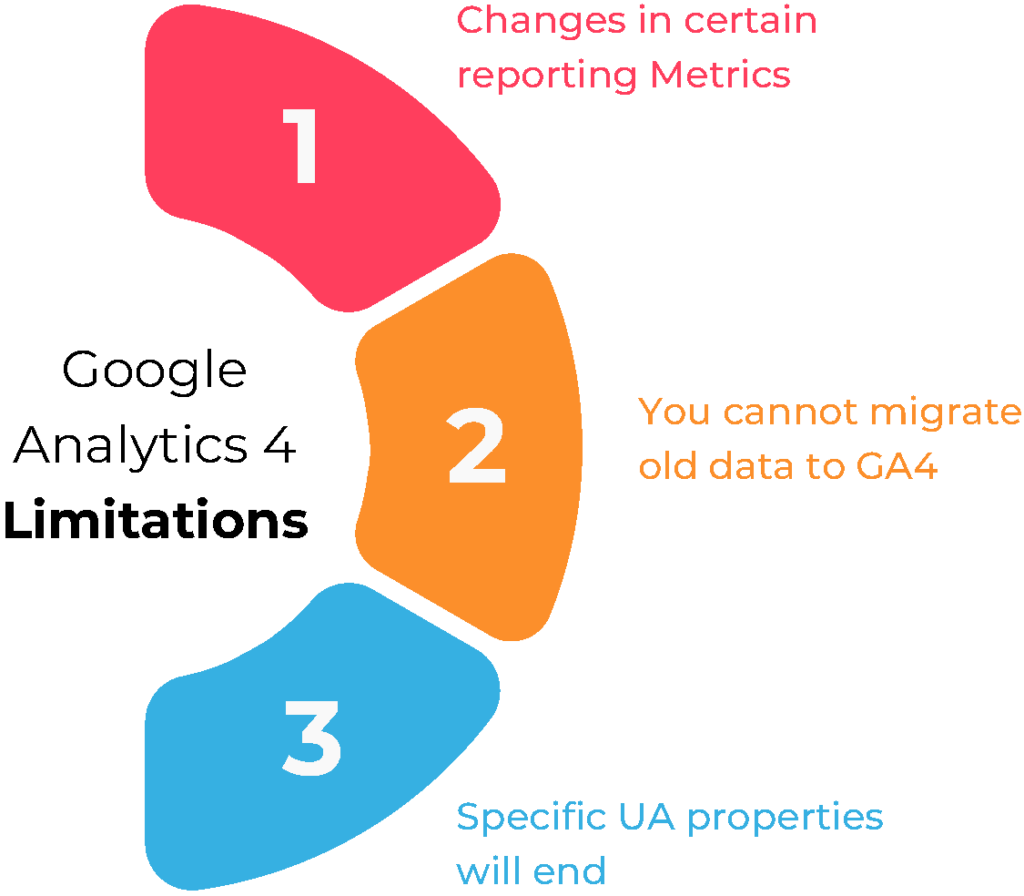 Preparing for Google Analytics 4 
Switching to the upgraded version of Google Analytics is inevitable. Google is giving a year to analysts to get comfortable with Google Analytics 4. Analysts must use the GA4 Setup Assistant to create a new GA4 property for their setup. So, it's relatively simple.
However, analysts must note that historical data won't be available in GA4. As a result, analysts will have to maintain access to UA to analyze older data in the interim.
Analysts can only copy the basic filters while migrating from UA to GA4. Thus, all the customized goals or filters must be set up manually before migrating to GA4. GA4 will automatically implement new measurement functions when you set up the system.
If you are already using Universal Analytics, you must create a GA4 property for your website from your Google Analytics account. So, your new property will collect data alongside your existing UA property, and you can access both. However, if you are new to Analytics, you must start by creating an account and then adding a property to your new account.
Timeline for making the switch to Google Analytics 4
If you haven't switched to GA4, you should know that the deadline for making this switch was July 1st, 2022. That means you are already past that deadline.
However, you need not panic, as Google offers an option. Users must add GA4 property and GA4 to their website to continue accessing Google tracking and analytical reporting.
But what happens if you do not migrate to GA4? How does it impact your business?
Remember, starting July 1st, 2023, you will not be able to access UA data. So, you have roughly a year to get acquainted with GA4. In other words, UA will continue recording data up until July 1st, 2023. After that, you can only view past data processing reports in UA for up to six months. Using the dual-tagging approach, you can build a historical record in GA4 while relying on UA until you are ready to switch over completely. One of the primary goals of preserving and revisiting your historical data is that it helps you optimize content and streamline your inbound marketing strategies.
While it may take time to get acquainted with GA4, its operation is pretty simple, and users may find themselves ready to get going with a few simple steps. You can set up a GA4 property alongside your existing UA property via the GA4 Setup Assistant, and it takes about 30 minutes for data to appear in your new GA4 property.
The big question is, should analysts switch to Google Analytics 4?
Considering that the switch is inevitable, better make it sooner than later. The faster you make the switch, the more time you'll have to understand the nitty-gritty of GA4. Thus, marketers and web analysts must get acquainted with GA4 and run both GA4 and Universal Analytics systems simultaneously to make the transition process much more seamless. Moreover, migrating your UA property to GA4 before July 1st, 2023, will ensure that you have collected a minimum of a year's worth of data. The user-intense data collection without compromising privacy paired with detailed statistical reports makes GA4 the analysis hub for new-age digital marketing.
If you're interested in migrating to GA4, read this Google Analytics 4 setup guide to get started.