Any online marketing strategy will routinely involve search engine optimization, search engine marketing, social media marketing, and primitive content marketing. B2B marketing strategy is no exception, as 59% of professional services buyers cite at least one or more digital channels as a source of initial awareness.
This is a well-established fact that yields less value for further discussion.
However, B2B marketing has undergone a drastic change in the recent past – today, marketers must think outside the box to stay ahead in the game.
Today marketers are building innovative B2B Marketing strategies as the coronavirus pandemic has accelerated specific trends. Professional services firms in the B2B industry have moved to hybrid working models, embraced virtual events, and invested in video marketing.
Today, the appearance of neuromarketing agencies is also making the buzz worldwide. For instance, Affectiva is offering services to track the emotions of virtual conference attendees, as well as in-person focus groups with a webcam. This helps professional services firms qualitatively analyze the emotional response to marketing materials with target audiences.
Thanks to rapid technological advancement, B2B marketers now have more prominent solutions to address the changing B2B marketing landscape. 
Let's look at the fundamentals of B2B marketing strategies and discuss how you can tweak them to augment your marketing efforts.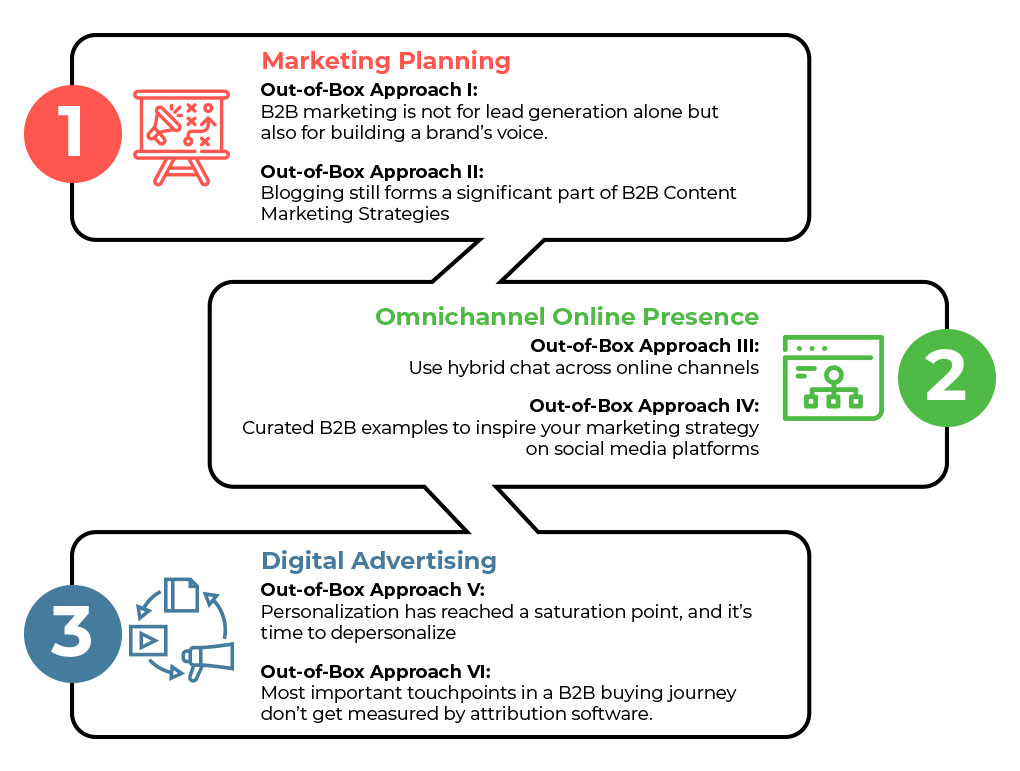 A. Marketing Plan
A systematic research on prospects and clients helps business grow faster than those that don't conduct research. It gives an objective basis for your marketing plans and provides you with quantifiable baselines to analyze your results.
However, to ensure B2B marketing success, your marketing plan must include viewpoints aligning with the latest B2B marketing trends.
Out-of-Box Approach I: B2B marketers can explore branded search.
B2B marketers often view digital marketing as routine search engine optimization (SEO) exercises, managing paid ads, and content building. To least disappoint them, consumers are NOT always "searching for products" they are looking for.
Marketers fail to estimate the power of building a B2B brand. For instance, for every person looking to "download web browsers," five people search and type in "download Chrome."
Does it mean that all your digital marketing or SEO efforts are useless?
NO. Consistent SEO and other digital marketing efforts help you build a brand and attract leads, the top two significant contributors to product purchases.
Digital marketers can explore what is now called a branded search. It is any search query, including a brand or product name. Content marketing activities play a crucial role in improving branded search.
Out-of-Box Approach II: Design answer-based blogs and align relevant keywords with the content.
Ranking top on the SERP organically is challenging, and most companies fail midway. Brands must create meaningful blogs that deliver value to the target audience. Blogging is like a Strategic Investment Plan (SIP), which gives maximum returns only after some time.
Blogging is still relevant to online businesses as –
It boosts your SEO
It builds trust, fortifying the customer-brand relationship
It establishes you as an expert
It conveys your brand voice
It covers all three stages of lead generation: awareness, consideration, and decision
A study conducted by Pardot shows that 78% of B2B buyers start with a Google search, dwarfing Personal Networks and LinkedIn as their initial source. Thus, content marketers are increasing thier focus on designing SEO-friendly blogs in an answer-based format.
B. Omnichannel Online Presence
Building responsive design websites for both mobile and web is a must for all online brands.
Three of the top 10 ways B2B buyers research professional services providers online on your website (58%), via an Internet search (55%), or through an industry website article (53%). As new visitors reach your site, curated educational content and strategic offers can drive leads to engage with your brand, eventually converting them into buyers.
Humanizing a B2B brand on social media is vital for maximum interaction and engagement.
What more can you do to improve B2B buyer engagement and complement your marketing strategy?
Out-of-Box Approach III: Use hybrid chat across online channels.
Hybrid chat support combines conversational AI bots with live human agents. While conversational AI bots can automate mundane tasks like appointments or responding to frequently asked inquiries, live human agents act as sales representatives to increase interaction and improve the quality of leads.
Do not restrict the use of hybrid chat solutions to websites alone but offer live chat support and marketing campaigns run on Facebook, LinkedIn, or even WhatsApp for maximum user engagement.
Out-of-Box Approach IV: Curated B2B examples to inspire your marketing strategy on social media.
Let's talk about Cloudera, a leader in the cloud software industry. The company uses social media marketing to perfection with employee advocates, eventually helping sales and marketing teams build customer relationships.
Cloudera has a well-defined niche B2B marketing strategy. They effectively use the LinkedIn Live feature to stream live conversations and consistently showcase how they work with data.
Other popular B2B brands like Hubspot and Shopify also witnessed tremendous success with their training, resources, and research-based video marketing.
C. Digital Advertising
B2B advertising has come a long way, from direct mail and trade catalogs to the launch of smart data, search, and social media.
While competitors follow the same route to attract and engage leads, marketers can follow B2B marketing best practices to stay unique and react quickly to a changing world and industry.
Out-of-Box Approach V: Personalization has reached peak saturation, and it's time to depersonalize.
Personalization can take the form of identity tags, including the receiver's name in email campaigns, spam product recommendations based on purchase history, or sending abandoned cart emails to retarget prospects.
Clearly, marketers across industries are using these common personalization strategies, almost saturating the need for them.
However, B2B buyers are getting wise. Modern consumers are tech-savvy and can identify emails from a random robot and an actual human. So, marketers must aim to create actionable campaigns (that customers can relate to) to build confidence and transparency.
Depersonalizing yet humanizing B2B Email Marketing
Google Chrome plans to phase out support for third-party cookies as the General Data Protection Regulation (GDPR) evolves.
Third-party cookies track online activities, and customers often remain unaware of what brands do with their data. Nearly 70% of Americans think that their data is less secure than it was five years ago, and 81% see potential risks in data collection, mostly outweighing the benefits promised.
In response, Google is taking a privacy-preserving API approach which will prompt advertisers to identify and target customers through alternate means.
How can digital marketers innovate their B2B marketing strategies?
Email marketing is here to gain prominence again, and this time it has to be humanized while being depersonalized. You can add quizzes, image carousels, and drop-down menus to increase the click-through rates (CTRs) by 73%.
Out-of-Box Approach VI: Explore the dark funnel
Sometimes, the crucial touchpoints in a B2B buying journey are not registered by attribution software like Google Attribution 360.
In marketing parlance, these touchpoints fall under the B2B dark funnel. The B2B buyer journey also goes through online communities, podcasts, organic social, word of mouth, etc., that may not be tracked.
Exploring the dark funnel for your niche industry will help your B2B marketing strategy stay relevant via marketing planning, content creation, and distribution decisions.
Wrapping it up
The underlying lesson of this blog is B2B marketing is all about building a unique brand voice and forging direct relationships between consumers and brands. Here's summing up the key takeaways:
B2B marketing is not for lead generation alone but also for building a brand's voice.
The fastest-growing firms usually specialize in a targeted niche – find yours!
Blogging is a significant part of B2B content marketing strategies.
Digital marketing in the future will prioritize consumer privacy.
Thinking out of the box within the fundamental framework of B2B marketing can bring stellar results for your B2B brand.
You can take a fresh approach to your B2B marketing efforts with the ideas we've explored here. If you're a digital business or a fellow marketer looking to amp up your inbound Marketing and account-based marketing efforts, reach out to a B2B marketing company to discuss your needs and goals.
We at Smarketers aim to unify the sales and marketing efforts of B2B businesses to achieve remarkable results. Let's connect and forge new partnerships!