In an era when 50% of B2B buyers use LinkedIn as a source for making purchase decisions, where should you be spending time finding qualified prospect on Linkedin for your business? Linkedin of course!
We have compiled a comprehensive guide that will help you reach out to the most relevant and qualified prospects on Linkedin. This guide will help you find prospects, engage with them, send appropriate communication and create opportunities.
Also, if you are implementing Account-Based Marketing services as a B2B marketer, then this guide should be bookmarked on your desktop.
Finding a prospect on Linkedin
Before you start looking for prospects, we recommend that you spend some time on your own profile. Polish it well because your prospects would return your message only if they feel you are a person reliable enough to begin a relationship with. Apart from the most obvious 'search' feature, here are a few other ways in which you can find prospects on Linkedin.
1. People Also Viewed: You would be already connected with your customers on Linkedin or other hot prospects with whom you have already interacted. Go to these profiles and look through the right sidebar which lists names in a section called 'People Also Viewed'. This section would have other profiles that are similar to your customers or hot prospects. Especially, if you are implementing Account-Based Marketing which requires you to know as many decision-makers as possible within the organization, this list will turn out to be very helpful. Use this list to create a different tier of prospects who you want to get in touch with.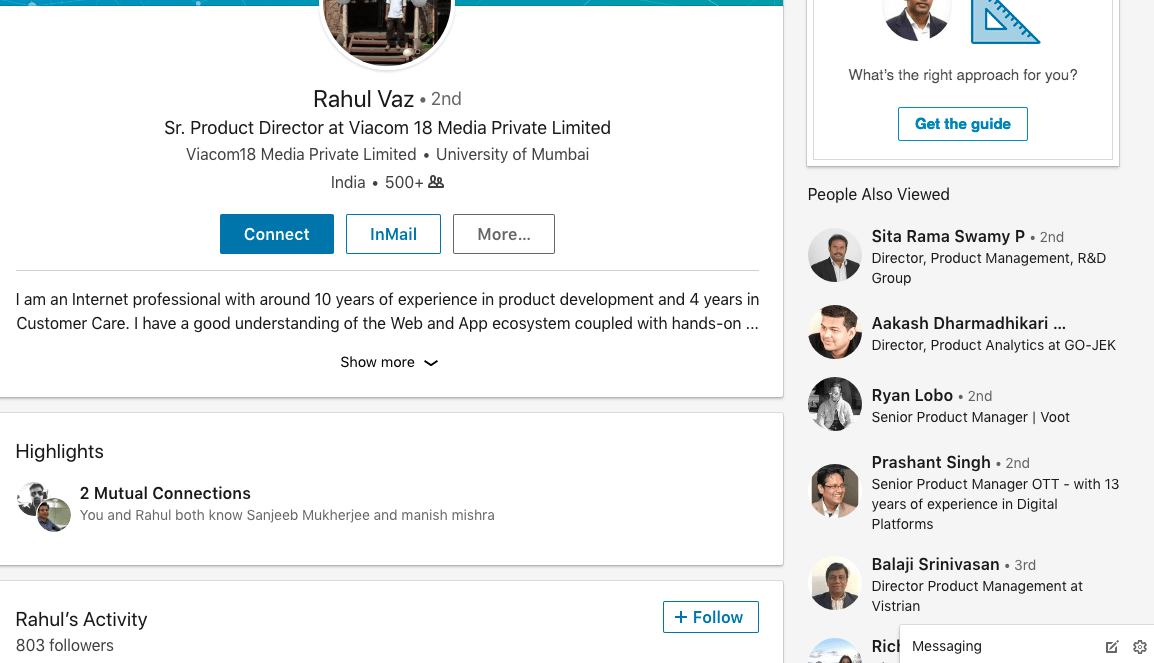 2. Who's viewed your Profile: This is a very useful feature in the 'Profile' tab. It tells you who has viewed your profile in the recent past. It provides insight as to what is the designation, location, and what has each person responded. This lets you know more about the people who are already interested in the work that you do and the content that you publish. You can use the filters available to the work that you do and the content that you publish. You can use the filters available to understand if they are using a competing product or if they fit your ideal customer profile, which will help you pursue further. However, you get access to deeper insights with a paid account.
3. Prospects in New Roles: Connections are built with people. People keep changing roles, and while this change may seem like a challenge, it offers an opportunity to tap into new companies. As they move to other companies, you can immediately get started with the conversation of selling your product and avoid the time that you typically spend on building a rapport. Navigate to the 'Connections' tab to click on the 'Keep in Touch' button.
4. Competitor Networks: While you may argue that this is something even your rival could gain access to, not everyone would be able to use the arguments that you have in the form of USP to sell your products. Look for who your competitors are connected to and find your prospects.
5. Skill Endorsements: This is another feature that tells you who is interested in the business you are in. Use the list of people who endorsed your existing connections for work that matters to your business. Invite them as prospects.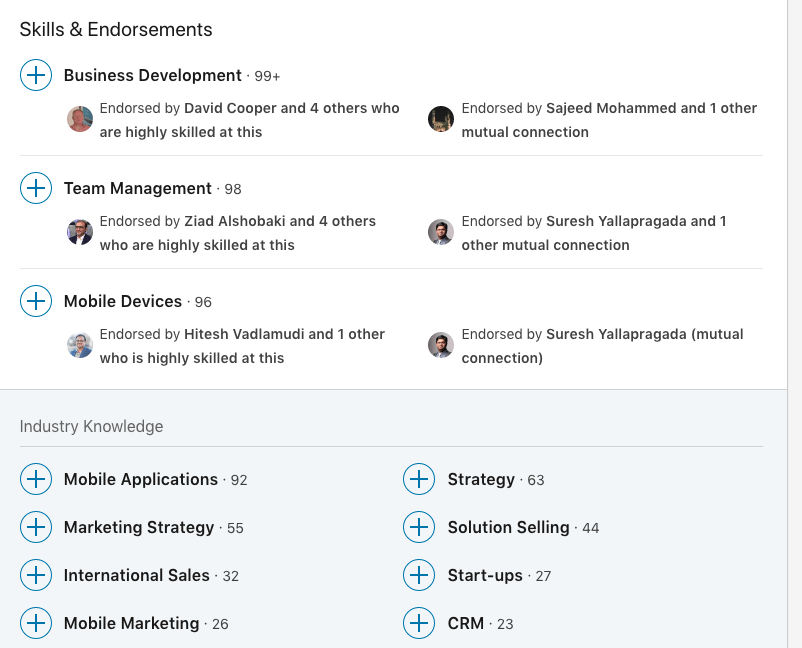 6. Alumni Search: A very powerful, but little-known feature is the Alumni Search that can be accessed here https://www.linkedin.com/edu/alumni. People from these common groups are more friendly and open to hearing you. Hence, listing people from known alumni networks would ensure easy icebreakers.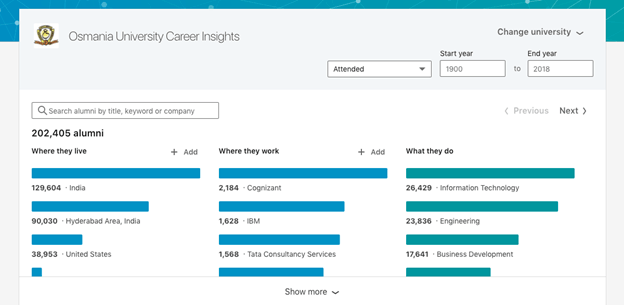 While these features would help you find prospects and create lists to shoot out your message, we have also figured out there is an unwritten etiquette and preferred mode of engagement by people on Linkedin.
Engaging: Things to do before approaching a prospect
'Engaging' helps you draw the attention of your prospects and helps you build a subtle rapport. This further eases the process of approaching a prospect without playing the game of unknowns. A few effective tips and ways to engage are:
Crisp, updated, and relevant summary: Genuine people spend time reading through your profile summary, but at the same time would shy away from long, verbose, and complex descriptions. Fix your profile first. Keep the summary crisp, up-to-date, and relevant.
Share Content: Yes, people on Linkedin definitely look at the content you are posting. Linkedin offers two channels to share content. One is the news feed and the other is Linkedin Publisher. Using the news feed, you can post your opinion, share a link that you liked, comment on someone else's post or publish an original video or image. Linkedin Publisher allows all Linkedin users to publish their minds in the form of articles that can be viewed by the entire Linkedin community.
Special Occasions: The notifications tab has this sorted for you. It prompts in a timely manner about some of the days that can be celebrated for a milestone. You can join this celebration and use this as an opportunity to engage with your prospects by wishing or congratulating them.
Stir a Conversation in a Group: Linkedin groups are created with a deliberate focus on a certain topic. Pick such groups and post content that would attract and draw the attention of your prospects.
Inmails: This is a paid feature on Linkedin, but this will allow you to instigate some serious and meaningful conversations with a first-time prospect. Create customized templates explaining the purpose and intent of the inmail and begin the process of communication at the top of the funnel.
If you are choosing an ABM strategy, then use pre-drafted messages and templates while engaging with prospects.

Best ways to approach a prospect on Linkedin
We cannot prescribe a single way to approach a prospect on Linkedin. The best way to approach this is a combination of etiquette, messaging and the medium used to begin a conversation.
Etiquette:
You would admit that by reaching out to a prospect on Linkedin, most times, you are trying to gatecrash their privacy or sending out a cold call that is probably not welcoming for the first time. Some etiquette could help you break the ice easily.
Try and get introduced to a mutually connected person from your network.

Engage with their posts before you expect them to engage with yours.

Genuinely send a personal note of appreciation of what you like about their work.

Converse and respond to their discussions in a group.

Share relevant news, metrics, or reports that they would be interested in.

Endorse a skill that you think deserves to be highlighted.
Message templates:
Depending on what you want to communicate to the prospect, choose a script in the message.
Use Introduction: If you are asking someone to introduce yourself, ensure that the following elements are included in the message.
<Greetings>
<Body>
How do you know each other? Why should you be introduced to Mr.XYZ? How will you benefit from this introduction? Is there something you can offer for this favor?
<Sign Off greetings>
Direct Inmail:
<Greetings>
<Body>
Tell them what inspired you to get connected to them. Introduce Yourself.
Why do you want to connect with Mr.XYZ? How will that person stay benefited from this?
Talk about the solution.
Is there something you can offer for this favor?
<Sign Off greetings>
These are some of the templates you can get started with while reaching out to prospects. If there is a template that has worked best for you, please do share that for the benefit of other readers in the comments section.
Prospecting on Linkedin
Sales prospecting is an old technique that is making a comeback with tools like Linkedin. It may seem passe but is very effective to achieve the objectives of Account-Based marketing.
If the first time has not worked out, you can always get back to that person with a better offer to hear you out. However, stay wary of the threat of being blocked for spamming by Linkedin. This mostly results when you start applying unauthentic and flaky means to get connected to a person.
If you have used Linkedin for sales prospecting, we would love to hear your experience in the comments section.