As most companies take their products and services online, B2B technology companies are finding it even more challenging to reach their target audience. Let alone the decision-makers at their target accounts. 
With an ever-increasing competition combined with regulations like GDPR, CCPA and a cost of customer acquisition (paid campaigns) that is skyrocketing by the day, most software and IT organizations are struggling to identify and leverage even one marketing channel to grow their business. 
So in this article, we're sharing how software and IT organizations can grow in this competitive business environment and still keep their marketing and sales teams aligned in 2020. 
Key marketing and sales strategies for software and IT organizations  
1. Create high-value content
Statistics from the Content Marketing Institute (CMI) show that 91% of marketers use content marketing to reach their customers. That only goes to say how the amount of digital content being generated today is astounding. But what varies is the quality of content – while some content pieces offer as much value to the reader as their titles offer, there are those that have been deemed as 'clickbait'. Especially in the software and IT marketing space! 
That's why in 2020, you need to invest in creating high-value content. Content that actually talks to your target accounts, addresses their needs, and challenges and then offering them solutions without being salesy. Take into account what a decision-maker would need to make an informed purchase, win their trust with quality content, establish a relationship and then turn them into a customer. 
It's the rule of reciprocity – when your software and IT organization offers value, you can expect the recipient to engage with you.  
2. Invest in video content creation
About 72% of consumers prefer video over text when it comes to learning about a product or a service. Think about it – would you prefer reading a 1500 word document explaining how to use the software you just bought or would you rather watch a 2-3 minute long video that walks you through the process? 
Now creating video content can be time-consuming. But you can start with quick tech product explainer videos, client testimonials, webinars or simply animated GIFs of your product dashboard with annotations. The idea is to be able to convey a story through media and at the same time, provide value to the viewer. 
3. Re-market to existing customers (upsell and cross-sell)
Did you know that 65% of your sales can come from existing customers? And that the probability of them purchasing more products or services from you, is 50% more than new customers? That's why the one thing you should be focusing on in 2020 is remarketing to your existing customer base. 
Similar to customer engagement programs, set up campaigns that focus on also nurturing them to convert on more of your offerings. You could upsell and cross-sell additional software, features or services, based on their previous purchase and use case. If your program focuses on adding value to them, they become even more likely to convert. 
You can do this by setting up email drip campaigns to nurture customers, social media retargeting to promote new products/ features, promoting in an online community of customers, setting up a customer referral program, a renewal campaign or a customer testimonial program. 
4. Implement account-based marketing
Another tactic that has proven to work for software and IT organizations is account-based marketing. The simple reason is that it streamlines marketing and sales focus on specific target accounts, enabling better personalization of outreach and the overall customer journey with the business. 
In this approach, the marketing and sales teams focus on creating content, hosting events, and setting up follow-up calls and campaigns dedicated solely to the prospect accounts, instead of the entire industry in general.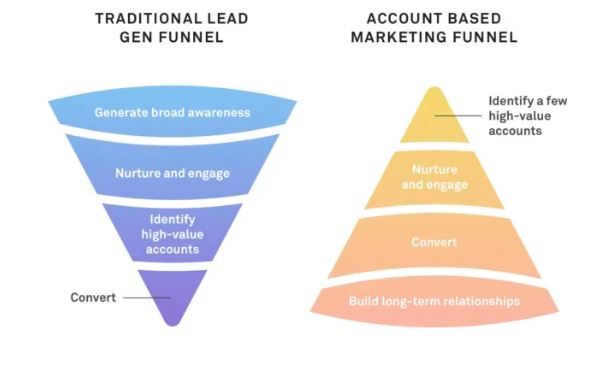 source
Account-based marketing is also one of the promising tactics for 2020 as it focuses on establishing a strong relationship with the customer. And since it focuses on specific target accounts with all its efforts, the marketing and sales teams have better alignment, leading to more conversions. 
New to account-based marketing? Don't forget to read the 8 account-based marketing tips for 2020.  
5. Get started with marketing automation
Marketing automation removes the mundane, repetitive tasks from a marketer's plate. It helps the marketing and sales teams automate email follow-ups, nurturing campaigns, sales follow-ups and more, with behavioural data to keep the campaigns personalized and contextual at all times. 
Invespcro reports that 90% of the companies believe marketing automation is critical for their online marketing success. For many, it has led to a 14.5% increase in sales productivity and a 12.2% reduction in marketing overhead. 
If you're considering investing in marketing automation, read our post on What CMOs need to know about marketing automation. 
6. Ensure marketing and sales alignment
One key strategy that software and IT organizations cannot ignore in 2020, is aligning their marketing and sales. 
Imagine your marketing team running campaigns to generate leads, but your sales team's qualifying parameters failing them all. Your organization will only end up losing time and money addressing a market that is the least likely to convert or even enter the sales funnel. 
Misalignment in marketing and sales has cost the biggest organizations to lose up to $1 trillion a year. With the two teams not meeting at a common ground, organizations can lose the opportunity to convert 79% of their marketing leads into successful sales. The numbers are too big to ignore! 
SuperOffice wrote an in-depth article on Smarketing for marketing and sales alignment. Read it here.  
2020 marketing and sales for software and IT organizations
Similar to other industries, software and IT organizations will need to take a data-driven approach in 2020. The above strategies focus on bringing them closer to what their target market and accounts want, enabling them to personalize their journey through the funnel for higher conversions.
But most importantly, the above focus on keeping the marketing and sales efforts aligned. By joining forces, organizations can see their campaigns work better! 
Which of the above strategies are you going to kickstart your new year with? 
Need help aligning your marketing and sales teams' strategies? Contact us today.