Marketing automation is no longer a luxury. Its usage is now widespread amongst organizations of all sizes. Whether you are fifteen people young or five hundred people old, your organization can benefit tremendously from a marketing automation services provider.
The need for marketing automation is on the rise because of the evolving requirements of customers from the businesses that they invest in. As a business, you can no longer survive only by selling quality products to people. You need to reach out, interact, and engage with them in a personalized manner.
To top this, as your customer base and the digital landscape grows, you need more than human intelligence to keep meeting your customer expectations. You need to derive actionable from concrete data and only a specialized marketing automation services provider is equipped to handle the complex nature of it.
Going by the numbers, 90% of companies say that marketing automation is critical for their success in online marketing.
For many, using marketing automation led to a 14.5% increase in sales productivity and a 12.2% reduction in marketing overhead; points out this Infographic on Invespcro.
Now if you are a Chief Marketing Officer still trying to figure out what marketing automation can bring to the table, or if going through setting it up is worth the effort, this post is for you.
In this post, we list all the ways in which marketing automation services help you drive your growth initiatives better.
Behaviorally driven marketing enables contextual and personalized engagement
It is manually impossible to keep track of all the hints and information that your visitors drop on your website when they engage with it. It is just as impossible to send out communication-based on their individual.
However, with marketing automation, you can not only collect information about their onsite interactions but also use the data to run your marketing campaigns – be it for customer acquisition, engagement or retention.
For example, Sophie visits your 'product features' section. She clearly wants to know more about the product and is contemplating the conversion.
After she spends five minutes on that page, if you show her an ebook that promises a how-to on each of your features in exchange for her email address, she becomes more likely to convert.
This highly contextual onsite interaction that gets her exactly what she is looking for and the needed information from Sophie can then be used to nurture her through email marketing.
Similarly, for the segment of users who haven't shown any signs of interaction or engagement with your online website or other platforms yet, you can trigger emails, just the way Asana does.
The email retargets dormant users, bringing them back to the site to take the desired action. In this case, creating a task for themselves.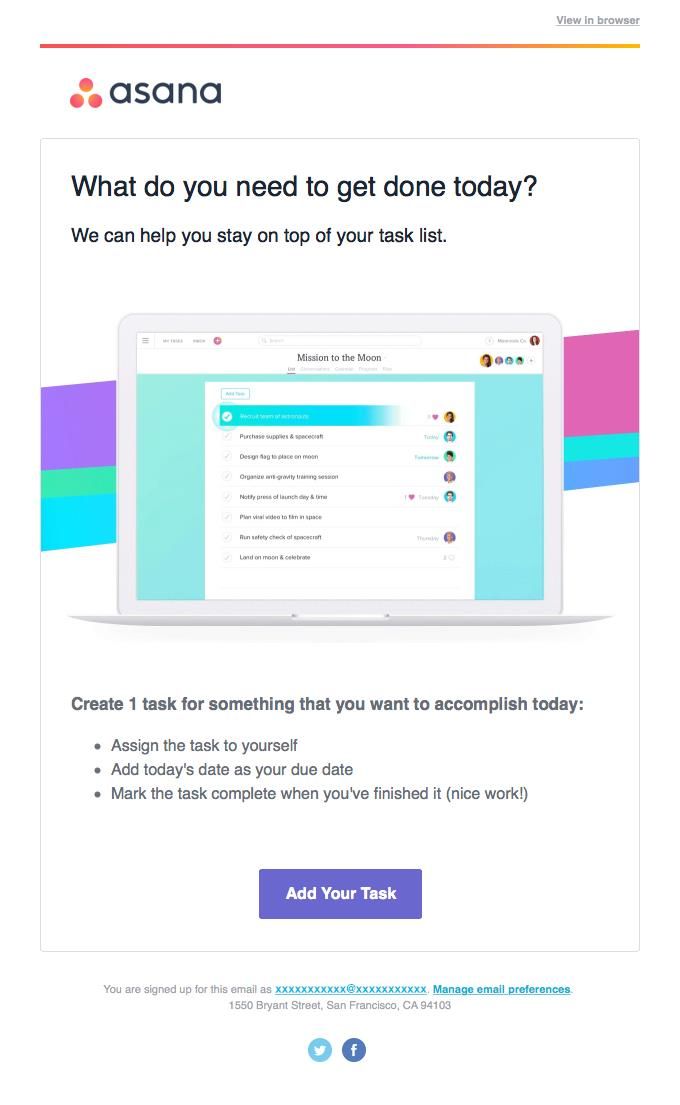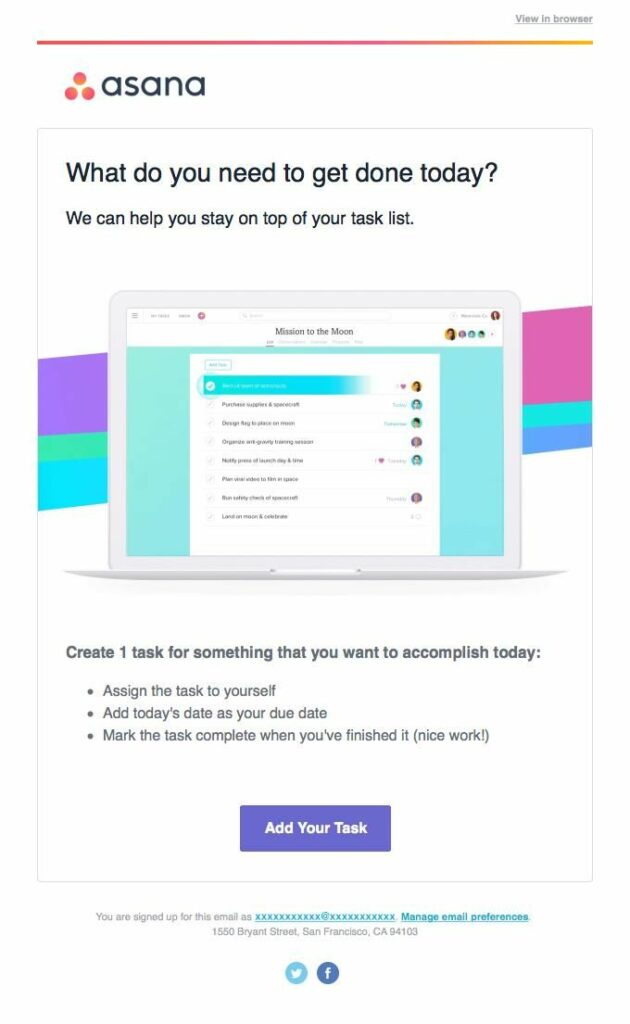 Such behaviorally targeted engagement and marketing work way better than broadcast emails. They have nearly 3 times more click-through rates when compared to regular emails. As per Marketo, with time, the open rate for behaviorally targeted emails using marketing automation increases by nearly 57%!
Intelligent workflow automation improves team efficiency
From email to social media and even SMS marketing, everything can be managed with perfect ease and efficiency with the help of marketing automation services. Managing it all on auto is often referred to as workflow automation.
Can you imagine spending hours, days, or even weeks, working on creating drip communication for various segments of users that you are trying to convert? It seems almost impossible to keep track of replies and timely follow-ups, right?
With workflow automation, you can create drip communication for any channel – email, messenger, SMS, push notification, etc. to send out timely and scheduled communication to your target accounts or user segments.
Say for instance, when a user signs up for a demo. The action then triggers an automated workflow where a welcome email, demo kit and other communication gets sent across in a timely manner, assisting them to get started with the product.
If you are an account-based marketer, for example, you can create super-intelligent workflows to engage and interact with your key accounts. It is possible to automate one-to-one social media engagement using workflows.
Once marketing automation software knows which 'target accounts' satisfy your criteria for ABM, relevant communication can be triggered on your behalf when those key accounts engage with you on the defined channel.
Landing page automation to drive conversions faster
This capability that marketing automation equips marketers with is simply important as it reduces the time, effort, and cost of manually working on routine tasks.
Landing page creation is an otherwise long process that requires at least some coding knowledge if done manually.
On the other hand, automation can do this in minutes. You don't need to know any coding for creating a landing page using automation. You don't need to ask your Senior visual designer to take out an hour from an overloaded workday to create a brilliant looking, high-converting landing page for you. Or change certain aspects like the hero title based on the campaign changes you just made.
Some tools are even a step ahead allowing you to edit the content on your landing page in no time, and serve personalized content to your users based on their interactions.
Marketing automation enables enhanced and improved lead scoring
The very basis of ABM is identifying high-intent, high-value leads. That's where lead scoring comes into the picture.
Manually done lead scoring can be inexact and highly prone to error. Automation brings in the required efficiency and accuracy in this process.
Marketing automation makes use of predictive analytics for lead scoring. Predictive scoring leverages all the various data points about your contacts across multiple touchpoints to determine which ones actually qualify as a sales opportunity.
Using predictive analytics you can set up High, Medium, and Low scores for your contact on your contact list. This will help you prioritize your marketing and sales efforts. Combining predictive lead scoring with AI can further provide you with deeper, more precise information about your most 'valuable and close to conversion' contacts.
This way you can steer your efforts towards those accounts that have a higher probability to close. As a result, your pipeline moves faster and you have good results to show at the month's closing.
Improved monitoring and reporting on account-based marketing campaigns
There is a lot being done in marketing teams that have either a direct or indirect impact on revenue. There is also a lot being done in the team that's eating up a lot of resources. However, it's difficult to figure out what you are doing right and where you are going wrong if you are running your processes manually. Because it becomes way too tough to collate data from all the marketing campaigns onto one dashboard to derive actionably.
With marketing automation, you can track all your campaigns closely. It's easy to pull out reports at the end of the month, at the end of the campaign, or even anytime in between to check how things are performing.
All you need to do is set up the right metrics and goals, and then gauge your inbound marketing campaign performance.
For example, you might be running a seasonal sales campaign using push notifications. With marketing automation, you can set up personalized push notification campaigns for your existing shoppers. You can track how successful this campaign has been by tracking numbers like push notification open rates, visits on the website or the landing page, etc.
Over-to-you
Empowering your team with marketing automation ammunition is a 'no second thought' call that you need to take now.
From running simple marketing campaigns like sending out email newsletters to executing highly complex ones like creating personalized messenger drip communications for key accounts, marketing automation is powered to do it all.
Need help getting started with marketing automation to enable your campaigns? Contact us today.