Look around yourself and you'll find there is software for everything – ordering food, writing books, detecting fraud, gauging traffic, checking plagiarism, and there's one that even reads to you. Now think about all the competition you'll be facing in each of the industries. 
Though everyone is developing a promising software, it isn't as simple as you think it is to survive in this market. The cost of developing apps – web or mobile, is rising by the day. Barriers to entry to target markets are getting harder to crack. Consequently, no matter how good a SaaS product is, both acquiring new customers and retaining the existing ones is where most companies see themselves struggling.
That's why we put this guide together. As an inbound marketing agency, we're bringing what we have learned, tried and tested over the years in SaaS marketing. 
Your guide to SaaS marketing
A solid SaaS marketing strategy is one that takes into account the target market's need to make an informed purchase. Right from the point where you want the consumer to discover your solution explore its features and eventually convert, you need to plan out the buyer's journey in an end-to-end manner. The three key stages here that your SaaS marketing strategy needs to take into account are – awareness, consideration and decision, and each of these stages needs a different approach.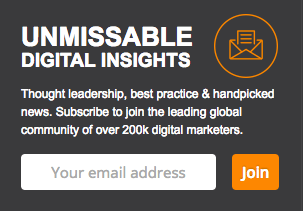 source
That's where the strategies we're about to list down, come in. Here are the SaaS marketing strategies you absolutely need to win in a competitive market. 
Emphasize content marketing
Most SaaS businesses understand that content marketing holds a powerful place in the fight for 'search'. The catch is that most of them don't understand the details and intricacies of ranking for search engines. This often results in them making SEO efforts in the wrong direction or them taking too long to rank for the right keywords. 
To take over your spot in the search results you need a detailed content or inbound marketing strategy. A strategy that takes into account who your target audience is and what their search behaviour looks like. The best place to start is data on your Google Analytics. It will help you gather insights on user behaviour to create content that people are actually looking for. 
Consider the following example on the search query 'How to manage your work'.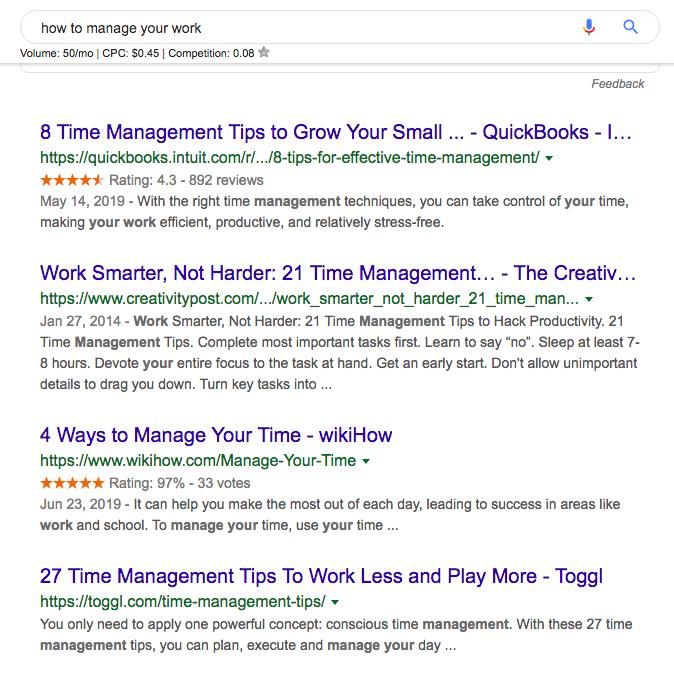 While techniques like pay-per-click (PPC) advertising work, they're good only for as long as you keep putting the money in. On the other hand, content marketing is a continuously growing, evergreen, and compounding asset. To keep generating leads out of your content marketing assets you need to constantly repurpose them. 
Consider the blog post on '27 time management tips in the above screenshot. The above post might not always be able to retain the same slot on the first page of Google. However, if you share it on Youtube or as a Slideshare PPT, or repurpose it again to add more tips after six months, the content piece will keep winning you leads.
Content marketing and inbound marketing strategy are topics with a scope wide enough that they can't be covered in a single article. For the sake of the scope of this post, we'll not delve too much into all the aspects of the content. 
Make your pricing easy to understand
SaaS customers value clarity in pricing. Don't confuse them with too many options, or with lists of features. Keep your plans limited to 3 or a maximum of 4 variants. On visiting your pricing page, your customers should be quickly able to decide whether the product is within their budget or not. 
Unbounce is a good example of what a pricing page should look like. They've clearly displayed their plans along with the features that the buyer is entitled to on subscribing to one of the plans. The company also clearly mentions the free trial period on the page.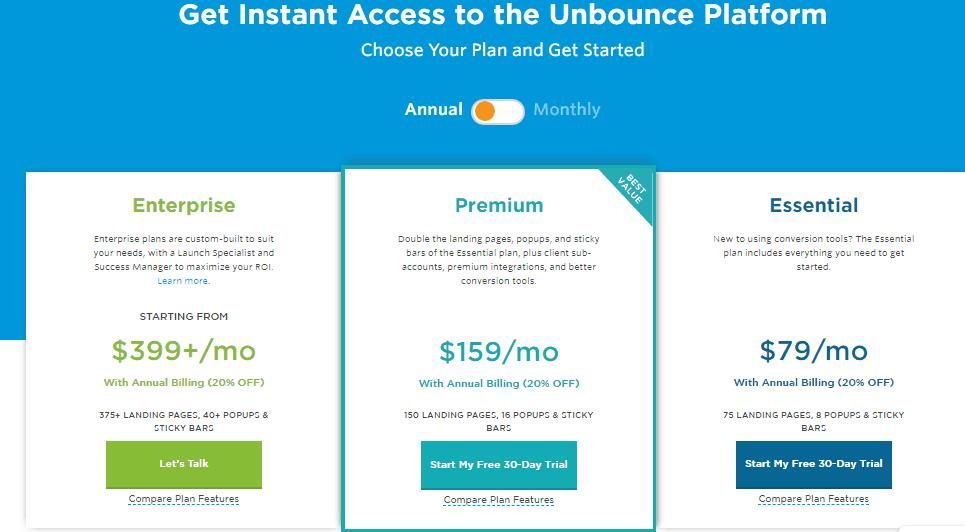 Pricing plays a vital role in converting trial users to billable customers. That's why continuously optimizing your pricing plans is important. 
Additionally, a steady flow of revenue requires that you get subscribers to purchase annual subscriptions. Offer a free month on your annual plans, or an early bird discount in case you are launching a new product that you want more people to subscribe for. 
Make sign-ups effortless
Users on your pricing or checkout page are the closest to conversion. At this stage, they want no clutter, no distractions. A smooth, simple three-step checkout will quickly turn them into subscribers. 
As per a case study by Content Verve, easy checkout that has no more than three steps can increase conversion rates by 30%! 
Take a look at Dribble's checkout. It's fast, it's neat, and it's easy. But more importantly, it has no other distractions or call-outs to the visitor, keeping them on a single-track focus towards conversion.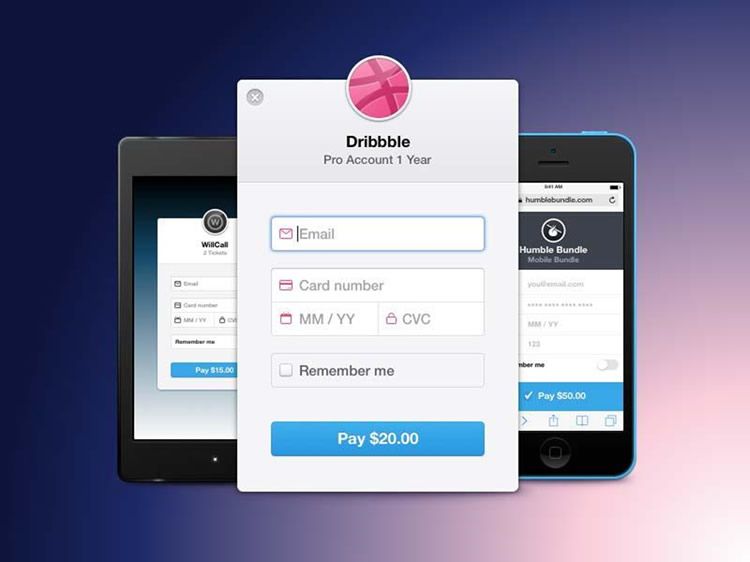 To optimize your checkout process think like a usability designer. 
Reduce the amount of information that you ask your users. Use the auto-fill option to reduce the frustration that users feel during filling forms up. 
Offer all possible payment options your users might want. But, once again, avoid giving too many of them. Give proper emphasis on payment security too. You don't want them to feel like they're transacting over an unsecured platform.  
Last but not least, properly display information on taxes before showing them the final cost of the product.
Your marketing efforts shouldn't stop at sign-up. 
Once you've got subscribers on board, get them to quickly use your product. To guide them on product usage, provide as many help guides as possible. Include actionable tips to let them leverage the product and drive desired results. After all, you don't want to lose a user in just days of signing up.  
According to a survey for SaaS companies, existing customers are 9 times cheaper to retain than finding new ones.
Turn to referral marketing
Word-of-mouth repackaged for a digital-first world has taken the shape of referral marketing. The tactic has always won companies more business from existing customers. Nearly 84% of business to business transactions happen solely because of referrals.
Using the 'trust' that people display in what others have tried out or tested, and positively spoken about, SaaS marketers successfully create campaigns that aren't even half as expensive as a lead acquisition campaign on social media. 
To add to this, referrals always fetch a good ROI. A survey reports that seventy-one per cent of referrals close at a higher rate than other lead sources.
SaaS referral marketing examples are aplenty. However, one of the best is that of Typeforms In-App referrals. The offer is easy to understand, and simple. For every referred customer, the existing user gets to upgrade from a Typeform BASIC plan to PRO or PRO+ with pricing that comes at 10% lesser than the original plan. 

Only PRO or PRO+ users can share referrals to ensure that new customers are actually getting value from the upgrade they are planning to make. That's how Typeform leverages trust to win more upgrades from referrals.
Try Account-Based Marketing
Want to bring down your customer acquisition cost, and at the same time reap bigger ROI? Work out a plan to target your high value, high intent accounts with account-based marketing. 
As a strategic marketing approach, account-based marketing narrows down your focus to only a handful of leads that actually promise conversions and better value. It brings in more relevance and context to your marketing efforts. 
But personalization is key to ABM because you want to cater to the exact requirements of the intended accounts. So it might require you to set aside some time and resources to get relevant data of target accounts in place. 
Here's how FullStory leveraged ABM to boost their enterprise-grade engagement levels. It's interesting to note how keeping ABM scorecards helped them orchestrate their marketing activities better. 
Get socially active
Marketers need to keep their eyes and ears open all the time. To truly understand what your customers need, or what they are saying about your product, you need to be a part of their social circle on social media and other digital platforms. 
Communities like Inbound.org, Growthhackers.com, etc. are common platforms where marketers and SaaS customers flock to discuss. These are also the channels where they often look for recommendations from similar companies. 
You can even move to more modern communication platforms like Slack to tap into conversations. Slack is a much-used platform for discussions on topics around SaaS products. Join SaaStr, Indie hacker, and SaaS Alliance Slack Channel to keep on top of what's happening socially. 
By doing so, you will not only be able to keep track of what people are saying about your product, but also identify untapped opportunities. 
Social listening, additionally, will give you a complete picture of how people use your product, what problems they face, and what they love about it. 
Trello, for example, makes use of Twitter to get discussions started about the product. They use this platform for people to reach out for support and help.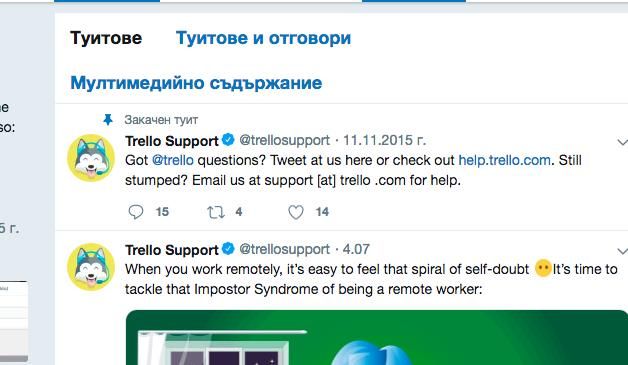 Get started! 
SaaS marketing isn't easy. The consumer market for products is information and value hungry. They want you to help them make an informed decision and at the same time, personalize their journey with your brand – right from the point they discover your product to them signing up for a demo and eventually getting onboarded. 
The above tips and strategies are what we have seen work across various SaaS industries and target markets. But there's always more that you can do. 
Looking for more inbound and account-based marketing strategies for your SaaS business? Don't forget to subscribe to our blog or get in touch with us for a consult.