Table of Contents:
Rapidly rising technology, ever-changing customer demand, SaaS market penetration, technology adoption, increasing competition, etc., are some of the significant challenges SaaS companies are dealing with today. As these factors intensify across industries, SaaS companies need help attracting new customers. As a result, SaaS marketers are looking for ways to increase their market visibility and reach the right audience at the right time. This is where SaaS companies need to double down their efforts to create an effective Go-To-Market (GTM) plan for SaaS Marketing. 
A robust Go-to-Market plan helps increase lead generation for B2B SaaS companies and ensures businesses reach wider audiences. An effective GTM plan includes identifying the target audience, providing the market is balanced with comparable products, and entering the market at the right time. Creating a GTM strategy requires a deep understanding of the market, competition, best practices, and more. Let's dive deeper and understand more about GTM Plan and the steps to build it for SaaS Marketing.
What is a GTM plan for SaaS Marketing?
The GTM plan consists of a roadmap that effectively helps you take the product to the customers. SaaS marketing plans can be used to launch a new product to the market, relaunch an existing product, expand the customer base/market, etc. There are primarily four types of GTM plans:
Product-led growth: In this strategy, the product is the primary driver of customer acquisition, activation, satisfaction, retention, and scalable expansion.
Community-led growth: In this strategy, companies build communities of enthusiastic users who are the main force behind customer acquisition, satisfaction retention, and growth.
Sales-led growth: This strategy uses the sales representative or sales team to generate interest in the product. Here sales team acts as a primary force behind customer acquisition, satisfaction, retention, and growth.
Marketing-led growth: This strategy includes using marketing tools and resources to generate interest and acquire customers. It includes blogs, articles, websites, social media, and other marketing tools.

Key Components of A GTM Plan For SaaS Marketing?
GTM Plan for SaaS marketing covers everything starting with your potential customers, target market, customer demographics, best marketing efforts needed, the right sales strategy to reach them, brand positioning tactics, pricing strategy, and more. But breaking it down for ease, it includes the below-mentioned vital components:
Product-Market Fit: Proves that your product solves a specific user's pain, and people see value in your product and are ready to pay for it.
Market Definition: All information about the target market. Which market, what size, what has worked/not worked previously in that market, how much customers are willing to pay in this market, competitors and decision-makers of this market, etc.
Target Audience: Instead of selling your product/service to everyone, you need to focus on specific buyer personas which require information about your target audience.
Distribution: Determine what marketing channels work best for your market and target audience. Is it viral marketing, content marketing, offline events, community building, or anything else?
Messaging: One message fits all approach does not work anymore. You must build specific messaging for your buyer persona to attract and engage them.
Price: Your product/service price should fit into the budget of your target audience. If your price is too high, people will not buy, and you may soon run out of business if it's too low. Hence, you must strike a balance and find that sweet spot that lets users pay and buy your product/service.
With these six essential components, you can build a successful GTM plan for your SaaS business. Now let's look at the essential steps to create a GTM plan with these components.
Steps To Build A Go-To-Market Plan for SaaS Marketing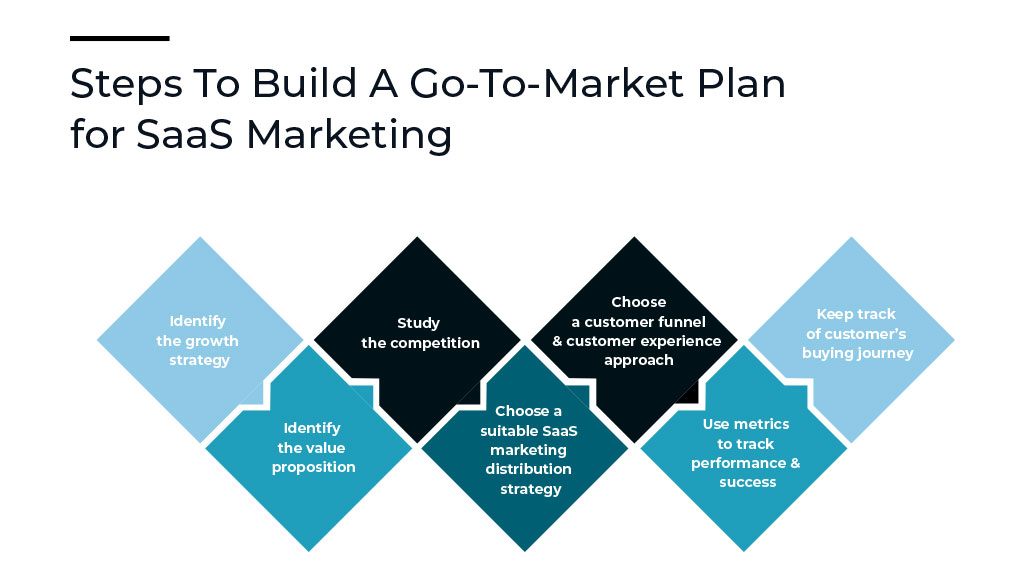 A SaaS go-to-market strategy has no set structure. It largely depends on the business marketing maturity, product type, market penetration level, business strategy, business structure, funding, and potential exit strategies. Developing a go-to-market strategy is a skill every product manager should possess.
Here are a few crucial steps to organizing a GTM strategy for SaaS marketing:
Identify the growth strategy:
Start by writing down a strategic plan that considers the business objectives, tactics, strategies, and immediate competitors. The write-up should consider your vision, purpose, value statements, budget, operating, and action plans. It is the ideal time to include a detailed description of your business and its services/products. If the objective is growth led by sales, define the objectives and goals to be achieved by the resources.

Identify the value proposition:
Understand the product's characteristics, advantages, and value proposition. By demonstrating the benefits of your product, you can secure more clients. Additionally, it's crucial to understand who your target market is, why they need your product, and how this advances your company. Defining the value proposition helps your clients determine the product features and capabilities. Subsequently, this will help increase your conversion rate. Create a value matrix that covers the key pain points, the product value, and the message. As a result, you can develop strategies that address specific challenges and attract more leads.

Study the competition:
Whatever product you wish to launch, there are probably several competitors with the same or similar products. Therefore, you should know both direct and indirect competitors. By understanding your brand's positioning, you'll find it simpler to develop a differentiator. Through competitive analysis, you can assess your business pricing, product quality, and marketing tactics and position yourself better and different in the market. It is always good to study the challenges in the market and create a unique product, as it gives you a competitive advantage and a chance to win customers.

Choose a suitable SaaS marketing distribution strategy:
Your GTM plan should outline how you connect with your target market, create brand awareness, stimulate demand, and capture their interest. Therefore choose marketing channels per your identified audience and the probability of converting them through that channel. However, most SaaS companies employ content marketing and SEO as a marketing distribution channel to increase their domain authority, benefit users and create demand.

Choose a customer funnel and customer experience approach:
Incorporate a customer experience strategy into your go-to-market plan, where your product is the primary driver of client acquisition and retention. This will ensure customers enjoy a seamless experience with your product. Since most customers prefer to test it before making a purchase, offering free use for a set trial period will help them make better-informed decisions.
Use metrics to track performance and success: Some of the metrics used in SaaS marketing are:
Customer acquisition cost (CAC)
Customer lifetime value (LTV)
Channel-wise spending and revenue
The first two – CAC and LTV are the critical indicators of how much you have been spending to acquire customers and what value they add. If the CAC is higher than LTV, you will have to review and redefine the budget or make a few tweaks to the product to increase traction.

Netflix is a classic example of a good product with an effective GTM plan. Their one-month free trial helps them acquire customers easily as the experience and content offered are unparalleled compared to other OTT platforms. This also increases the chances of customers opting for a premium plan.
Keep track of customer's buying journey:
Businesses need to understand the potential customer's buying journey. From your customer's viewpoint, the purchasing procedure is straightforward. It will go as follows:
Once they realize they have a problem, the buyer begins their groundwork.
The buyer then narrows down the options.
Before making a choice, that selection is whittled down by speaking with sales teams from the solution supplier and testing product use cases.

From a business standpoint, the buyer's journey resembles the conventional sales funnel. The sales funnel's top includes awareness, interest, desire, and action. Therefore, to engage customers throughout the buying process, it is vital to deliver different content at each funnel stage.
Awareness Stage – Blogs, videos, Infographics, Ads
Interest Stage – Landing Pages, News Letters, Email Campaigns
Desire Stage – Gated Content (Whitepaper, eBooks, Case Studies, etc.)
Action Stage – Book a Demo, Free consultation, Free Trial Period, etc.
Whichever level you look at, it is essential to optimize the funnel so potential leads are attracted, engaged, and delighted enough to be converted to customers.
Conclusion
Regardless of how incredible you think your product is, you always need research and an effective go-to-market strategy. This includes establishing an effective content marketing team in place along with the sales force. Content needs to be engaging, backed with the right SEO tactics, based on extensive research, supported by good design elements, and promoted across social media channels targeting specific audiences. There should be a metric for tracking the conversion rates, and businesses should leverage this data to assess the effectiveness of the GTM plan. Companies should also periodically review the SaaS GTM strategy and must reassess and modify it if necessary. Are you a SaaS company planning to launch a product or looking for the right GTM plan? Get in touch with The Smarketers to know how we can help!