A year ago, AMP listings were officially integrated by Google into their mobile search results.
Today, AMP is a savior for every leading publishing house, E-commerce company, and is a favorite among marketing professionals. So, what is this AMP?
1. What is Google AMP?
Accelerated mobile pages or AMP is an open-source HTML framework that allows webpages to load quickly. Websites that are content-rich, (content like video, graphics, animations, and ads) can load faster using the AMP feature. It allows websites to create light-weight webpages to load quickly.
According to SearchEngineLand, the average load time for AMP enabled pages are 0.7 seconds and the median load time for normal pages is 22 seconds. Google integrated AMP enabled web pages in its mobile search results on February 23, 2016. These AMP powered pages will appear in mobile search results and would be labeled with an AMP icon.
"AMP is an open source project designed to help web publishers create mobile-optimized content that loads instantly on all devices," according to Google.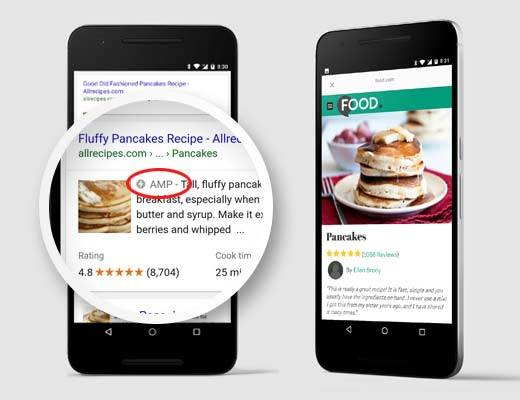 2. How does AMP work?
Accelerated mobile pages are designed with three main components: AMP HTML, AMP JS, and AMP Cache. The optimization of the AMP is based on JavaScript, CSS3, and the pages are cached.
"Google AMP cache functions in a manner similar to a content delivery network (CDN), that it is free for anyone to use and that it works on 'stale-while-revalidate' model," says a source from Google.
3. Usage of AMP
Google AMP is focused on news stories from online publishers. Several other businesses like e-commerce companies, online agencies, and advertising firms are extensively using AMP technology as well.
Companies like Bing, Twitter, LinkedIn, Yahoo Japan, Baidu, Pinterest among several other companies and Google partners use AMP. eBay started integrating AMP into their mobile shopping webpages and currently, about 8 million AMP-powered pages are in creation.
4. AMP and SEO
Google prefers the mobile first approach and the usage of AMP is not a ranking factor. The sites that use AMP will not get a boost in search positions. AMP powered webpages load sooner and tend to get more clicks and a low bounce rate.
5. Mobile-Friendly pages VS AMP
Mobile-friendly pages are built with Responsive Web Design (RWD) and would be optimized to view on different devices such as desktops, tablets, and high-end mobile phones.
Accelerated mobile pages are built with an open source HTML launched by Google for swift webpage loading on mobile devices.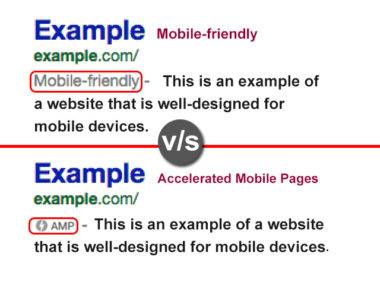 There is no problem of duplicate content in mobile responsive pages.
AMPs have a different URL and they originate from Google AMP cache. AMPs end up with an AMP suffix and these pages have the issue of duplicate content to be sorted out.
Canonical tags have to be used to avoid duplicates between AMP and non-AMP URLs.    
Validate AMP on https://validator.ampproject.org/
Test mobile-friendliness of a site on https://testmysite.thinkwithgoogle.com/intl/en-in
You can get the Mobile Usability Report from search console to know the issues regarding mobile-friendliness under search traffic. You can also see AMP related issues under Search Appearance in webmasters.
6. How to set-up AMP on your site
You can use the free AMP plugin by Automattic to create AMPs for WordPress sites.
Once installed, activate the plugin, all the pages of your website will be AMP-powered by adding the /amp/ suffix to every URL. We can also use the Yoast Glue Plugin to create AMPs on WordPress sites.  
If you do not use WordPress CMS, you would have to create AMPs manually and upload the code on the website.
You can follow the tutorial on Accelerated Mobile Pages Project to implement AMP on your website.