We hear this question often from those who want to increase their marketing efficiency and conversions – "How to choose an Inbound marketing agency?".
Sometimes, the concern gets more intriguing, when they want to figure out 'how to choose a B2B lead generation company?' that can understand their marketing needs.
We aim to answer both these questions in this article by exploring the interdependence of inbound marketing and lead generation.
What is Inbound marketing?
Inbound marketing is a systematic and programmed technique to draw potential customers towards your product or service with the help of content marketing, social media marketing, SEO and a few other pull marketing tactics.
Inbound marketing is known to be one of the most powerful and affordable ways to achieve your marketing goals. With an average conversion rate of 68% that most companies have experienced in 2016, inbound marketing strategies and budget would become a part of your whole marketing mix.
Amidst the noise that prevails in the marketing universe, your customer tends to choose only what she likes. If your message, communication or product needs be the choice of your customer, then you need to be everywhere she goes.
Have you been able to achieve that?
Inbound marketing has been able to achieve a high conversion rate, using a combination of relevant pull strategies. The list of pull strategies that help you to create a sustainable attention model begins with the messaging on your website and goes on to blogs, infographics, videos and messaging on your product.
Firstly, this article would help you evaluate an inbound marketing agency and choose the one that suits your needs while you involve deeply with the inbound marketing strategy. Our major focus would be around being able to create a robust lead generation marketing campaign using inbound marketing strategy.
Knowing each other – Does the inbound marketing agency know you completely?
Even before you get entangled with the industry jargons while speaking to an inbound marketing firm, you need to understand each other and sync up at different levels.
It begins with the agency's ability to understand your business, industry, customer expectations, communication channels, sales, and leads cycle. The agency would have this kind of experience only if they have dealt with accounts similar to yours. If they haven't dealt with companies like yours, it would be an equal learning curve for the agency too, in implementing an effective inbound marketing strategy.
Let's begin by dealing with one question at a time.
Does the firm understand your business and industry?
When an agency runs its research about your company, they should be able to gather basic information pertaining to the actual business that you do, about the product or service, competitors, industry trends and history.
Let's say you are a fin-tech or AI company. Each of these sectors is very different in the B2B scenario. The type of customers and their personalities differ to a great extent and so is the case with the kind of content, style of communication and type of channels chosen while devising an inbound marketing strategy.
Do they know where to find your leads?
Let's take the same example mentioned above, though they understand the sector, a fin-tech company could be serving banks, micro financers, accounting firms, training firms and so on.
Based on this distinction, the inbound marketing firm should be ready to find relevant leads for your firm.
The same is the case with an Artificial Intelligence (AI) solution.
Leads conversions, lead nurturing and lead education could happen at different places and channels, or they could all happen at one place. This is an aspect that needs to be identified by the firm and brought to your notice.
This knowledge would help you shortlist an agency.
Each company's sales and the lead cycle is very different. This is critical because it helps the agency understand the customer journey. In the journey of a potential lead converting into a final customer, each customer persona would have a different path.
Identifying the funnel across multiple customer paths and choosing relevant tools to target and convert them, is what sets apart an inbound marketing agency.
This sequence is something that needs to be discussed between the agency and your team. It further helps both teams in determining channel optimization. Here is a sample that we have created for you.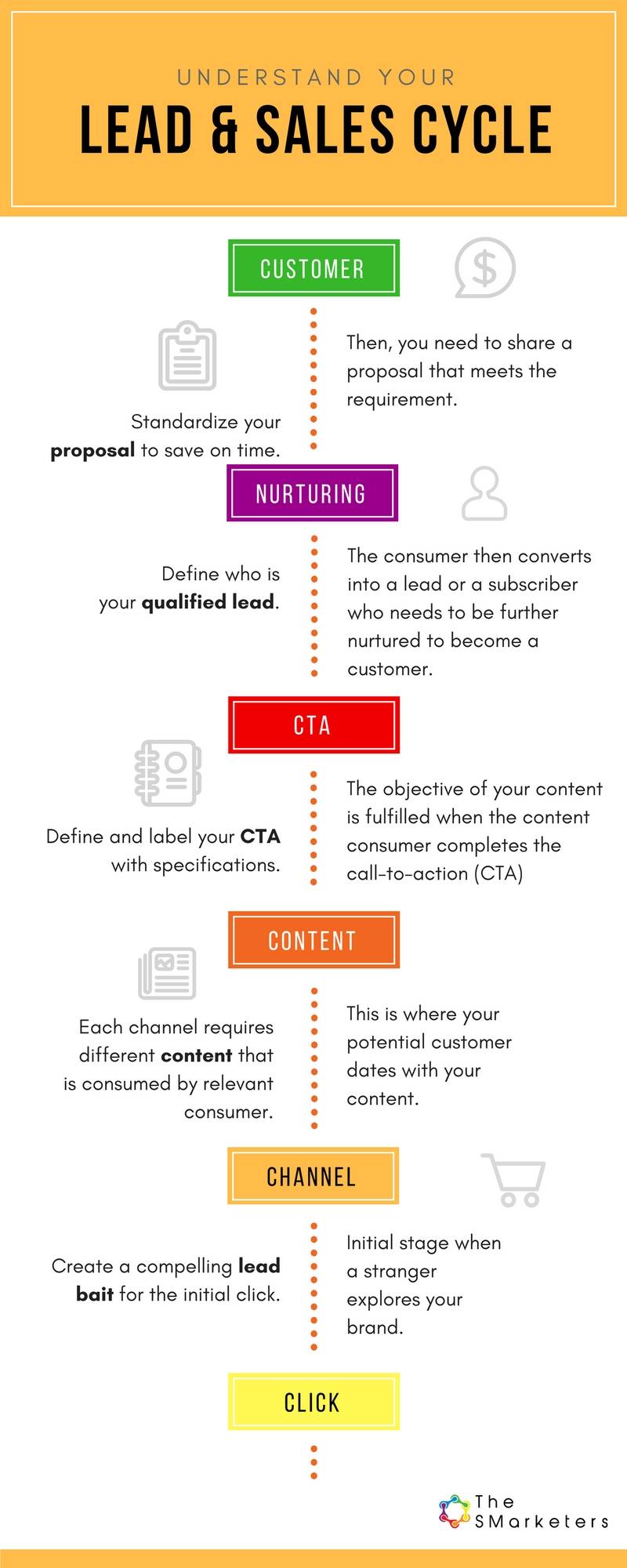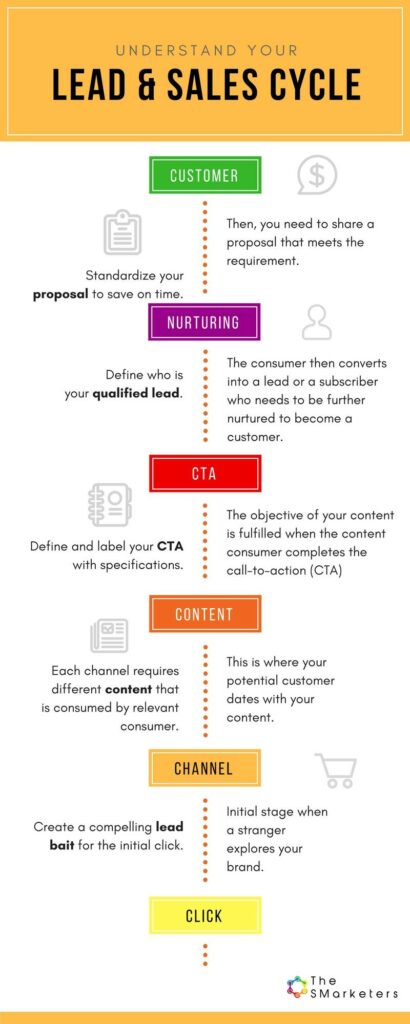 Some of the efforts that work best based on effectiveness are listed below, corresponding it to the different levels of a marketing funnel.
| Levels of a marketing funnel | Different works by priority that work well |
| --- | --- |
| Top of the funnel | Content marketing, Paid media, social media, direct mail and events |
| Middle of the funnel | Content marketing, social media, paid media, events and direct email |
| Bottom of the funnel | Content marketing with direct mail, Paid media and events. |
Channel optimization – What are the channels that work for you?
Once, the agency receives information about your customer journey and their touchpoints, channels for further engagement have to be pinned down.
These channels could be your website, a blog, chatbox, social media channels, news sites, etc. Each, being relevant to your final goal.

We gathered some insights that showcase top B2B channels that work best for different industries.
Manufacturing – Email marketing and referrals
Education – Content marketing and SEO
Financial Services – Email marketing and Tradeshows
Technology – Content Marketing and SEO
Health, Wellness, And Pharmaceuticals – Paid Search and Referrals
Business Services, Logistics, and IT Marketers – Content marketing and Word-Of-Mouth
Marketing and Creative Services – Referrals
Your agency should have a list of inbound marketing channels and techniques that will speak best with your potential customers.
What is your goal? – Communication of the Goal
A most important aspect of the know-how is to share definite and finite goals with your agency based on which you can validate the success of the inbound marketing plan.
Your goal needs to be a clear metric in the form of – online sales, referrals, qualified leads, lead form conversions, subscriptions, followers and so on. While these would be your final goals, you would also need to define a goal at each level of the marketing funnel.
Here is a short overview of the typical goals that you may define at each level of the funnel –
[table strip="striped" border="bordered" compact="" hover="hover"][thead][tr][th]Level of Funnel[/th][th]Probable Goals[/th][/tr][/thead][tbody][tr][td]Awareness[/td][td]Keyword ranking, Organic website visits,[/td][/tr][tr][td]Interest[/td][td]Bounce rates, Page time spent, engagement rate, Interaction on chat bot.[/td][/tr][tr][td]Consideration[/td][td]Number of shares, downloads, subscriptions. Subscription to webinars(Ebooks, blogs, whitepapers)[/td][/tr][tr][td]Intent[/td][td]Ask for a product demo[/td][/tr][tr][td]Evaluation[/td][td]Ask for proposal or price list[/td][/tr][tr][td]Purchase[/td][td]Completion of sales transaction. Typically recorded offline in case of a B2B transaction.[/td][/tr][/tbody][/table]
To make this happen, an inbound marketing agency should assist you with,
Building customer personas

Identifying, defining and implementing touch points all through the communication journey, which are also referred to as marketing triggers.

Creating a set of keywords relevant to this exercise

Tracking inbound marketing goals
Capabilities, Team, Skills, and Credibility
Once you are confident that the agency has both the acumen and aptitude to handle your goals, now it is your turn to know more about the inbound marketing firm.
You could use this simple checklist provided below or deep dive into details that you need to gather in the sections further below.
Team credentials

Other resources deployed on your project – consultants and freelancers

Strategies used to achieve your marketing goals

Portfolio of the agency with case studies and credentials

Technology certifications and expertise

Who on your team will be the point of contact with the agency?
Tip: Check out the reviews shared by a company's customers to validate their credentials.
Who are the team members on your team?
Does this really matter? Yes, it does.
The people who will be creating and driving your inbound marketing strategy should have the experience of different elements that are involved in making it a success.
Typically an inbound marketing team would comprise of a strategist, content manager/ editor, content writer, illustrator/ graphic designer, account manager, social and community manager, PR associates, data analyst or scientist, domain experts and other agency partners like Google, Hubspot, Marketo and so on.
Also, a brief background about their past achievements and work would help you choose a team with better credibility.
Though the team seems large, not all these team members will be working on your campaign full-time. In a way, this turns out to be good because they bring their learning from other projects into your campaign. While they will be accountable for what you have mutually agreed as goals.
What are the other resources you will employ?
Apart from people mentioned earlier, inbound marketing firms use a combination of tools, professional partners and other resources for which you may be required to pay additional or use it for free. This is especially an appropriate approach for capturing leads.
Some such tools could be –
Email marketing – Mailchimp, Hubspot
Integrated marketing software – Lead squared, Hubspot, Marketo
Communication tools – Contently, Buzzfeed
Analytical tools – Google Analytics, Kissmetrics, Mixed Panel, Adobe Analytics
Influencer marketing platforms – Tapinfluence, Trackr, Speakr
PR tools – Prezly, Cision
Apart from using any of the above-mentioned tools, some inbound marketing, and lead gen agencies come in as partners to these organizations, which provides an edge in expanding your network and implementing the campaign in a better way.
What are the strategies you will use while deploying my lead gen/ inbound marketing action plan?
Here is a critical question which is typically left out as an obvious assumption during introductory discussions. Not all strategies are applicable to each case. Discuss and understand which of the following strategies will be applied for your inbound marketing campaign.
Email marketing

SEO

Content marketing

Social media

Influencer marketing

Lead nurturing

Other online branding and communication
Having said that, either a combination of all of them could be relevant to you. Some agencies also take up sponsorship partnerships, offline endorsements, and event engagement as a part of their inbound marketing strategy.
What are the other projects/ clients you have worked on? How long did it take to achieve the results?
Simply put, you are asking the agency for its portfolio and track record. This is super critical to know the worth of your agency that you are talking about. If the agency is relying on fluff, these criteria would receive a zero score.
The portfolio should speak about the scale and type of problems that the agency has solved. It is also required to know the details of the network that the agency brings in, the capacity to solve new challenges and the ability to adapt to newer technologies in the process of achieving their targets.
Some metrics that you should track while evaluating their portfolio are provided here –
No. of qualified leads generated

Increase in organic website traffic

Social engagement

Subscriptions at different levels of the funnel

Sales Opportunities

Backlinks and brand mentions generated
You can define your own unique metrics that add meaning to your marketing efforts and the inbound marketing campaign. These metrics could be compared with the real-time achievements of the agency.
What is the technology that you will use?
Technology, in this context, is not about branded solutions but about those technologies that are imperative to the whole marketing system your company is involved with. Agencies need to be equipped with the knowledge, ability to implement and support you with certain technologies all through the inbound marketing campaign.
You could choose to implement these within your organization or leave it in the hands of the agency.
B2B companies adopting inbound marketing for lead generation or otherwise would require any or all of the following. To help you understand each category, we have provided a few examples.
Content Management System (CMS) – WordPress, Drupal, Joomla, Magento, etc
Marketing automation systems – Marketo, Hubspot, Salesforce Pardot, Eloqua
Customer Relationship Management – Salesforce.com, Netsuite, Sugar CRM, Microsoft Dynamics
Inbound Marketing Analytics – Adobe Analytics, Oracle, Hubspot, Google Analytics, Mixed Panel.
Paid search marketing and programmatic management tools – Google AdWords, Adroll, Adobe Marketing Cloud, Double Click, Choozle
Landing page management – Capterra, Unbounce, Instapage.
Social media management tools –  Hootsuite, bitly, Sprout Social, Buffer
E-commerce website manager – Magento, Woo themes, Shopify, Prestashop, Actinic.
Intelligence that your organization needs to have before hiring an inbound marketing partner.
Until now, we have shared about the parameters that you need to evaluate before hiring an inbound marketing agency. But, here is something that we want to share what your organization should be equipped with before engaging with such an agency.
Most checklists miss this piece.
Your organization would require to employ personnel who understand the nitty-gritties of an inbound marketing agency. The point of contact, typically the marketing manager should be able to own this engagement completely and ensure that the agency delivers what you need.
From the above mentioned checklists, choose what you want to own from among the technologies, tools or human resources and what you want to leave with the agency.
Leadgen campaign design
Now, having got to know about the potential inbound marketing agencies that you are seeking to partner with, the next step would be to design an inbound marketing campaign.
In this episode, we have laid special focus on – 'How to design a lead generation (lead gen) campaign?'.
Most inbound marketing campaigns begin with a realistic and concrete goal, one of them is generating leads. Just generating leads may not add value to your marketing cycle. What does add value is to define a 'qualified lead' and evaluate a campaign's success based on the no.of qualified leads that it has gathered for you.
After defining a qualified lead, you can get started with designing a lead-gen campaign. While designing it, you will need to adopt the following features into it.
Will the campaign be flexible and scalable?
Your lead generation campaign should be designed to fit in scaling up and mellowing down the scale of the campaign. You can consider any of the following scenarios for the same.
Budget – If you have a budget of Rs.1,00,000 for a given month and if there is a need to bring down your budget to Rs. 20,000, check if your agency can do that for you. Budgets can change due to availability of inventory, sale seasons or ineffective channel.
Channel experimentation – When you are in an experimentative mode, trying to analyze which of the channels work for your brand, flexibility is key. You need to fit this into your schedule, where you may check Facebook for 3 months and then may Linkedin or Instagram based on your audience.
Timing – This is a neglected and overseen area. Let campaign include customized timings into the campaign. Your audience might be engaging with your content mostly during the early hours of a day or during a tea break. These facts would be revealed only when you give enough room for experimentation.
How will you focus on my business location?
When your product or service is driven by the location, geo flexibility within the lead gen campaign is of high priority.
As you come up with new stores in new cities, your lead gen campaign needs to adapt to the pulse and language of the new location for your new audience. Few aspects of care are mentioned here –
This needs to be linked into your CRM software.

Use an opt-in feature while creating a data entry form for your potential leads.

Ask users for location-based notifications in your communication.

Add location-specific offers in the campaign

Do not use a permanent 'set it' feature. Keep changing with time.

Include hyper-local terms in the keyword search exercise.

Include hyper-local influencers in the inbound marketing strategy.
The list can go on and be customized as per your needs. Geo-specific campaigns also have the advantage of adjustable costs based on location-driven demand and product pricing.
What would be the costing?
This is always a hot segment. Our clients always ask us how the costing works. You can use this list while discussing the cost of your campaign with your lead generation agency.
The apparent costs included in a lead generation campaign are –
Advertisement budget – Text, display and inline ads, PPC

Cost paid to writers and influencers

Any exclusive Software/ SaaS platform costs – CRM, email management

Agency service management fee

Social media management fee

The salary of your marketing manager and other employees involved in this campaign
While this is a list you can begin with while negotiating a deal, there are some important KPIs (Key Performance Indicators) that you should understand beforehand. You should also discuss these with your potential agency.
These KPIs need to be included within the monthly reporting system that will help you check the progress of the inbound marketing campaign and further the lead generation campaign.
It would also help you calculate the ROI at a much faster pace.
Cost per lead

Cost per qualified lead

Organic traffic to the website vs Paid traffic

Organic leads vs Paid leads

Lead qualification rate

Lead conversion rate

Cost per Sale

Cost per lead by channel

Cost per lead by Location

Cost per rupee/ dollar earned
This is a good beginning to start with. They also set good reporting standards to measure your overall marketing performance.
The costing details would also include discussion of policies like refund policy, upgrade and downgrade packages, cancellation in the middle of a consigned tenure.
How will you measure the success of your effort and manage resources?
Your inbound marketing campaign needs to be measured, without which the effort that goes into it is futile. To measure an inbound marketing campaign, you would have to include a few elements into the campaign –
Call to Action buttons

URL management tool

UTM tags into the URL

A/B testing templates for email layouts as well as landing pages

Lead attribution

Campaign output expectations

Campaign resource assignment
Once you take a due care to include these elements, you can create your reporting statement using the following measurement metrics.
Lead conversion rate

Cost per lead

Cost per customer acquisition

No.of subscribers

The lifetime value of a customer

Return on Investment (ROI) – This is not just the ROI at an organizational level, but also at other levels of the campaign hierarchy like ROI of the campaign, ROI of
These metrics not only state the success of a given campaign but also the profitability of your marketing efforts which is of great interest to the CFO and CEO of your organization.
After having inferred at these metrics, you may also want to track the number of resources being deployed on hand for your campaign on a monthly basis.
Some of the resources that will add to your variable costs are –
Content writers

Influencers

Bloggers

Designers

Videomakers
The other variable costs that you should consider would be the subscription fee that would be paid to a CRM provider, online applications and email database management applications.
We are not done yet!
Managing an inbound marketing campaign and hiring a perfect inbound marketing agency would include creating a project plan and budgeting. After having defined the type of agency that you need, you will have to start searching for one.
We will be dealing with these aspects and precisely where to find a good inbound marketing agency in the upcoming episode of 'How to choose an Inbound marketing firm that works for your lead generation needs?'
You would be acquainted with micro aspects that will help you plan and execute a lead generation campaign which in most cases is one of the primary reasons to adopt an inbound marketing strategy.