If you've landed here for the 1st time, I would suggest you go through Part 1 of the guide first.
Lead generation (lead gen) involves capturing information of people who are likely to be interested in your company, your product or service or the knowledge that you share.
The information could be a simple email id, name or phone number or could be very critical details about an industry, salary standards, product preferences and more.
Lead generation is a scientific process that involves creative skills. The objective of lead gen is best achieved when the person providing the information gives voluntarily, which in return may or may not involve a benefit.
Simply put, this is called pull marketing. Inbound marketing majorly deals with pull marketing and sometimes is also referred interchangeably.  
While choosing a lead gen agency, you may strongly consider looking for a specialist, being an inbound marketing agency.
Choosing a B2B inbound marketing agency
Choosing a B2B inbound marketing firm involves understanding the abilities of the agency. This includes matching the skills of people on their team, knowledge about the technology in use to deliver the desired results and the preferred processes adopted by the agency. We have dealt about creating criteria and drafting the scope of work for an inbound marketing agency, in detail, in the previous episode.
In the current episode, you will be introduced to the details of how to budget for your lead generation campaign plus the agency cost and where exactly to look and find for inbound marketing partners.
Most organizations look up to inbound marketing agencies for quick marketing solutions. But, we would like to educate you about the fact that short term marketing tactics involve variable costs. This means that such campaigns will be tied to the results and further directly proportionate to the cost that you incur.
On the other hand, long term marketing and lead gen campaigns act like a fixed investment. The cost incurred would be heavy in the beginning, but would start to diminish as you start seeing results over a period of time.
We will tell you what are these tactics that work in the short term vs long term and how should you budget for the same.
We have helped companies in drawing such a conclusion and assessing such costing projects. If you such a query, you can consult us and will be happy to sort it out for you. However, this article would help you do it by yourself!!
Budget and Costing
We won't comment much on what percentage of your revenue should be catered to marketing expenses because that is very subjective to the industry in which you are operating. However, we will share on how to check if your marketing expense and revenue ratio is in good health. We will also be helping you determine what could be a healthy deal with an inbound marketing agency.
How to budget for the expenses for your activity?
Inbound marketing agencies work in different models to be flexible for the needs of their customers. We are going to share some payment models that are most popular among the fraternity.
You will primarily hear back from an agency asking you to clarify if you prefer a retainer model, project-based model or a profit-sharing model. Each one comes with its highs and lows.
Retainer model
A retainer model works best when you have a well-defined scope of work. If you have a consistent need for certain pieces to be delivered or maintained on a monthly basis, then you would receive value for money. Some of the services that would fit into this bucket are –
Monthly lead generation through paid media campaigns like Adwords, Facebook ads, etc.

Email marketing campaigns

Periodic internal and external communication like newsletters, upsell reminders.

Social media messaging and monitoring

Online reputation management

Website upkeep and updates

Blog updates

Online PR

SEO

Content and influencer marketing
Any of these individually or as a combination can be packaged within a retainer model. The solution suggestions hence, need to come from the agency as to what best suits your company's requirement. That means, which of these would generate leads for your organization.
Project-based model
A project runs for a stipulated period of time and so does your engagement with an agency. This is also very closely tied to the nature of your business. We see that this model is popular among B2B businesses that are seasonal, event-based like MICE or technology projects.
If you choose a project-based model, you can hear the following to be part of the scope –
Designing and disseminating e-mailers for the time period

Case studies and speaker or people profile building

Guest blogging

Authority building and influencer profile creation

Post, during and pre-maintenance of website

Targeted subscriber or attendee communication

Social media marketing

Sponsorships, Webinars, Workshops
You can have more to add to the list based on your project.
Profit-Sharing Model
This works best when you can track marketing efforts only based on numbers/ results. This is very common among businesses that sell online training modules, commoditized consulting services, and virtual packages.
Apart from the services listed above, the set of services and tactics would keenly focus on –
Landing Page optimization

Image optimization

Page conversions

Lead gen page development and maintenance

Email conversions

Social media engagement and reputation building

Community building
This model could further be delivered either on a monthly basis or for a designated period of time. Now that we have introduced the different transaction models that you can engage with an inbound marketing agency, you can next start working on determining the channel and campaign-related costs.
While you choose the model, you need to also discuss aspects pertaining to –
Credit policy

Delay in payments

Invoice processing time

Date of raising an invoice

Other physical documents required for accounting compliance needs.
How to determine the cost to be spent on a channel or campaign using historical data?
Irrespective of the campaign or marketing channel you deploy, you need to check the metric CPRE or CPDE.
This acronym can be expanded to 'Cost per Rupee Earned' or 'Cost per Dollar Earned'. Fit in the currency that suits best for your transactions. Having said that, it determines what % of your capital/ revenue should be catered to inbound marketing and lead generation.
For instance, if you are trying to decide the amount that you need to cater to email marketing for lead generation, then you will have to simply substitute numbers into the following formula.
                                              Money spent on email marketing
CPRE for email marketing =______________________________
                                            Revenue earned through email marketing
This ratio needs to always remain below 1 to ensure profitability. How big is the profitability depends on the efforts of both marketing and sales teams? You can apply this to each campaign and channel that you choose to implement to generate leads for your company.
Tip: Use a CRM to track costs incurred by each campaign and marketing channel. It works!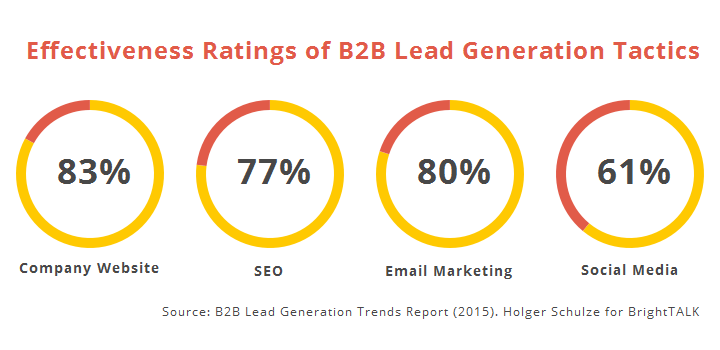 Some costs that you need to consider while creating a budget and costing plan with your inbound marketing agency are –
Project costs

– This includes the one-time fixed costs that you may spend towards deposits, sponsorships, purchase of media space, etc.

Resource costs

– These include the salaries of your own employees involved in marketing activity and fee to consultants and freelancers if any.

Technology costs

– Expenditure towards any SaaS solutions purchased online or equipment for security.

Agency service fee

– Service or management fee offered to the inbound marketing agency.

Channel fee and Media buying, if any.
These costs would branch out into further other granular costs. We have a detailed table that will help you run a check over these costs. This will help you stay away from surprises that come with not accounting for them in the beginning.
| | | | |
| --- | --- | --- | --- |
| Project Costs | Resource Costs | Technology Costs | Agency Costs |
| Media Buy | Marketing Manager | CRM | Lead generation |
| Sponsored ads and placements | CMO | Social media scheduling and monitoring tools | Inbound Marketing |
| Event participation & sponsorship | Freelancers | Programmatic ads | PR agency |
| Content distribution costs | Project Consultants | Analytical tools | |
| | Content Writers | Content curation and distribution tools | |
| | Influencers | Email marketing and lead generation tools | |
| | | Data mining tools | |
The list can go endless with the type of marketing expenditure you incur. If the list is endless, then why did we share this list for you?
You need to gain clarity from your agency as to which of these costs will be inclusive in the service engagement fee and which of these will be not. Some of the inbound marketing agencies could offer freebies based on the type of engagement model you choose.
Project plan
Now that you have your costs administered, you will have to devise a plan for execution. Each marketing channel would require a different plan. This is because, every channel would deal with a unique set of target audience, communication, and strategy.
In a given month, a project plan could look like this. Feel free to make your improvements like adding deadlines and person-in-charge. We are sharing an outline for 3 channels – email, blog, and webinar.

We have taken you through the criteria used to define an inbound marketing service provider, outline for due diligence, lessons on budgeting and costing. But, the job is left incomplete, if you don't find a B2B inbound marketing agency that meets your need.
Where to find your inbound marketing partner?
We have also done that for you.
While we can simply ask you to reach out to us:-), we have generated a list of sources where you can find a great B2B inbound marketing partner.

Sources to find inbound marketing companies
1. Google search –
Your obvious beginning would be on Google search engine. Let's say your search queries would revolve around –
'How to generate B2B leads?' and you can find us on the first page! Here is a snapshot of our webpage showing up with a few other top content websites that are appreciated across the globe by marketers.
The more resourceful and helpful a web page is, the higher they show up in the search ranking. When we can do it for ourselves, then we can do it for you.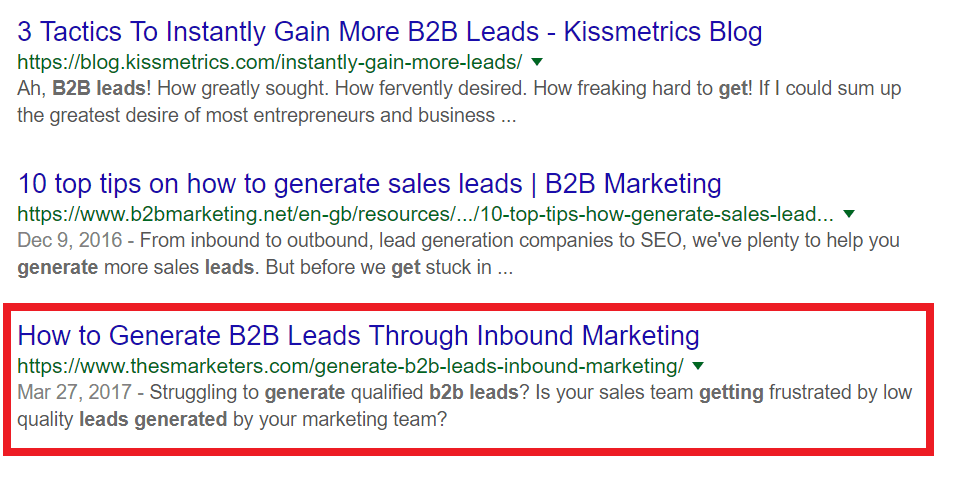 Other likely search queries could be 'B2B inbound marketing agency in India'. Go ahead and try for yourself. You will see us on the first page and it will look like something like this. Check out the image below.
If an agency is showing up in the first page of google search options, then they have done a good job for themselves and they are very likely to do a great job for you too.
This is not only a great source to find inbound marketing agencies that work for you, but also determine whether they are going to deliver results for you.
2. LinkedIn pulse-
Leaders, Influencers and Authors bring their unique experiences together and share it within their community. One such platform you should not miss is Linkedin Pulse.
You find experts sharing their knowledge with authority, here. We have one of our founder's musings listed here – https://www.linkedin.com/in/enochpjames/detail/recent-activity/posts/
Inbound marketing firms who bring expertise to the table share their thoughts and nuggets on this platform. Look for them and they will be found!
We share real-time solutions that we have worked on. We feel it will help you in solving your problems. Our Linkedin Company Page is another such source, which can be accessed here – https://www.linkedin.com/company/7573671/ .
3. Online Communities –
Few active online communities you should be a part of to find good inbound marketing partners are – Inbound.org, Slideshare, Agency Spotter, and Clutch.io. They focus on staging marketing firms that can partner with different businesses in different businesses.
They are not simply listings, but highly focussed industry-specific communities that enable sharing knowledge, building a network and discovering opportunity. You can find us in these communities too!
4. Online magazines or Content websites –
Smart marketers are everywhere. They share their views, learnings, and insights across online magazines as frequent guest bloggers. Few such places that we can help you with are –
a.) Live Blogspot
b.) SEO hacker
c.) Marketing Profs
d.) Marketing Week
e.) B2B Community
f.) Search Engine Land
5. Ask your friends –
Ask within your network of friends, professional acquaintances, and peers. They can help you a great deal because they would come with the first-hand experience of using the services of the agency.
Hope this will help you get started with a great partner.
Let's sum it up – A checklist to hire an inbound marketing agency
This would be your one-stop checklist that could be used while evaluating an inbound marketing agency for yourself.
Ask these questions to know if the agency understands your business –
Understand each other – Introduction
This section of questions would help you choose agencies that highly likely to meet your requirements and criteria, even before you sit at the desk and talk to each other.
Most of this information should be available online or accessible over a brief call. If you do not find this information online then, you are likely to engage with an agency that lacks digital footprint.
What is the age and experience of the agency?

What is the length and breadth of inbound marketing experience that you have?

Does your firm understand our business? If yes, could you share some work from this sector.

Does your firm understand the industry in which we operate?  If yes, could you share some work from this industry.

Are you a certified Hubspot partner?

Do you undertake further training projects that will help my team?
Deep dive
This is a questionnaire you would have handy while you get on a deeper level of discussion with the agency. You may also want to check on some of their case studies and project plans to validate what their background.
Where do you think our leads mostly thrive and engage with businesses like ours? Share some channels that you will choose to engage with.

Do you understand our leads and sales cycle? What would be the funnel that you will create for us?

How will you set and synchronize with our goals? How would be devised and set standards for the communication plan?

Tell us more about the client onboarding process.
More about their team, resources, and technology
Once you shortlist a few agencies, less than 3 preferably at this stage, you would want to know more about their team.
Once you find that the culture of their team suits yours, you would further spend time in evaluating the resources they have on hand and the technology that they are trained to deploy.
Who is there on your team?

How are you different from other agencies?

What are the resources that you will employ for our projects?

What is the technology you are certified to use and well-versed with? How do you deal with B2B lead gen?

How do you implement account-based marketing?

What are the strategies you will use while deploying my lead gen/ inbound marketing action plan?

What are the other projects/ clients you have worked on? How long did it take to achieve the results?

Will I have access to all team members or only a few members or just to the point of contact?
Signing the Deal
No matter how much you love the agency, this stage of signing the agreement should be something that you both agree upon. This includes accounting, legal and philosophical nitty-gritty. If your agency does not pass this stage, then you will have to restart the process.
What would be the complete scope of work? Which parts of the engagement are flexible and which of them are rigid?

What is the invoicing and billing process?

Is there any credit allowance or policy you should know? (Late fees)

Physical documents required for accounting compliance.

Who will be your PoC (point of contact)

What is the procedure for escalating grievances?

How do we retreat if we do not like the quality of services?

Do you sign a Non-Disclosure Agreement (NDA)
Campaign Design
After having agreed terms and conditions, you will now spread a clear and highly detailed strategy, campaign execution plan and inbound marketing plan. This is why you meet each other and tighten all loose ends.
Will the campaign be flexible and scalable?

How will you focus on my business location?

How will you measure the success of your effort and manage resources?

What would be the cost of each campaign to the company and how will it be calculated?

What is the turn around time to see results?

How do we change the course of direction if any campaign isn't working?

What will be the key metrics that we would track?
Budget and Costing
While this is not a separate checklist and you would indeed have this while signing the deal, you want to review this list exclusively. We recommend that you discuss these details even before evaluating the campaign design.
What would be the agency fee?

Is there any other additional cost involved?

What is the billing cycle?

Would the agency fee include payments made to third parties like writers, designers, consultant, and influencers?

Which model do you recommend – retainer/ project-based/ profit sharing model?

What are the costs involved in subscribing to technology and other monthly resources?
What's Next?
Once, you find an inbound marketing agency that works for you, you will get started with executing the strategy.  What may remain untouched after hiring an inbound marketing agency is the list of processes involved in running a smooth engagement with the agency.
Here is a list of processes you want to readjust and revisit before bringing an inbound marketing agency onboard. We recommend that you discuss the details of these processes with your prospective inbound marketing agency.
Lead capturing process

Content creation and approval process

Design approval process

Sales process

Sales team aligning with access and use of CRM

Landing page identification

Communication and messaging process

Lead and customer data entry

Understanding lead quality

Lead interaction and touchpoints

Lead engagement process

Channel management

Reporting and metric evaluation process

Marketing and Sales integration

Marketing and Technology integration

Marketing and Communication with product/ service delivery

Customer satisfaction

Reputation Management
After having aligned all these processes, you may require help to shorten your B2B sales cycle that would further help in reducing costs. It will keep the leads to sales funnel very focused and tight. Your resources and processes would be a lot more effective with that. Here is a resource that would help you effectively shorten the B2B sales cycle.