Among The Best
The Smarketers were globally recognized among other creative agencies in a new publication by Clutch, a US based firm. For those that have not come across Clutch yet, they work to make ratings, reviews, and research on technology and marketing business service providers help buyers make better and informed decisions. We are pleased to say that we have received high ratings in a competitive category. The rating was based on an evaluation of our previous work,  the cost of the project, and the overall market presence we have in India. Clutch is unique in their incorporation of feedback they collected in their evaluation with an example below: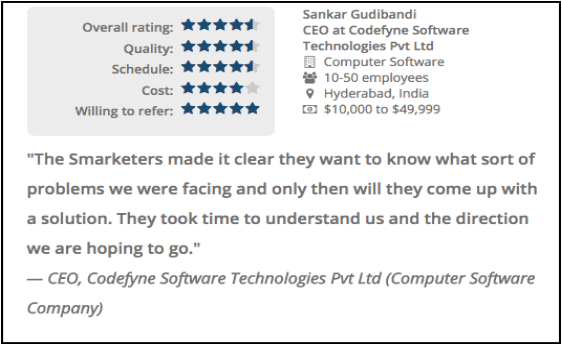 Project Summary:
The client, Codefyne Software Technologies Pvt. Ltd., are located in Hyderabad, India. They were looking to enhance their website's presence with content marketing, blog writing, and email marketing. They approached Smarketers through a friend's recommendation.
Feedback Summary:
The client was extremely happy with the work provided by The Smarketers. With the ongoing relationship, they would recommend The Smarketers highly because they took the time to not only understand the issues that the client was facing but their company overall, including what their organizational goals were.
To learn more about how we were evaluated, take a look at Clutch for more information.