It's tough to be a b2b marketing agency when the landscape continues to change. How do you create engaging content that attracts leads? What are the best ways to put your product in front of your audience? Are you even targeting the right audience? We're here to tell you that you can have it all.
At The Smarketers, we strive to achieve the unparalleled by creating goal-driven marketing and sales strategies, creating unique content that establishes thought leadership and leveraging only best practices and ethical methods to drive organizational success.
At least, that's what our clients have said about us. That's why we're proud to announce that, for the second year in a row, we've earned a spot on Clutch's annual list of leading B2B Indian agencies! We're featured along with some of the top companies in the Advertising & Marketing space.
We've talked about Clutch before, so we'll spare the details about their intensive scoring methodology and assessment process. As an independent B2B rating platform, Clutch seeks to empower buyers with trustworthy information from clients. This improves company visibility while helping buyers better understand their options.
That's why we've signed up with Clutch to collect reviews. Their team has reached out to our past clientele over the phone, interviewing them to get a holistic view of their experience working with us — from logistics to constructive feedback. From there, Clutch publishes that information in a case study-like review format.
See what one of our clients has had to say: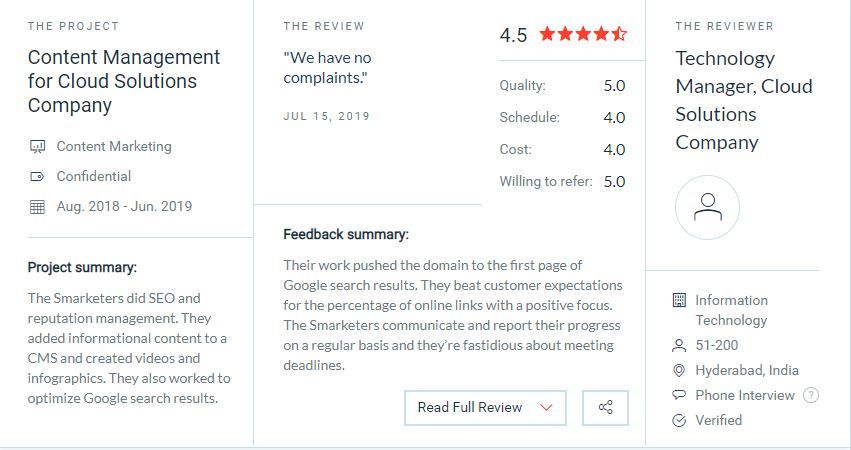 How flattering! In the words of our CEO: 
"We're elated to be recognised as a top B2B marketing agency for the second year in a row. This credit goes to our team, our clients, and partners. A big thanks to Clutch for adding us to the leaderboard!" — Enoch Pakanati, CEO, The Smarketers
If you'd like to learn more about our services, browse through our webinars, ebooks and blogs to pick up the best marketing practices for your business. Or, if you're ready to take the plunge, then get in touch with our team to see how we can support your goals!