Account-based marketing (ABM) and sales enablement are two crucial strategies for B2B businesses looking to maximize revenue and minimize wastage of marketing efforts. ABM focuses on identifying high-value accounts that match the ideal client persona and targeting them with personalized messages and content. Sales enablement, on the other hand, involves equipping sales teams with the data and tools needed for increased conversion. In this blog, we explore the benefits of these strategies and how they can be effectively aligned to create a holistic sales and marketing roadmap. We also dive into the different components of ABM and sales enablement, including content generation, customer communication, and sales team training, and provide insights into how they can be optimized for maximum impact.
What is Account-Based Marketing?
Account-based marketing (ABM) focuses on identifying high-value accounts (i.e., companies, individuals, user groups, etc.) that match their ideal client persona. Also known as key-account targeting, ABM targets them with personalized messages and strategic content. It is a perfect fit for B2B businesses since it identifies best-fit accounts and treats them as a 'market of one' for highly targeted marketing.
Compared to traditional marketing methods that cast a wide net to generate leads, ABM incorporates sales to identify the right prospects. The next step is customizing key content and messages for the buying team within the target accounts. Hence, ABM results in little to no 'wastage' of marketing efforts. Essentially, ABM "flips the funnel" for a more linear and targeted approach.
Industry leaders recognize ABM as a B2B marketing "must-have" for the digital age.


The traditional marketing funnel Vs. the 'flipped' ABM funnel*
*Based on Sangram Vajre's #flipmyfunnel ABM model
Personalization is the crucial factor in ABM. While building customer-brand relationships is important for all businesses, ABM takes it up a notch. To appeal to high-yield prospects at a granular level, ABM targets specific company accounts and builds relationships with ideal prospects within these organizations. Since the marketing strategy is personalized for each target component, you can single out valuable leads.
What is Sales Enablement?
In any company, the sales team is tasked with generating qualified leads and selling the brand's products/services. However, salespeople often juggle too many things simultaneously, be it discovery calls and market research or chasing sales targets and contract cycles – the sales team has a lot on their plate.
Thus, it helps to assemble a set of processes to help sales teams access valuable information and relevant content required to create stellar sales campaigns to attract prospects. This is what sales enablement is about.
Sales enablement is a continuous process wherein different teams (data mining, marketing, etc.) collaborate with the sales team, equipping them with the data and tools needed for increased conversion. For instance, marketing teams put together customer information and ABM content as part of the sales enablement strategy, including product demo scripts, demo presentation decks, solution briefs, feature lists, case studies, etc., to help salespeople convert leads into buyers.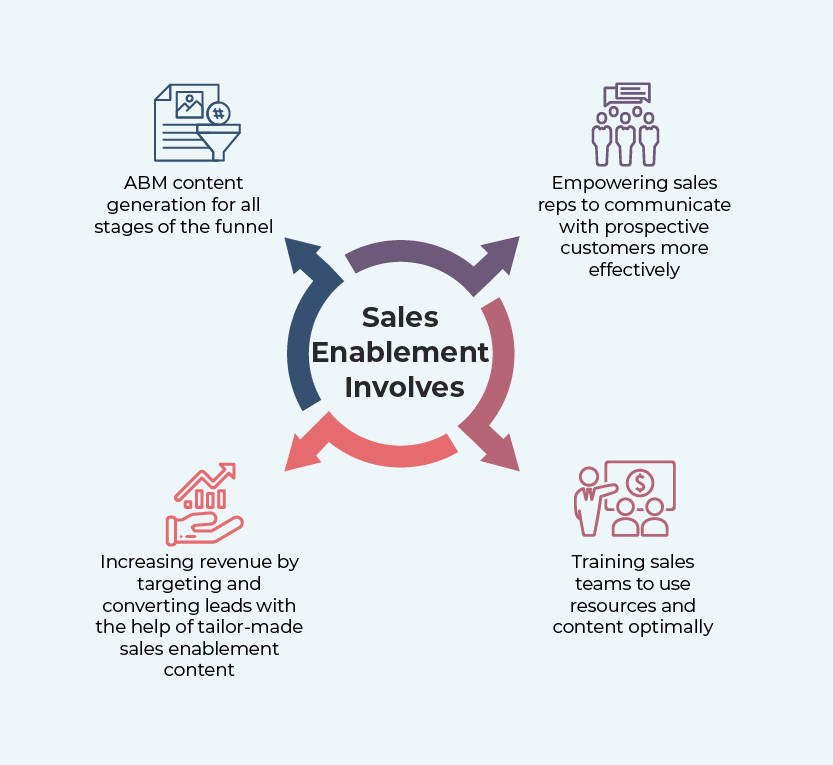 Sales enablement involves:
ABM content generation for all stages of the funnel
Empowering sales reps to communicate with prospective customers more effectively
Training sales teams to use resources and content optimally
Increasing revenue by targeting and converting leads with the help of tailor-made sales enablement content
Advantages of Sales Enablement?
Sales enablement programs offer numerous benefits while enriching the buying experience for clients.
Focused customer communication
The journey from lead generation to conversion is long, with potential customers at different funnel stages. So, sales teams must personalize communication based on where their prospects are currently.
Accordingly, the scale and type of content being used must also change.
Primarily, blog posts and quick-to-comprehend infographics are used at the top.
Case studies and testimonials are used further down the funnel while forming long-term alliances.
The marketing team creates key ABM content for each step of the funnel.
This full-funnel marketing strategy involves creating data-based, tailored content for each stage of the customer's buying journey.
Better equipped sales team
Thanks to sales enablement practices, sales reps can leave the burden of ABM content generation to marketing experts and primarily focus on aggregating and targeting high-priority accounts.
Apart from using the standard ABM tech stack, sales enablement practices use data insights to manipulate every sales interaction.
Sales reps become more aware of the potential customer's pain points, thereby capable of promoting suitable content to address them.
This aids better customer engagement and fosters quick lead conversion.
Improved Sales Content Creation
Marketing teams can focus on producing the best-fit and relevant content for sales conversions.
Content resources can be versatile and may include documents, product reports, infographics, blogs, short videos, etc.
Since the content is targeted to specific customer profiles, sales teams can close deals more effectively.
Sales and Marketing Alignment – Why is it Important?
Though sales and marketing alignment has always benefited businesses, it is instrumental for ABM.
Account-based strategies need cross-functional inputs from all avenues of an organization to create a holistic sales and marketing strategy. A connected ecosystem is the first step toward creating successful ABM campaigns. It is crucial to destroy the culture of working in 'silos' – marketing and sales must unite to form a strong ABM roadmap. After all, both teams have a common objective: facilitating personalized, valuable interactions with key accounts to maximize revenue.
While marketing is responsible for designing activities to persuade target customers, sales teams must establish rapport with each stakeholder (in the target account) and achieve lead conversion. This unified lead generation and conversion approach is known as 'alignment.'
It is crucial for marketing and sales teams to acknowledge their interdependence. For instance, the marketing team must get data on customer expectations from the sales team to create suitable content for the target audience. Since the sales teams interact with the leads daily, they can provide insights to help marketing staff tweak content and messaging to make it more attractive to prospective customers. Correspondingly, marketing efforts help zero in on the ideal leads that sales can pursue without wasting their efforts on unqualified leads.
According to 2022 stats, organizations employing sales enablement recorded a 49% win rate on forecasted deals. This shows that companies can expect a much higher lead conversion rate with marketing-sales alignment.
Aligning ABM with your sales efforts aids the sales team and provides valuable insights to improve your marketing strategy. You can convert more leads through relevant content targeted towards high-priority accounts, improving sales numbers and boosting ROI.
An effective sales enablement program helps bridge the gap between the sales and marketing teams and promotes coordination.
Who should lead the sales enablement program?
This is, again, a joint effort for both marketing and sales reps. Sales enablement can only be successful when sales and marketing teams do their part diligently –
Both teams must collaborate and decide on the type of resources to develop.
Once an ABM content strategy is decided upon, marketing is responsible for content generation.
Marketing should also have a training plan to guide sales reps on best using the content provided when targeting a customer.
Once marketing provides the right resources and training to the sales team, the sales team must implement useful information into practice to nurture leads and close deals.
ABM and Sales Enablement Best Practices
Follow these best practices to reap optimal results from ABM-sales enablement alignment:
Align sales and marketing goals
Before designing campaigns or creating content, understand who your target audience is, what message you would want to send across, and what you wish to achieve from your campaigns.
Often, sales enablement efforts fail because marketing and sales teams aren't in sync. For example, marketing teams may not consider first-hand customer knowledge gathered by sales reps when designing campaigns. Likewise, if sales reps ignore data-backed MQLs and SQLs, they'll only be chasing cold leads.
This only leads to bad business.
When your sales and marketing wings communicate, collaborate, and work toward the same goals, it helps shorten the sales cycle. It is good practice to hold periodic meetings and brainstorming sessions to discuss findings, progress, and plans. This creates a cohesive ABM-sales strategy.
Use the right tools
Consider investing in good CRM and automation tools to monitor and measure your marketing/sales efforts and deliver insights on customer response to specific content. Additionally, using team collaboration tools helps keep processes transparent and simplifies workflows for both teams. Your staff can see campaign progress, results, etc., in real time via interactive dashboards and plan the next steps accordingly.
Train your sales staff
Providing your sales team with the necessary tools and resources isn't a one-time thing. Sales training should be a continuous process to guide and help your sales staff improve over time. Training empowers professionals to tap into their strengths and work smarter to overcome real-world business challenges.
Measure the impact of sales enablement practices
To ensure your sales enablement practices deliver the desired results, it's essential to measure sales enablement metrics, including –
Lead-to-opportunity conversion rate
Win rate
Average sales cycle length
Quota attainment by the sales reps
Content adoption
Average deal size
Looking for an expert opinion? Talk to a smarketer today!
Creating a well-oiled business engine involves aligning all the moving parts correctly. That's what we do!
Backed with industry expertise, our expert Smarketers will help you understand your customers, identify core business goals, and unlock new marketing opportunities. We specialize in ABM and demand-gen, and if you're looking to land big accounts instead of chasing dozens of smaller accounts with no promise, we can help you. Book a consultation session with Smarketers today!