F1 racing is a splendid sport to watch. And an F1 racing team is an excellent example of a well-oiled device, with each member of the team performing their part thoroughly while being sharply aware of how they fit in with their teammates' work and pace. Every pit crew member(lollipop man, tire carriers, tyre changers, jack men, starter men, etc.) must be perfectly aligned with the sales and marketing team along with the racer, or else the timing of the race might collapse.
Businesses can learn a lot from F1 racing teams. Each employee of a B2B or B2C company should be working towards a key organizational goal. This will not only increase brand value but also ensure growth.
If one team in an organization is out of line with the rest of the organization, you could miss out on an opportunity to grow or lose a prospect.
This is specifically true when it comes to Sales and Marketing.
Marketing generates and nurtures leads of people who make up a buyer persona, whereas sales communicate with potential customers at a time, putting the buying process into context.
In an ideal world, to execute these goals, sales and marketing processes would be assembled with the other team in mind. But in most organizations, sales and marketing teams continue to function out of alignment.
Marketing and sales need to work together to equip each other's voids and increase the growth of a company.
According to Roinnovation, 65% of sales reps say they can't find content to send to prospects, representing the most common complaint cited by sales teams.
Here are five essentials of Sales and Marketing alignment, or as we call Smarketing:
Focus On Common Goals:
Problem: Sales is from Saturn, and Marketing is from Mars.
Solution: They still orbit around the same Sun.
The easiest point where your sales and marketing teams' goals align is the financial goal– increasing the company's revenue. For instance, the idea of smarketing fails if the marketing team's buyer persona is variant from the sales team's.
Measuring sales and marketing of the same metric is the key to ensuring goals are balanced and in sync.
Update the persona on a regular interval, and hold meetings with the sales and marketing processes to make sure that there is a mutual understanding of the buyer persona at each stage.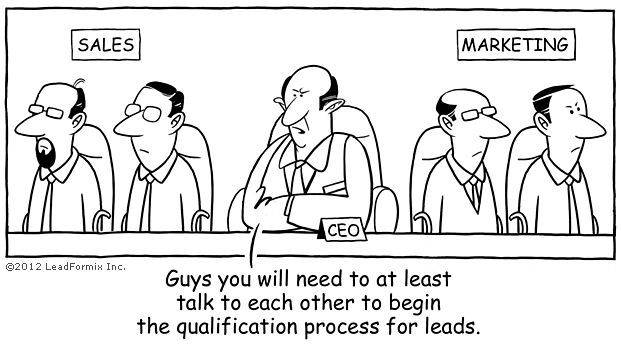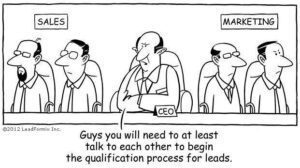 Another way of aligning your sales and marketing teams is by substituting the sales funnel with a revenue cycle.
Measure success according to two metrics: Marketing Qualified Leads (MQL) and Sales Qualified Leads (SQL).
MQL gives both sales and marketing teams an insight into leads generated and lets you track the number of leads that marketing is passing over.

SQL will help your sales and marketing teams stay on the same page in terms of the quality and quantity of leads that you are handing over to the sales team.
Establish Common Definitions Between Sales And Marketing
Once you align your single customer view, you can right away jump into setting common definitions to ensure your sales and marketing teams communicate effectively.
Consider the following terms and what they mean to both sales and marketing:
Lead:

Specify what behaviors a lead can and should exhibit. Define how leads are inserted into CRM, and who is responsible for this.

Marketing-Qualified Lead (MQL):

Specify how an MQL is passed onto sales, and what the time period of engagement is with all MQLs.

Sales-Qualified Lead (SQL):

Delineate when a lead is an SQL, and what defines this. When a lead is marked as an SQL, know what actions are to be taken up.

Contact:

Specify when and how contact is created.

Account:

Specify when an account is created, and what data needs to stay on the account record or the lead/contact record.

Opportunity:

Explain the stages of an opportunity. Define where information is to be kept about the record. Is it stored on the opportunity, the contact, or the account?
Implementing a smarketing SLA also ensures a uniform alignment between your sales and marketing teams
You have a plan. Make people responsible for each of their roles.
In an SLA, the level of service is defined and agreed upon by both parties.
Service Level Agreements (SLA) need to be sketched out for each phase of the revenue cycle. They determine the response time of the sales team to an MQL, what happens if they do not, etc.
It also encourages accountability among the two teams and makes it easier for each of them to measure their outcomes.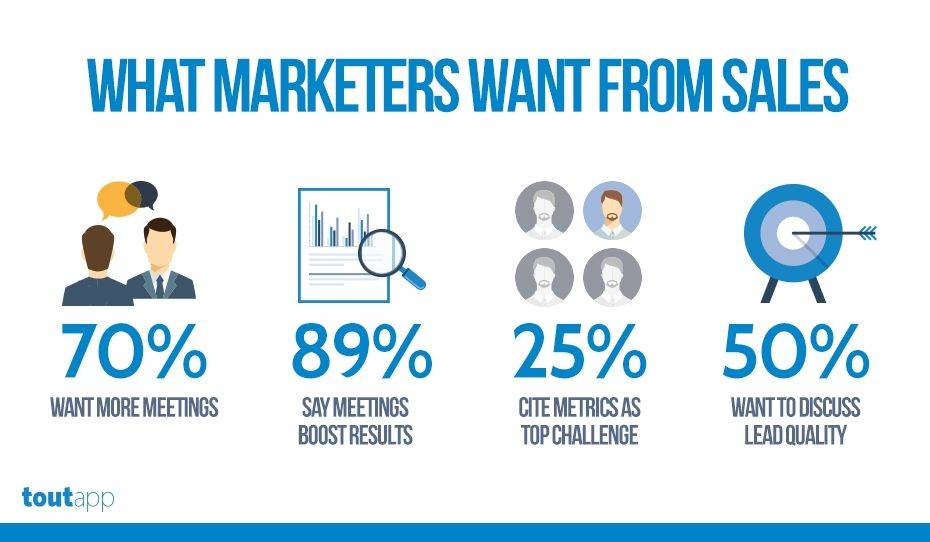 Source- ToutApp

Important metrics to share between the two teams are MQLs, lead generation, lead-to-customer conversion rate, and percent of leads worked.
Conducting monthly audits, where marketing and sales managers analyze the results of SLA's ensures healthy communication and progress of the organization.
Aligning Sales And Marketing On The Technology Front
When looking at sales and marketing alignment, single customer view is critical to success and is a vital first step to aligning your smarketing efforts.
A clear picture needs knowing all marketing and sales interactions that an individual has with your organization, on every channel.
It includes a record of every social click, every page visit, every email received (sales or marketing), and all the information stored in your Customer Relationship Management (CRM) tool.
A mutual insight allows your sales and marketing teams to have a common definition of your ideal consumer and create campaigns around common goals.
To give a single and transparent customer view to the sales and marketing teams, a shared set of metrics is required to define the sales/marketing pipeline.
It is important for an organization to understand the shape and velocity of the pipeline.
To do so, integrating marketing automation tools and CRM systems via lead tracking technology is critical.
Marketing automation capabilities like lead scoring, lead nurturing, and lead generation is crucial drivers of marketing and sales alignment in many high-performing companies.
The gains in demand generation and sales enablement can be remarkable if sales and marketing teams align with technology.
Aberdeen's report states that "84% of the best in class organizations empower marketing with access to CRM."
For example, Hubspot offers seamless integration between marketing and sales and breaks down of barriers that exist between the two teams.
This is done by sharing all of the contacts, pipelines, historical data, reports, and dashboards in one place.
Organizations with tightly aligned sales and marketing teams have seen 38% higher sales win rates. (Marketing Professionals, 2016).
Include And Coordinate Your Content Campaigns With Sales
Marketers constantly promote new content and offers.
Hence, it's vital to keep the sales team up-to-date with these promotions so they know exactly what offer their leads are receiving.
Here's how you can coordinate your offers with Sales:
Maintain a shared calendar for your promotions.
Shape a Google Calendar and add the whereabouts of your promotion. It can contain the URL, description, and main points. Ensure you invite your sales team to this calendar so they can view it on their personal accounts.
Email the offer to the sales team
Once your offer has been promoted and you begin getting leads, you can email the sales team with the following data:
Include talking points. Offer two to three bullet points(Stats, 'how-to' advice, business use cases, etc.) about the offer. Structure your email assuming that salesperson hasn't read the offer.

Lead list. Ensure that you are including the list of the leads your offer is generating so the sales team can take the required action. You can easily view and share them if you have a CRM.
Frame follow-up email templates for your promotions.
Offers are an amazing way to generate new leads. They are also helpful to re-engage old leads!
Build email templates for Sales to commence a conversation. This email should be explicitly about the offer and how your organization might help with the consumer's interest.
Marching forward to the new reality of Sales and Marketing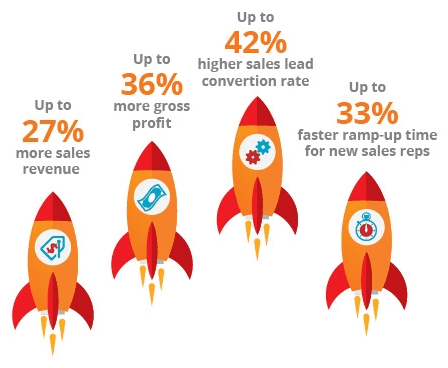 Image Source- HubSpot
Highly-aligned organizations achieved an average of 32% year-over-year revenue growth, while their less aligned competitors saw a 7% decrease. –Aberdeen Group Study
Stats don't lie. Cooperation and collaboration among the sales and marketing processes result in pinnacles of performance.
It's time to break down the walls if your teams are living in silos and isolated.
Marketing and sales alignment is in reality, all about the customer.
Sales and Marketing generally interact with buyers in disparate ways. Hence, they each have a different understanding of their customers.
Marketing has a broader understanding of buyer behavior within their industry, while sales have more personal knowledge resulting from the higher level of buyer contact.
Aligning Sales and Marketing can improve the range and level of knowledge held by both Sales and Marketing.
You need to look at everything you do through the eyes of the customer and strategize your B2B or B2C business plans accordingly.
Even if sales and marketing have different personalities and priorities, they share a common aim – to increase revenue.
Alignment between sales and marketing ultimately leads to both teams performing more efficiently and subsequently generating better business outcomes for the organization.
In our next blog, we will discuss a few metrics of smarketing to help you understand the vitality of sales and marketing alignment. Stay tuned!