Needless to say, the Information Technology (IT) industry is one of the (if not the) hottest industries in the 21st Century. Gartner in its latest forecast predicts that worldwide IT spending is set to reach $3.7 Trillion USD by 2018 and close to a whopping $4 Trillion USD by 2021.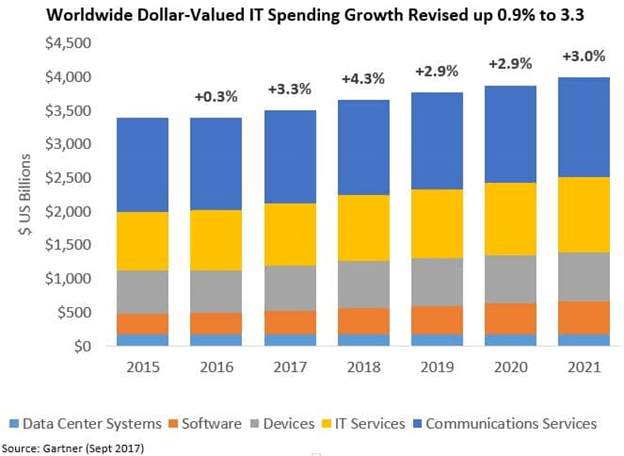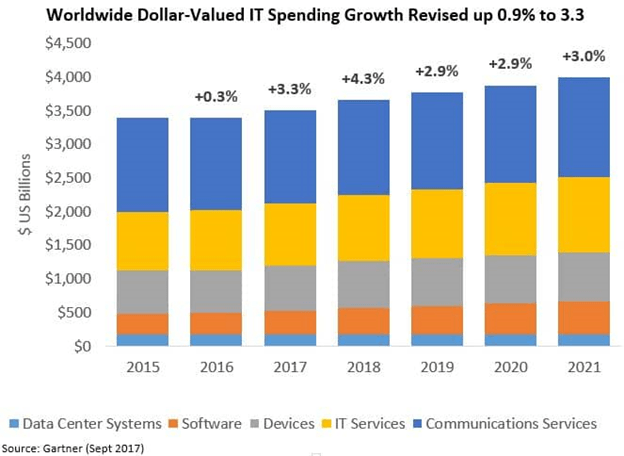 Along with the emerging opportunities and constant market expansion, the competition has risen drastically too and growth has become a challenge. Some studies claim that more than 60% of technology leaders feel attracting and developing new business is the top business challenge.
Whether you are in the IT services space or products space (or both) generating more sales and driving revenue has become a much more complex process than it was a decade before.
This trend especially holds true for the B2B (Business-to-Business) market segment of the IT industry.
Even for companies with wings both in B2C and B2B spaces, B2B will usually be the primary revenue driver due to the higher average deal size.
In addition to the direct competition from other vendors, the constant influx of numerous new categories of technologies and types of companies in the market resulted in strong indirect competition for IT firms.
As a result, communicating the organizational core offerings to the right decision-makers and generating interest among them has become a key challenge.
As someone who holds experience in developing tailor marketing and sales strategies for several IT companies, through this blog post we aim to address:
The common B2B customer acquisition strategies and their drawbacks.
The importance of Account-Based Marketing and how IT companies can implement it for high-value customer acquisition.
4 Conventional B2B Customer Acquisition Strategies Of IT Companies and their Drawbacks
There are several ways IT companies acquire clients in the B2B segment. Popular methods include:
Referral Based Acquisition & Partnerships
Over time, many IT companies' founders and CXOs establish healthy professional relationships with other senior-level executives in different companies. These C-suite executives usually convert this set of contacts to clients. After a few successful partnerships, word of mouth spreads, and more companies start showing interest.
Strategic partnering with other non-competing IT organizations is another popular way of acquiring customers.
Even though these are cost-effective methods, the sole dependence on them results in snail-like business growth or worse stagnation. This method mostly works well for top Global IT giants which are already popular and well-networked in their niche.
This is one of the most popular methods among all sizes of IT firms for getting clients. A majority of IT companies' sales teams today, still depend on outbound lead generation programs like cold calling or cold em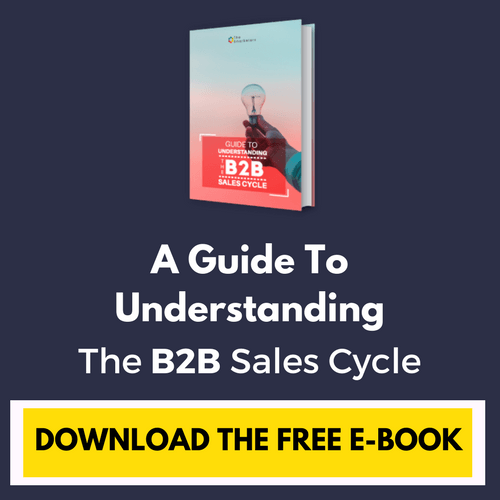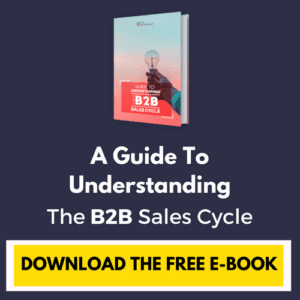 ailing.
After spending a huge amount of time, energy, and money to build a massive contact list, these sales teams just recklessly blast thousands of emails every day in the desperate hope to meet their monthly sales targets. And in most cases, there is a lack of customer research and personalization before sending the emails.    
Often coupled with horrible grammar and no basic email best practices, these outbound emails have the lowest response rate. And not to mention, only 2% of cold calls ever resulted in an appointment. Also, since people hate getting spammed with interruptive emails, the brand image of the firm also gets affected.
Standalone Digital Marketing Techniques
As the prominence of communicating in the digital world increased, many IT companies started spending a few dollars on standalone digital marketing tactics like SEO, SEM, SMM, content marketing, etc. While these routine practices are successful to an extent, there are also a lot of missed opportunities for better targeting and optimization that are highly essential for any B2B IT marketing strategy.
Also with these tactics, it is hard to reach your exact buyer fit. Remember, you may not always need a ton of non-qualified site traffic to generate leads. The goal of any B2B IT marketing campaign is to effectively communicate with and generate interest among only primary decision-makers and influencers.
As a B2B technology marketing agency we come across several organizations that waste a ton of dollars on standalone digital marketing strategies with no meaningful goals.
While we still acknowledge inbound marketing is important and should never be stopped, the lead generation campaign in the B2B IT space can yield a massive ROI if the approach is blended with a simultaneous unified and targeted campaign. Inbound should be a part of the marketing strategy for IT companies but not the only area of focus.
In other words, the inbound marketing model can be used as a complementary way in the overall lead generation campaign.
The Need for a Targeted Marketing Approach For Higher Revenue Growth
There are three important reasons why a targeted marketing approach can yield a higher B2B marketing ROI and increase profit margins for IT firms.
#1 80% of revenue comes from just 20% of customers.
This fact holds true for most B2B businesses and typically for a majority of IT companies too (especially the ones in the services sector). Since a massive chunk of the revenue comes from these "whale" accounts, running targeted campaigns on these prospects leads to higher chances of sales conversions and thereby a lofty marketing ROI.
Read more: How To Know If Account-Based Marketing Is Right For You
#2 Personalized Communication to Multiple IT Decision Makers
Let's face it, organizations can't go cats and dogs when it comes to IT spending.
Market research firm Computer Economics predicts that in 2018, the average operational IT spending will be hardly around 3% of the total organizational revenue.
Also on average, an IT Decision Maker (ITDM) collaborates with around 6 other functions/titles before making an enterprise technology purchase. Gone are the days when a CIO or Director of IT is the sole decision maker and the only person to target.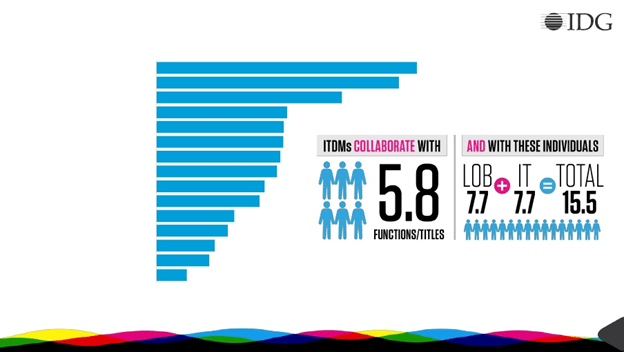 Today an IT purchase needs buy-in from multiple decision-makers from different departments. They can be a CFO, CMO, COO, etc. In such a complex scenario, persuading these executives to consider shelling out a few dollars on your technological offering requires personalized communication, messaging, and nurturing to each of them.
In fact, in a survey by Accenture, it's found that 54% of B2B buyers wanted vendors to offer "Personalized recommendations across interactions". And personalization in your marketing can be effectively achieved only when the approach is targeted and laser-focused on a few companies.
#3 Tackling Indirect Competition from other tech markets
Also as noted earlier, in addition to the direct competition from vendors in the same market, IT firms also face indirect competition from other tech markets.
With the continuous emergence of the latest technologies and ever-changing IT strategies, companies also are finding it tough to demonstrate the significance of and need to buy their solution to key decision makers and influencers.
Since the technological landscape is an ever-evolving one, it's crucial to identify and precisely target those companies which might
Have an immediate need for your offerings
Benefit the most from your products/services
Deliver high ROI.
#4 Tighter Marketing and Sales alignment
Even though inbound marketing offers excellent marketing and sales alignment, it is not the only way you can structure your smarketing efforts.
With a targeted approach, marketing and sales identify and focus their complete efforts only on attracting, converting, and closing a set of high-paying accounts.
Since both teams work in tandem and run simultaneous engagement programs on a select few accounts, the chances of conversion are extremely high. According to a survey from Bizible "marketers doing ABM are about 40% more likely to report alignment with their sales team compared to marketers not doing ABM."
Now that we covered the need for a targeted approach in B2B IT marketing, let's understand how it can be achieved through Account-Based Marketing.
Understanding Account-Based Marketing
Even though coined as a "marketing" program, Account-Based Marketing (ABM) goes well beyond opportunity creation and should ideally be executed until a deal is won or lost.
To sum it up in a few simple words, ABM is a targeted high-value customer-acquisition program in which the marketing and sales efforts are focussed on a select few companies and the key decision makers/influencers in those firms.
These efforts are channelized through both inbound and outbound marketing techniques (more on this as we proceed)
Even though ABM can also be used to upsell and cross-sell for existing customers, for the purpose of this blog post we'll be focussing primarily on strategies related to customer acquisition. However, most of these strategies can also be used for any stage of the customer life cycle.
In a typical lead generation program, marketing/sales implement programs for a huge database without much personalization and effective targeting.
In simpler terms, the approach is volume-based and a wide-net one.
Since the campaigns are built for a mass audience, the closure rate is generally low.
However, in Account-Based Marketing, the sales funnel is reversed i.e marketing and sales identify and target only those set of accounts that deliver high ROI and are more likely to make a purchase.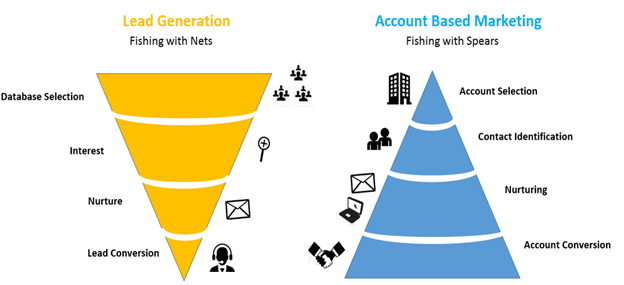 In short, the approach is like fishing with spears instead of nets.
Image Source
Unlike a traditional lead gen program, ABM heavily relies on personalization.
Whether it's sending a basic email or preparing a piece of content or running a social media advertisement, the messaging overall would be individualized to the target account's needs.
This combined effort of sales and marketing to convert a select few accounts leads to higher chances of deal closures.
How ABM Work? – Account Based Marketing Strategy For IT Companies
Now that we understood the basics of ABM, let's take a deep dive into how it works and how IT companies can build and implement an effective Account-Based Marketing strategy.
Take note that an effective ABM strategy varies from one company to another. One size doesn't fit all. If you want a tailor-made ABM strategy for your IT firm, feel free to get in touch with us.
Based on the budget constraints, the number of accounts to engage, your requirements, your target market, and various other factors the strategy changes.
Having said that, The overview of a typical ABM framework can be explained in 7 simple steps. Let's take them one by one
#1 Define Your Revenue Goal
The first step of an ABM strategy creation starts with defining your revenue goals with respect to time. Once you have agreed on a reasonable revenue target, you need to tactically strategize the whole campaign in terms of estimating the number and type of accounts to target, the level of personalization needed for each account, etc.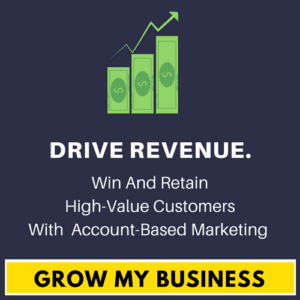 The necessary budget, effort estimation, and available manpower are some key aspects that need to be considered while designing the campaign. In case you're starting out a pilot ABM project, It's also important to divide the resources between your current inbound efforts and the new experiment.
Since ABM creates a shared revenue goal for marketing and sales teams, tight marketing and sales alignment is a must. Since the ABM strategy for IT companies demands a simultaneous engagement of decision-makers by both marketing and sales teams, frequent collaboration and effective communication of strategy is a must.
We'll discuss more on this in a bit.
#2 Creation of Ideal-Customer Profile and Account Identification
Once you have set your revenue goal, it's time to choose whom to target.
We recommend you kick-start by creating an Ideal Customer Profile (ICP) and then choosing the high-ticket clients based on the profile.
The ICP represents the characteristics of your target account. These can include:
Firmographic data: The accounts' annual revenue, employee size, industry, location, etc.
Technographic data: The technologies the account is using at present or may invest in the near future.
A sample ICP might look something like this: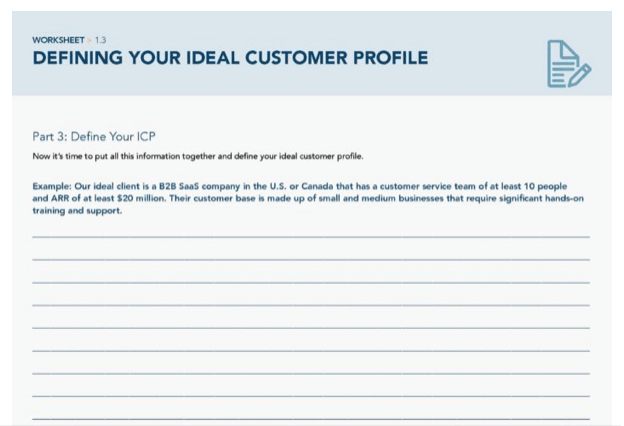 Based on your revenue goals and the chosen ABM approach you might have to create multiple ICPs. Narrow down the list of best-fit accounts to target based on the ICP(s) and identify the key decision-makers for each account.
Note: It is also highly-recommended to consult your sales team when it comes to choosing the target accounts. Remember, the chosen accounts should have not only the capability to deliver high ROI but also a fair probability to make the purchase.
Based on the created ICP, you can use LinkedIn sales navigator to select the right accounts and key decision makers. Use the accounts feature to identify the target companies and the lead search option to find the individuals to target.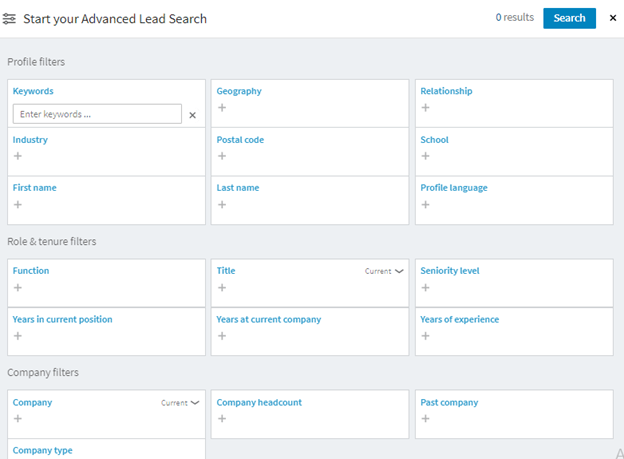 #2 Super-Personalized Content Creation
Now that you have created your ICP and narrowed down the industries/designations you want to target, it's time to create a tailored content strategy.
Content is a powerful way to generate interest, and engage and nurture IT decision-makers.
IDG Enterprise confirms it – 96% of tech decision-makers rely on content when evaluating products and services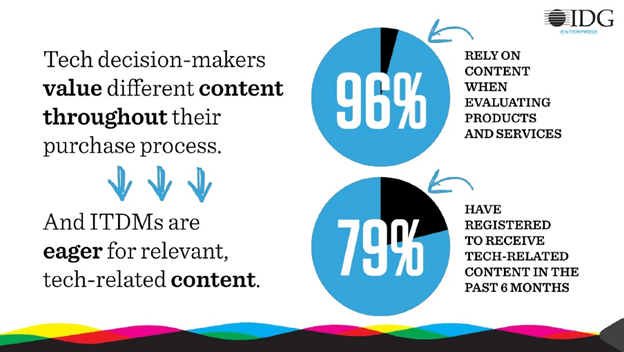 Since you are going after only a few target audiences, your content needs to be extremely relevant, timely, personalized and addresses your ICP's pain-points perfectly.
According to a Content Marketing Institute survey, 62% of business leaders say they need content that speaks to their specific needs and/or pain-points.
There are two notable ways you can choose topics and map content:
Content specific to the industry
Content specific to the persona of key IT decision maker
Say you are an enterprise app development company:
An industry-specific content would be a blog post around "10 Reasons Why The Finance Industry Needs Mobile Apps" (Assuming you are going after the financial sector)
Content specific to a persona can be "Why Should CTOs Develop Enterprise Mobile Apps For Cutting IT costs"
If you have the time and resources to add more personalization, you can even club both the above-mentioned ways and write on the topic "How is Enterprise Mobility Helping CTOs of the Finance Industry"
Depending on the strategy you've chosen, create different types of personalized content for every stage of the purchase journey. Here are the top content needs of IT decision-makers for every purchase stage.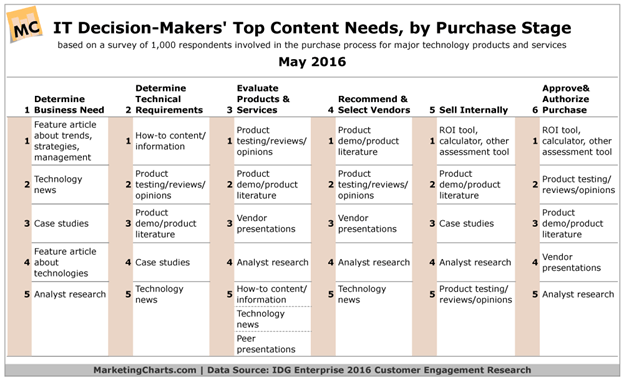 As an experienced B2B Account Based Marketing Agency, we suggest adding the personalization element in how-to articles and case studies (if you have limited resources.)
This is because 74% of IT decision-makers rely on these two types of information for each stage of the purchase process.
Tools like Buzzsumo, Epic Beat, SocialAnimal.io, etc can be used to research topics and build your content strategy. By searching for the trending topics in your niche, you can get a list of the most socially shared and popular articles.
Buzzsumo also allows you to see all the sharers of a particular article and with these deep insights, you can effectively craft topics that resonate with your target audience.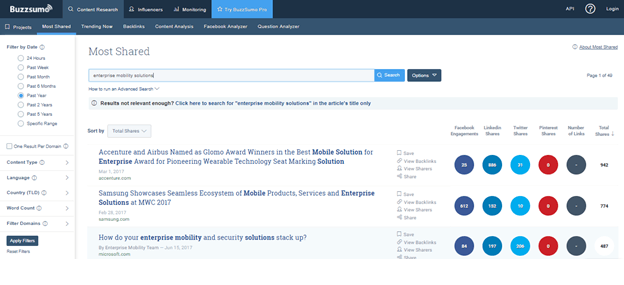 In addition to these tools, you can also shortlist content topics by:
Surveying your existing customers and finding what they like/dislike
Use networks like Quora, Reddit, and relevant industry forums to learn the popular questions asked and discussions in your niche.
Leveraging Google's "People also ask" and "searches related to" features.
Closely following the related content covered by reputed tech publications like CIO.com, Gartner, Forrester
Content that already generated a good amount of traffic for your site.
Even though content creation is the forte of marketing, sales teams' feedback is highly imperative as they will exactly know what it takes to close the deal. If you're short on resources, you can also repurpose your existing content and add the elements of personalization.
Remember, ultimately the role of content in ABM is to effectively address the target audience's needs through heavy personalization and thereby nurture and push them to the bottom of the sales funnel.
#3 Simultaneous Engagement of IT Decision Makers in both Outbound and Inbound channels
Once you identified the right people and have personalized content in hand, it's time to use it to engage these key IT decision-makers and influencers through multiple channels.
In simpler terms, you'll be hitting these executives with personalized messaging across a variety of channels and devices at once. In our experience, this "flood-the-zone" approach yielded high conversion rates.
Gartner confirms this fact too.
"Simultaneous usage of multiple inbound and outbound channels increases the likelihood of engagement from key decision makers and influencers from targeted accounts. Technology business unit leaders should consider a variety of channels for their account-based marketing program" – Gartner
This simultaneous personalized engagement through multiple channels creates a "multiplier effect" and drastically increases the probability of response from the prospect.
Engagement channels can be divided into two types
Inbound Channels: Social media advertising, Display advertising
Outbound Channels: Email, Phone, LinkedIn emails, Direct mail
It's advisable to choose the right and cost-effective mix of both inbound and outbound channels based on your budget, time constraints, available workforce, and the nature of targeted accounts and stakeholders within them. Since all channels are not cost-friendly, there will be a need to effectively optimize and allot relevant channels based on the seniority levels of decision-makers/influencers.
Let's explore some important channels in-depth.
Inbound channels
While there are several ways you can orchestrate the display ads campaign, in our experience we found that IP targeting at an account level delivers the highest response rate. By identifying the IP addresses of the target accounts, personalized display ads can be served to individuals within the accounts. These ads will show up in multiple popular third-party advertising networks and apps across different devices.
Another effective way to deliver these ads is through website retargeting. Through this method, you can capture the cookies of users who visited your site but didn't complete the desired result. These cookies will be used to place ads in the chosen display network. This approach encourages the individual to revisit your site and complete the desired action.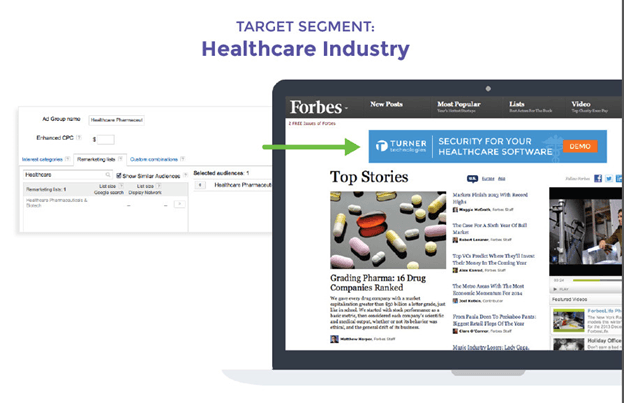 Image Source: Marketo
Since the cost of a display ad campaign is usually high, it's recommended to deploy it only for a select set of accounts. Demandbase, Terminus, Azalea etc. are some reputable vendors who provide software/services to manage these campaigns.
Learn more: ABM Tactics to Target B2B Prospects through Paid Advertising
Social Media Advertising
LinkedIn Sponsored Content
It's a fairly obvious fact that LinkedIn is the primary go-to B2B social marketing channel. 81% of tech professionals rely on LinkedIn to keep up with industry trends, new, events, etc.
LinkedIn allows you to place targeted ads on both account and contact levels. By uploading the CSV file of all your target accounts, you can ensure the ads are shown only to the right individuals.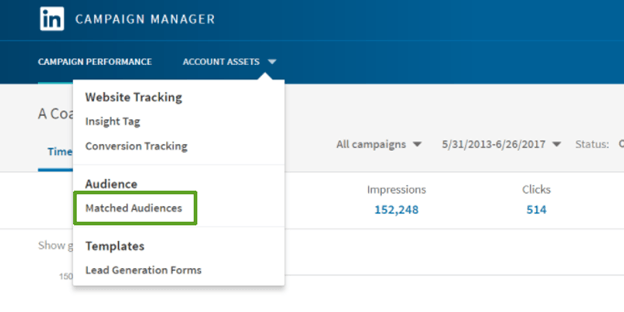 Read more: Uploading Lists for Account and Contact Targeting for LinkedIn Ads
LinkedIn supports two types of ad pricing models – Cost Per Thousand Impressions (CPM) and Cost Per Click (CPC). While the second model ensures a higher conversion rate, the CPC could range anywhere between $7 to $11 and the daily budget spend will be hit lightning fast. We suggest limiting this approach to only senior-level decision-makers.
It's better to opt for the CPM model if your priority is not clicked but reached.
2) Other social networks
In addition to LinkedIn, you can always use Facebook and Twitter to maximize the reach of targeted campaigns. Compared to LinkedIn, ads on these platforms are relatively less expensive. Both Facebook and Twitter allow precise targeting/retargeting options for a custom audience.
However, due to the company's in-house policies, employees may not visit these platforms at work. Again, it's important to do thorough research to find the popular social networks within the organization and optimize the campaign spending.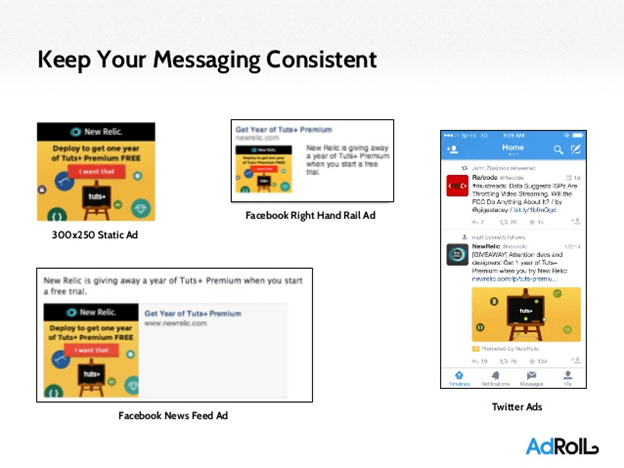 Image source: AdRoll
Outbound Channels
A majority of B2B companies starting out on ABM tend to focus only on the Inbound engagement of decision-makers. This approach doesn't give a 360⁰ touch to the overall campaign. A higher and quicker response rate can be obtained if a cross-channel engagement experience is created among decision-makers
1)Email
Since ABM focuses on quality over quantity, the traditional email blasts to a large audience using the CRM system won't work. Sales reps need to spend more time researching and crafting the perfect account-specific pitch and may even have to send emails manually. It's also essential to get the timing of delivery right based on the ongoing engagement in other channels.
The levels of email personalization can vary depending on the role of the decision-maker.
Email templates can be used as well. However, the element of personalization and relevance shouldn't be missed. Sales automation tools from Engagio (Playmaker solution), Salesloft, and Insidesales.com can be used to orchestrate the email campaign.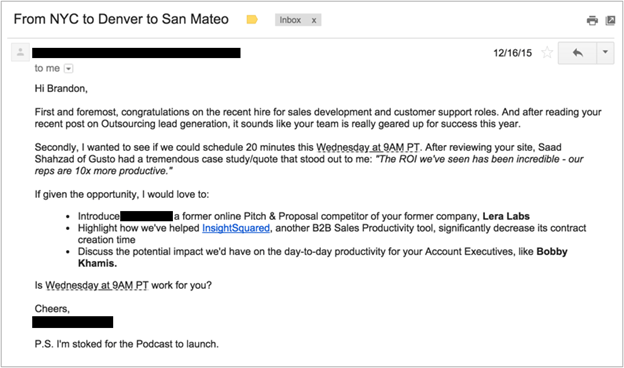 Image Source: PersistIQ
 2) Phone
Just like emails, the outbound calls that need to be made will also be significantly fewer. Hence, sales reps should make extra efforts in understanding the account needs before dialing. This deeper understanding helps them speak the buyer's language during the call or while leaving a message.
3) LinkedIn Messaging
At times, even the most personalized emails may not get a response. In such cases, LinkedIn messaging can serve as the next best alternative. There are two options for LinkedIn messaging.
Sending a connection request
LinkedIn Inmails
According to LinkedIn, even though the average response rate for Inmails is 25%, personalizing the message will boost the chances by 15%. Sales reps will be able to send 3-50 InMails per month based on the chosen subscription model. If a response is received, LinkedIn gives InMail credits.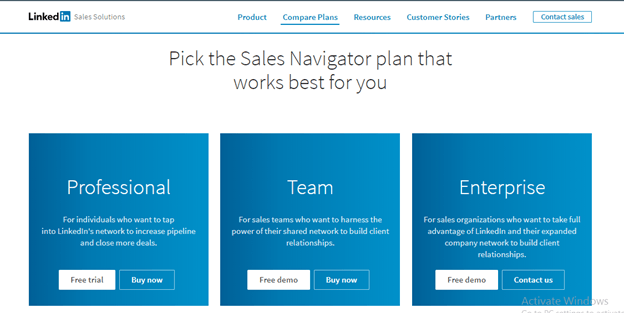 Learn more: LinkedIn Sales Navigator Plans
4) Direct Mail
This is an expensive yet effective route. Often, getting a response from the C-suite can be extremely difficult even if engagement is carried in multiple channels. This fact especially holds true for larger organizations. While emails/calls might be blocked by assistants, ads can simply be ignored. This is when sending direct mail preferably with a reasonably priced present can invoke a swift response and shorten the sales cycle.
Even though this is a historic approach, direct mails are popular for triggering a response from senior management. In fact, 60% of people who open direct-mail messages are known to visit the mailer's company website.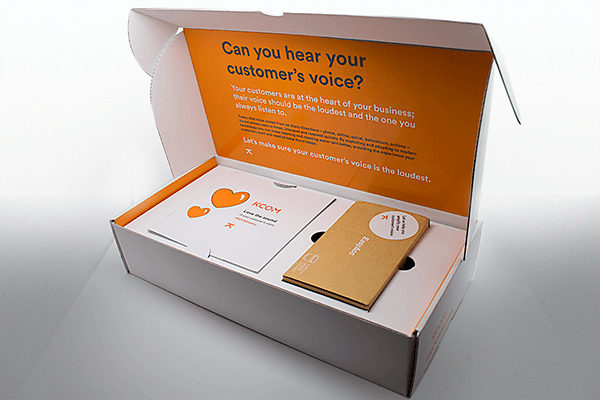 Image Source: Creative Pool
Personalize Your Website as well
In addition to delivering individualized experiences in outbound and inbound channels, it's necessary to personalize your website as well.
70% of buyers have indicated that a vendor's website was the most influential channel in making a purchase decision – DemandGen Report
Personalized experiences on the home page, key landing pages, and CTAs create a 1:1 engagement, increase the attention span of the visitor and thereby lead to a higher conversion rate. By detecting the IP address of the account, the homepage can deliver the right account-specific experience to the visitor.
Optimizely is one well-known vendor which offers a web content personalization tool. The tool allows you to customize content based on the visitor.
Here's one example of how Citrix personalized its homepage for the healthcare and finance industries.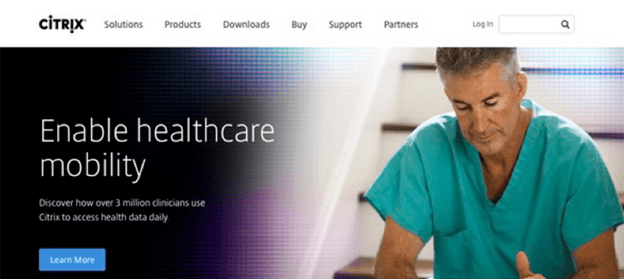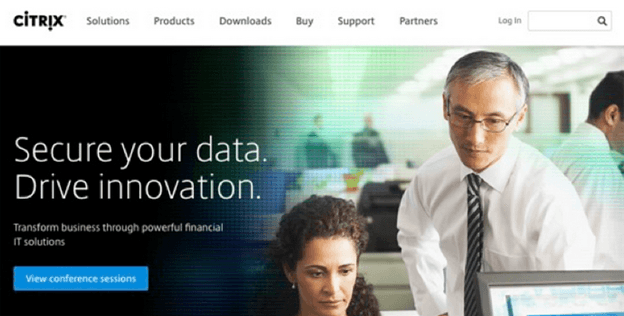 Images Source: Optimizely
This customization in the homepage resulted in a 30% increase in clicks on the homepage banners.
#4 Measure, Analyze, and Optimize
What gets measured gets improved – Peter Drucker
Account Based Marketing needs patience and might not drive results overnight. An effective ABM strategy requires the measurement of different metrics at multiple stages and time periods of the campaign.
For example, during the initial stages, your KPIs could be click-through rates of ads, landing page conversion rates, email open rates, etc.
In the mid stages, key metrics can be the number of MQLs from each account, the number of proposals sent, meetings set, etc.
The number of opportunities created, the pipeline in each account, estimated sales cycle length, etc. can be measured during the final stages.
We suggest you take an Agile methodology for the campaign. The responsive nature of an Agile methodology enables you to get data on the ongoing campaign and then respond, analyze and modify it accordingly. Here's how it's done.
Start by engaging with a mix of multiple inbound and outbound channels but take small steps for each channel.
Make sure you give ample time before measuring the effectiveness of each channel.
Based on the initial engagement, begin to invest more budget, efforts, and resources in the channels which are driving results. It's imperative to constantly optimize your strategy from time to time based on what is working and what is not.
One popular mistake in B2B Account Based Marketing is that companies launch their campaign by heavily investing in a select few channels, lose budget quickly, and as a result don't realize maximum ROI. As mentioned earlier, one size doesn't fit all in ABM.
Sales and marketing should meet on a regular basis and based on the data, trends, and success factors from the ongoing campaign, must craft the engagement plan for the next 30 days.
We also suggest you to divide all your chosen accounts into three tiers.
i) 1:1
ii) 1: Few
iii) 1: Many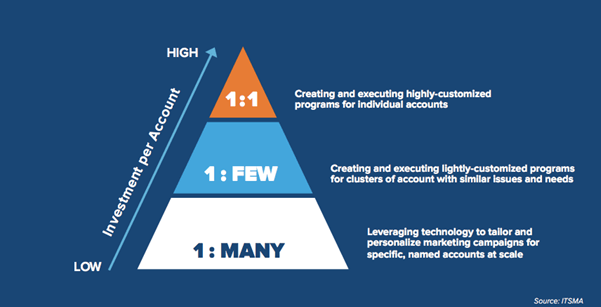 Each tier represents the level of customization needed for the set of accounts in it. This division  ensures your reach is extended and personalization efforts are competently distributed. According to a ITSMA survey, majority of ABM marketers in the B2B technology industry found success when they segmented their accounts and customization efforts in this way.
You can get more details about this approach in this excellent article by ITSMA.
How Effective is ABM
Even though ABM became the buzzword in the B2B industry in the recent years, the core concept was already introduced in the early 90s. The emergence of multitudinous ways and possibilities to precisely communicate with decision-makers in an otherwise noisy digital world led to the increasing importance of Account-Based Marketing. Let's run over a few stats and trends to understand the effectiveness of this marketing program.
84 percent of B2B IT businesses surveyed said that account-based marketing delivers higher ROI than other types of marketing. (Information Technology Services Marketing Association)
More Than 95 Percent of B2B Marketers report that Account-Based Marketing (ABM) drives marketing success. (DemandBase)
92 percent of B2B marketers worldwide say that ABM is "extremely" or "very" important to their overall marketing efforts (SiriusDecisons)
More than 90 percent of B2B marketers acknowledge account-based marketing as either important or very important (SiriusDecisions).
41 Percent of B2B marketers worldwide said they would increase spending on ABM [ITSMA]
By implementing ABM for one of their services, Cognizant was able achieve 100% year-on-year revenue growth. The ABM approach helped Juniper Networks increase revenue by 30% year-on-year from its largest customer. (as claimed by ITSMA)

Getting Started
With over 75% of technology buyers expecting personalization communication from suppliers, account-based marketing fits as an ideal solution. The time is now for IT companies to recognize ABM as a key revenue driver and a growth catalyst. IT orgs should decide whether to implement ABM for customer-acquisition or upsell or cross sell purposes or a mix of all.
Since ABM is still a path less explored for most IT companies, decision-makers must also identify how to fit ABM into their current inbound/outbound marketing efforts. If you have no prior experience, we suggest you to start a pilot ABM program as an overlay for your ongoing marketing campaign.
Read more: 30 Expert Tips For B2B Companies Starting Out On Account-Based Marketing.
Organizations must strive to strike the perfect balance between the reactive approach of inbound and the proactive and go-to market approach of ABM. Remember, you still want to get found when people are looking for your offerings. This blended approach helped our clients maximize lead generation and drive revenue even more.
Even though ABM promises high ROI, it requires patience and reasonable expectations. Also, unfortunately currently there is no single powerful orchestration platform that can support both inbound and outbound campaign management. No existing CRM lead management systems enable an effective cross-channel ABM orchestration.
As a result, you might burden your internal team by making them use different tools for different channels. You also need to ensure you have the right people with the right skill set and past experience so that the cost per acquisition is low.
Another option is to outsource the program to a seasoned agency that has a proven record in creating and executing customized Account-Based Marketing strategies for IT companies.
As an experienced Account-Based Marketing agency, The Smarketers has helped different types and sizes of global IT companies implement individualized and revenue-focused ABM campaigns.
After assessing your goals, market and offerings we execute a data-backed marketing plan which might include solely an account-based approach or a blend of both Inbound and Account-Based tactics. We also conduct workshops for your marketing and sales teams for better alignment and to provide actionable advice on both inbound and ABM worlds.
As a B2B IT marketing agency, we help in designing tailor marketing strategies for technology companies in our free 30-minute marketing assessment and ABM strategy session. Feel free to schedule a session with one of our experts.