"Social media is no longer about the stuff that you make, but about the stories that you tell "
-Seth Godin
Social media is evolving at a rapid speed. What started out as a basic platform to share memories, has now emerged into one of the biggest marketing strategies.
While it works hard to increase your brand awareness, it also drives value to your marketing messages.
It has a lot to offer and has a limitless scope as far as engagement goes.
Right content delivered to appropriate people at the right time is the only mantra that has been successfully driving the industry for years.
So how important is it to keep up with the trends?
Social media has power! It has the power to make anything and everything viral. Achieving this is only possible if you keep up with the trends.
Trends increase your reach, engagement and can gain immense exposure to your brand. (Yes, which is exactly what you need)
To help your social media become less of a chore and more fun, we've broken down some of the best trends you can use in your social media marketing strategies to garner a large audience.
1. Live Streaming
2016 proved to be the year of live streaming videos and 2017 may want to continue the legacy.
The way we share our stories has evolved to a great extent. From pictures to vines we loved every type of content and shared our memories in the best way possible. And just when we thought we had reached our limit, Twitter bought '' Periscope – A Live Streaming Platform.''
Though the idea of online live streaming took some time to spread among the public (though gained popularity later), one thing led to the other and Facebook Live was born.
Love Facebook? How about watching the 'facebook' team discuss their thoughts, LIVE!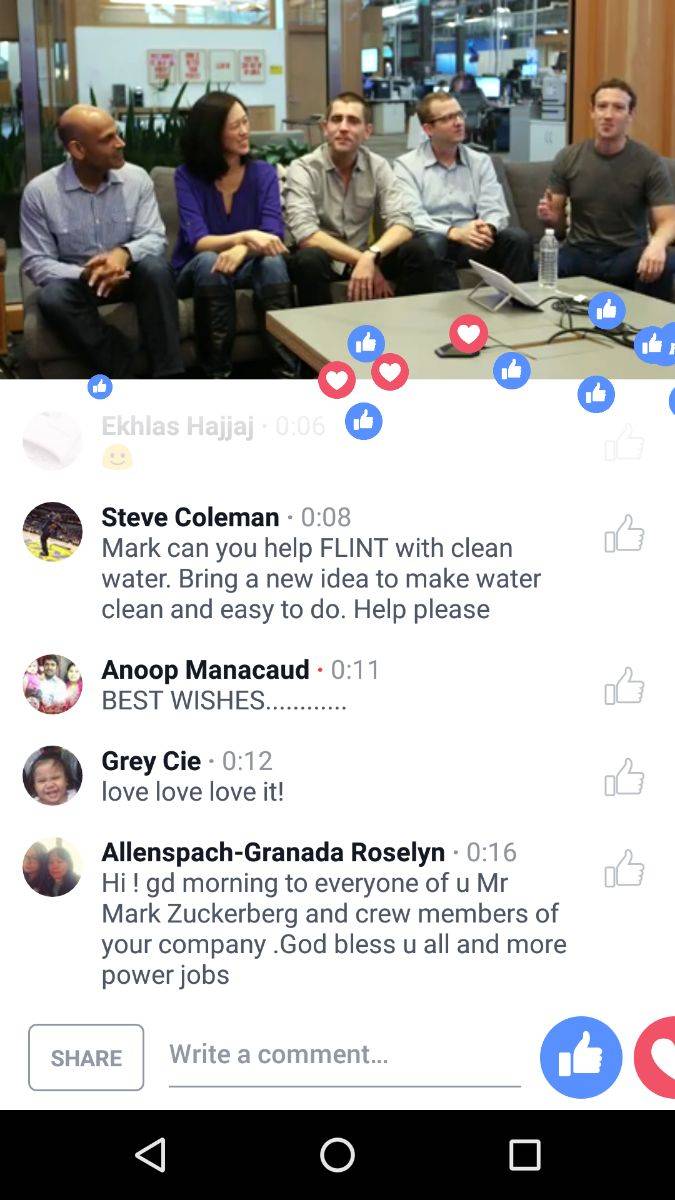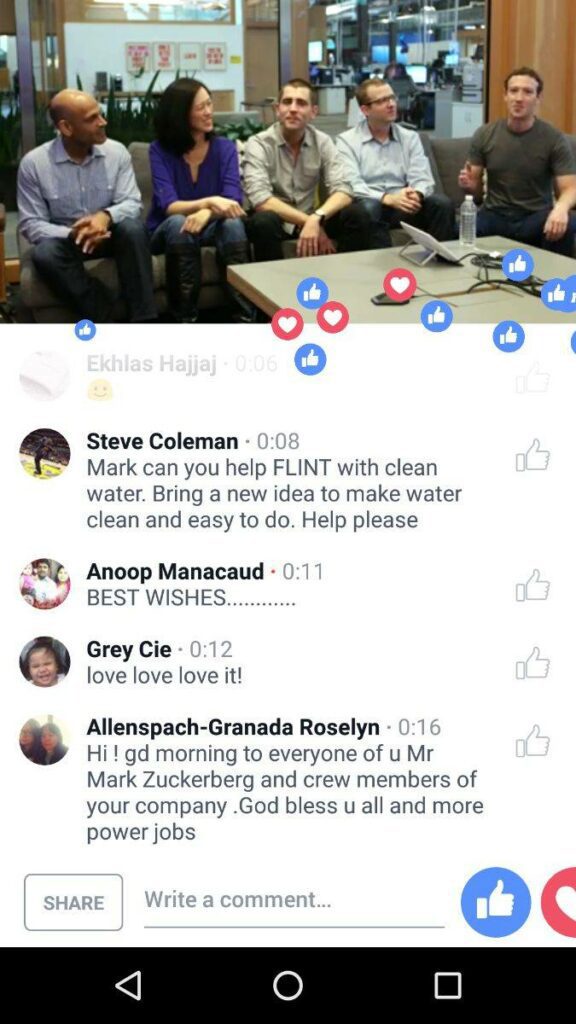 Mark Zuckerberg and his team giving a LIVE tech demo.
(Loving the reactions though, aren't we?)
A picture of a particular moment or live streaming of the entire experience? What would you choose? Live Streaming of course! And this is the sole reason for the massive success of live streaming videos, especially Facebook Live.
While Meerkat, Facebook, and YouTube have witnessed a sharp rise in engagement through live streaming, Instagram is the new kid on the block, yet became the talk of the social town. This just shows that Live video streaming is an excellent way to build trust and credibility online with authentic content. The next time when you do something BIG, don't forget to live stream it.
2. Vanishing Content
With very limited time to view images or videos that take hours to end, we started to look out for better options to share our experiences. And this is where Snapchat stole our hearts.
Initially, it was launched to share images that expire after viewing them. Later a ten-second video format was introduced, and finally, we landed at Snap-stories (the ones that expire after a day)- which was loved by billion of users. The rise in demand for Snapchat leaves us no option but to believe that, 'when it comes to content-short is sweet.'
Stories provide great insights into personal experiences.
To 'fill in the gaps' between its daily feed, Instagram has launched stories which expire after 24 hours (Pretty much like Snapchat huh?). And guess what?
We are in love with Insta-Stories too! Snapchat or Instagram, it narrows down to the very fact that – we adore brief content.
Over the last couple of years, Instagram stories have seen exponential growth. Users find stories short and crisp to share their life/memory.
"Instagram highlights" is another thing which has made Insta stories a huge hit. Instagram stories vanish within 24 hours of upload, but 'Highlights' let you save those stories on your profile.
Top brands have been using Snapchat and Instagram, to connect with their audience and to engage them personally. Here's how Taco Bell uses Snapchat to sprinkle their love on each of their customers.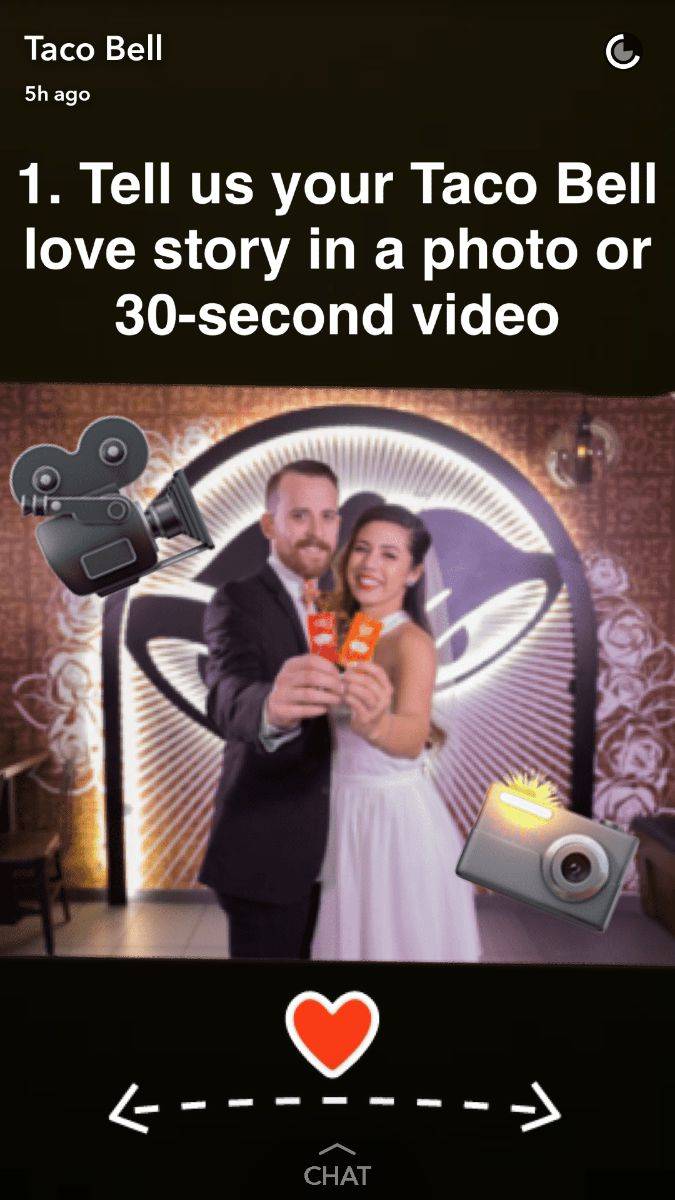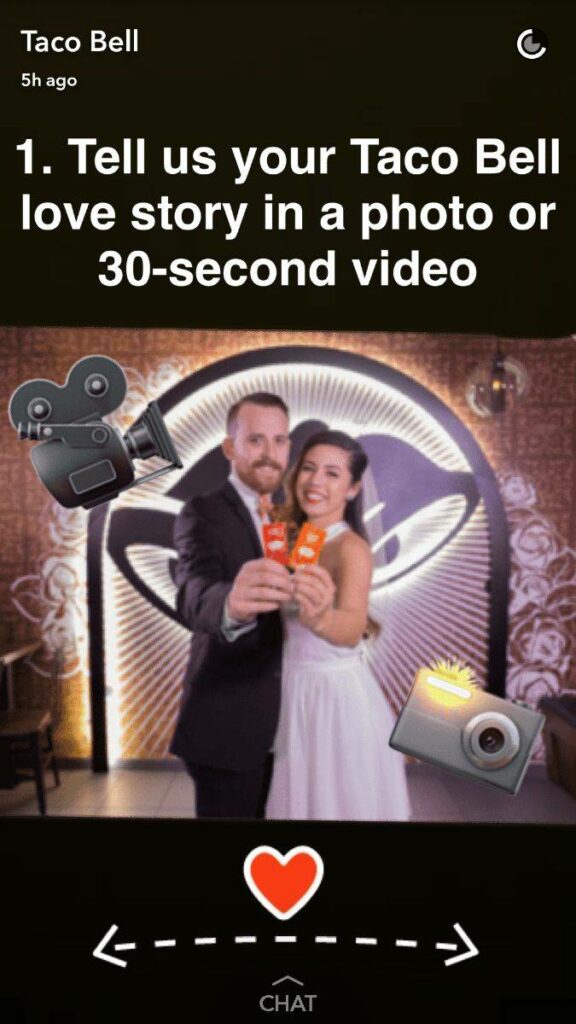 Taco Bell is killing it as usual on Snapchat for Valentine's day!
And that's what we call- Innovation!
It's true that to delight your customers truly, you should discover unique and innovative ideas that can make them want to engage more often. Want more engagement? Upload a story now!
3. Rise Of Chatbots
Technically speaking, 2016 has been an incredible year for AI and Machine Learning. Chatbots have evolved rapidly and brought in great solutions for Tech Giants.
While Facebook has integrated Chat-bots within its messenger, other businesses are using it to enhance their customer service. Chatbots surely have a lot to offer shortly
Chatbots- the future of Social Media?
Chatbots have gained huge demand and can get even more popular in the future with added features-especially when social media sites are striving to retain their customers from navigating to other sites.
They now have the ability to communicate with people and can help them solve real-time problems. This is possible because most of the people reach out to the brand's social media platforms rather than a useless phone call to customer support. This also helps Millennials to solve all their customer service issues using technology, which is fast and brief.
4. Organic Struggles
Social Media marketing giants predict a rough time for organic traffic in this year.
Social Media marketing has evolved from a straightforward approach to more like any other marketing strategy (to be precise, a paid marketing strategy).
Posting on social media is free, but has a price if you want more people to view your posts. Attaining huge traffic organically is almost impossible amidst the already existing heavy paid competition.
Well, this can only mean one thing – You should optimize your search engine to increase your ranking and build the audience through email listing without Facebook or Google filtering your content.
5. Augmented Reality (AR)
Augmented Reality has been around us for the past two decades but only gained prominence recently- thanks to social media. The popularity of Snapchat filters brought back the limelight on AR.
Using AR, Snapchat introduced several filters that appear on the screen, giving the image a realistic touch.
Share experiences, not information

While Snapchat has expanded a lot over the past year, (from rainbow puking filter to voice change-over), it still has so many things to expand in 2017. Instagram too has launched 'stickers' that create more or less the same illusion of a 'snap.'
Not to forget the 'Masquerade' feature that was launched by Facebook, which applies filters to live streaming videos.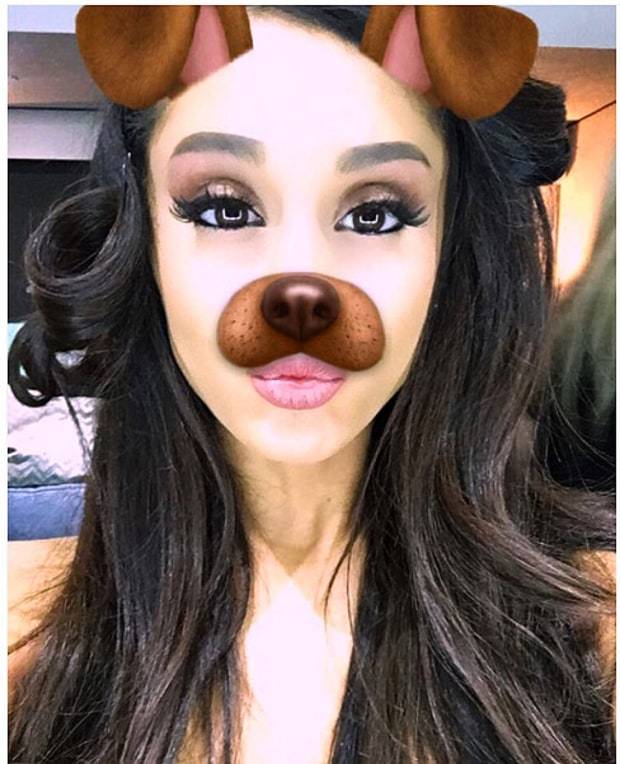 Ariana Grande posing in the most popular filter of Snapchat.
Augmented Reality creates better opportunities for businesses to connect with their audience, share their experiences personally and interact with them. Also, a 360-degree video is a sure thing to watch out for this year.
All in all these trends remind us of the fact that people now crave for more and more vicarious experiences and there's no end to it.
As marketers, you need to discover enticing channels to reach out to your audience and should adopt the latest approaches that truly delight customers.
These are the top trends you may come across on your social media marketing journey this year.
Get ready to experience the newest innovations of social media and make use of every enhanced feature to promote significant growth in your engagement.
Do let us know your favorite trend and why in the comments below.