Table of Contents
If the COVID-19 pandemic has taught the world anything, the most important lesson would be that the healthcare industry must ramp up the health tech space. Indeed, with telehealth consultations, remote diagnostics, and the need for reliable, on-demand self-diagnostic information, digital health platforms have come to the forefront of creating valuable patient experiences.
However, you may have often found yourself lost and frustrated, like searching for a needle in a haystack while scrolling through health tech apps or looking for information within healthtech websites.
While the world of health tech is fast evolving with 24/7 chatbots, IoT-enabled health wearables, and emerging technologies like augmented reality giving patients a glimpse into their own health status, healthtech UX designing still needs to keep pace with change.
Digital healthcare interfaces, including health tech product websites and health and wellness apps, call for user-friendly interfaces that create simple, enlightening, and engaging patient experiences. User experience and UX Design in Healthtech Products have become talking points within the industry circles.
Healthcare website design is tricky, requiring a responsive, mobile-friendly interface, adherence to healthcare marketing goals, and compliance with ADA regulations. With healthcare apps and systems, such as electronic health records (EHRs), doctors' appointment scheduling apps, transcription tools, health monitoring systems, and diagnostics and disease management solutions fast gaining traction, there is a pressing need to generate user value with strong engagement and retention.
The importance of UX design in the healthcare product industry cannot be undermined. So, let's dig deeper into Healthcare UX challenges that deter advancements in healthtech and hamper health tech adoption, why user experience is so essential, and the health tech UX/UI trends redefining healthcare to "put patients first."
Healthcare UX Challenges
According to recent research, the digital healthtech market is expected to reach USD 1033.18 billion by 2030 at a CAGR of 23.05% during the forecast period 2022-2030. Yes, digital platforms are a focus for healthcare executives, but patients aren't satisfied with what they are getting.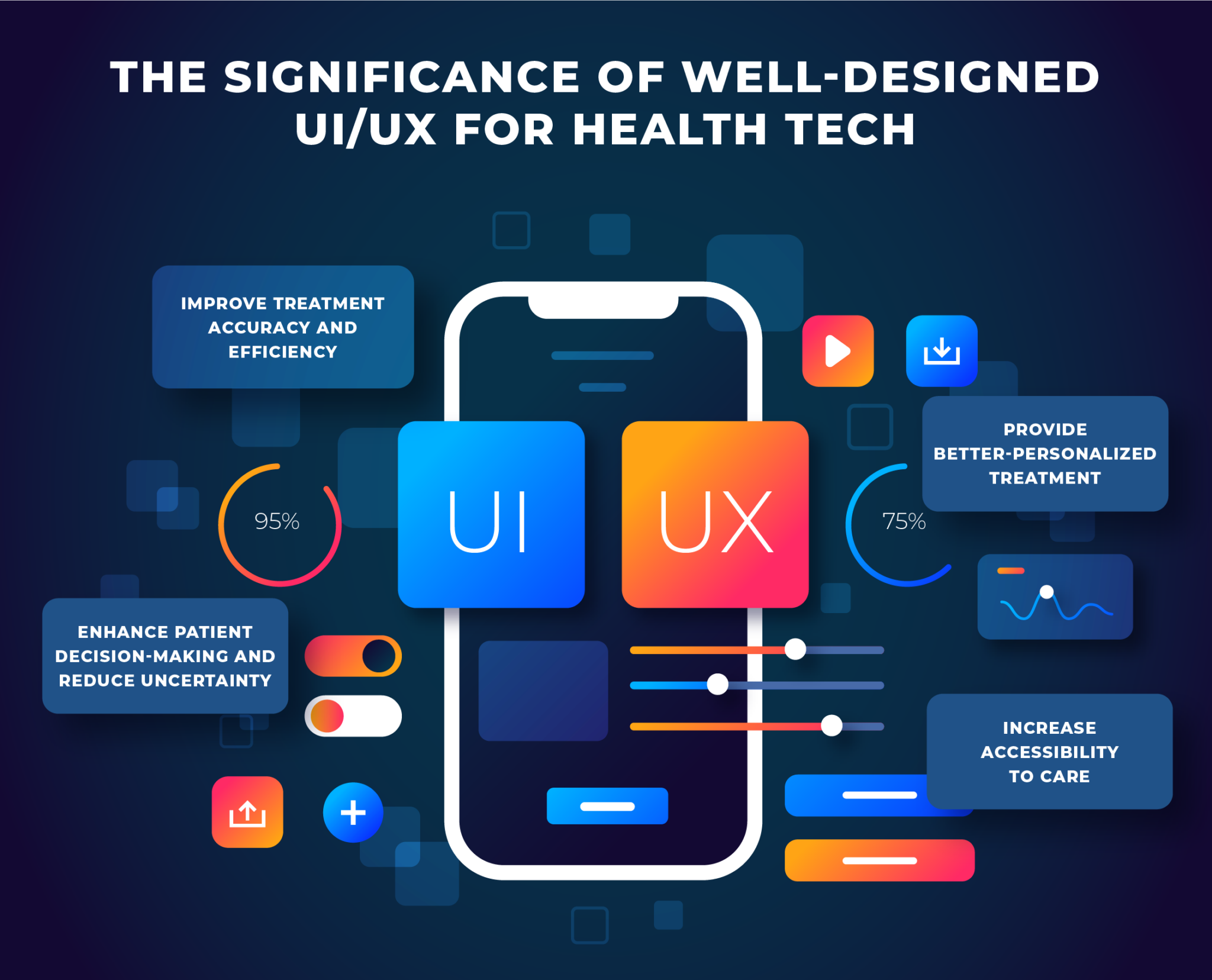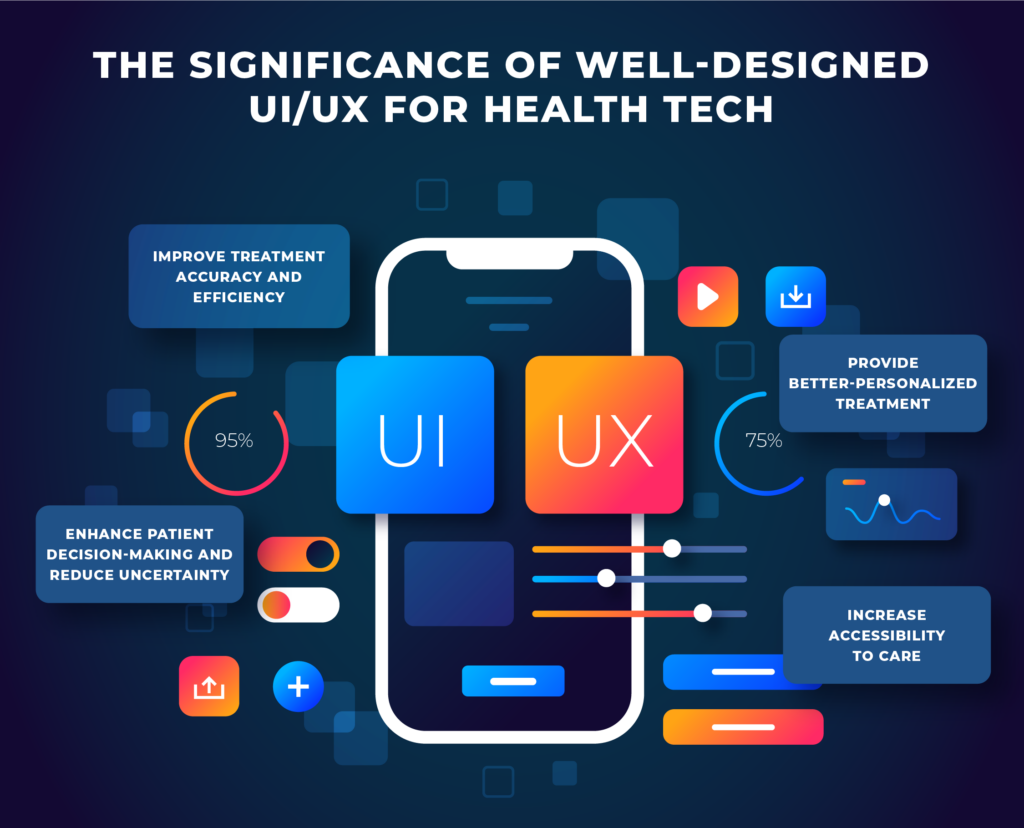 Indeed, a good UX design in the healthcare industry makes or breaks the game. However, the industry faces several challenges.
Lack of organized and reliable health tech solutions
Specifically, in the healthcare sector, where information is plenty, but organized systems are few, health tech products must be usable and reliable. With the market now flooded with plenty of digital healthcare systems, errors might occur, alleviating the problem of poor healthcare delivery.
Bureaucratic constraints and long product development cycle
A good healthcare UX enables the healthcare system – hospitals, physicians, clinics, and insurance providers – to better care for people's lives. However, stringent red tape and bureaucracy have added more complexity in adopting new technologies, putting the healthcare industry ten years behind other sectors in digitization. Since health tech product development cycles are very long, iteration becomes complex and expensive.
Developers tend to overlook UX design in health tech products since the demand for health tech products is high, but competition is low, increasing the possibility of ignoring a design thinking/people-centered approach.
Concerns regarding efficiency and data safety
Besides challenges from an administrative/technical point of view, most people do not prefer health and wellness apps due to insufficient proof of efficiency. Since health is a private matter, data security concerns also abound.
Poor UX design and lack of technical skills
Patients find navigating healthtech apps difficult due to poor design or, sometimes, even finding relevant solutions for their needs. This is especially true for an aged population where a majority is less technologically-abled.
Below, we delve deeper into the trends that are shaping the future of healthcare UX/UI.
Healthcare UX/UI Design Trends
2023 and beyond will all be about Healthcare UX design trends that will shape the future of health tech design.
Website Design
Indeed, a dynamic and responsive website design is a crucial UX/UI healthcare design trend to create compelling patient experiences.
User-centric healthcare website UX is meant to offer meaningful patient experiences with beautiful, easy-to-navigate designs that delight users. Effective healthcare website design incorporates design principles that create robust, user-friendly experiences.
Let's look at healthcare website design and implementation strategies that improve user experience on healthcare websites.
Improve search: Highly simplistic, uncalibrated search systems, at times, return irrelevant information to the patients. When looking for crucial self-diagnostic information or healthcare products and services like remote consultations, having an AI-powered cognitive search engine that is easily visible, allows filter and sort functionality, and categorizes search results into groups is optimal.
Intuitive navigation: An intuitive navigational structure means that users can easily navigate from one page to another and understand how the website is structured based on a comprehensive, consistent, and logical taxonomy.
Deliver actionable insights: Healthcare websites often use jargon that makes sense to only trained healthcare providers (HCPs). A healthcare website design must provide for explanation in a layperson's language of technical, medical words and phrases. For example, if the patient gets blood work done, a good website UX would explain in simple terms what the disease is, what's the next course of action (getting in touch with a healthcare professional), and the purpose of the intended report.
The Americans with Disabilities (ADA) Act compliance: This Act applies a set of rules and regulations to website design. To create minimum accessibility standards for patients with disabilities, website UX must be operable, perceivable, robust, and understandable.
Augment healthcare websites with data visualization: To help patients make sense of complex information, brilliant healthcare website UX shall incorporate visual dashboards that help patients reach their health goals. Iconography, a warm color palette, and short explanatory text can add to the overall understandability, emotion, and meaning of the health tech product, service, or information.
Telemedicine
The COVID-19 pandemic has made telemedicine one of the most upcoming fields in the healthcare space. The physical absence of a doctor may intimidate certain patients, and here's where a positive healthcare UX experience comes into the picture.
Since patients already aren't in the best of health, a seamless video conferencing experience, without any hassle due to usability issues and considering demographics such as language, tech skills, and patient's age, is vital.
Smart health tech in wearables
According to Business Insider, 80% of consumers are willing to wear fitness technology. Healthtech wearables are no longer about just counting steps or monitoring sleep. Instead, vital signs, including blood pressure, heart rate, sleep patterns, blood glucose levels, etc., can now be monitored.
Therefore, developers must focus on improving the simplicity, connectivity, and data-handling capacity of the apps connected to fitness wearables through IoT.
Chatbots in Healthcare
Ever since the emergence of the COVID-19 pandemic, healthcare chatbots have become a significant trend. Such bots have helped patients diagnose simple ailments, monitor symptoms, book appointments, and set reminders to take medications.
In general, patients need to feel like their needs are being met, irrespective of whether they are in front of a doctor.
Chatbots must possess health tech UX capabilities, offering AI-driven conversational skills that understand the context and meaning of the patient's query and provide meaningful engagement. In short, the patient experience must be positively empathetic and seamless.
The Future of Healthtech is Amazing UX!
Yes, indeed. Amazing health tech UX is the future. Healthtech companies must ensure their websites and apps look fantastic, intuitive, and user-friendly, deliver actionable insights and be designed with complete empathy for patients' needs.
Healthtech UX designs must resonate with patients who may be in vulnerable states but unable to handle complex technology.
So, are you ready to create unique UX/UI designs in Healthtech Products? Feel free to schedule a personalized consultation with Smarketers' healthtech experts.