22% of the leading marketers want to prioritize sales expansion and increasing revenue in 2023. The essential characteristic of B2B demand generation is an in-depth analysis of a buyer's journey. 
Contrary to the traditional B2B lead generation strategies, demand generation lets buyers decide before they buy a product. B2B lead generation strategies, on the other hand, are effective in converting leads in their decision stage. However, they don't help much in raising awareness and converting leads over a long sales cycle. Adopting a robust demand generation strategy can help B2B marketers find their target audience, trigger their interest and convert them into long-term brand loyalists.
Why should you choose demand gen strategies for your B2B marketing campaign?
As the name suggests, demand generation aims to generate demand for a brand's products/services using a careful mix of trending marketing tools like SEO, social media advertising, blogging/vlogging, etc. Demand gen focuses on building and expanding brand awareness by creating interest and excitement for your products.
B2B Demand generation can offer remarkable benefits by helping you get noticed in the right circles. When used correctly, demand gen gets you high-quality leads and a higher ROI. So, B2B marketers must stay updated on emerging demand generation trends to amplify the efficiency of their marketing efforts.
What are the key demand generation trends for 2023?
This section will explore the top demand-generation marketing trends in 2023.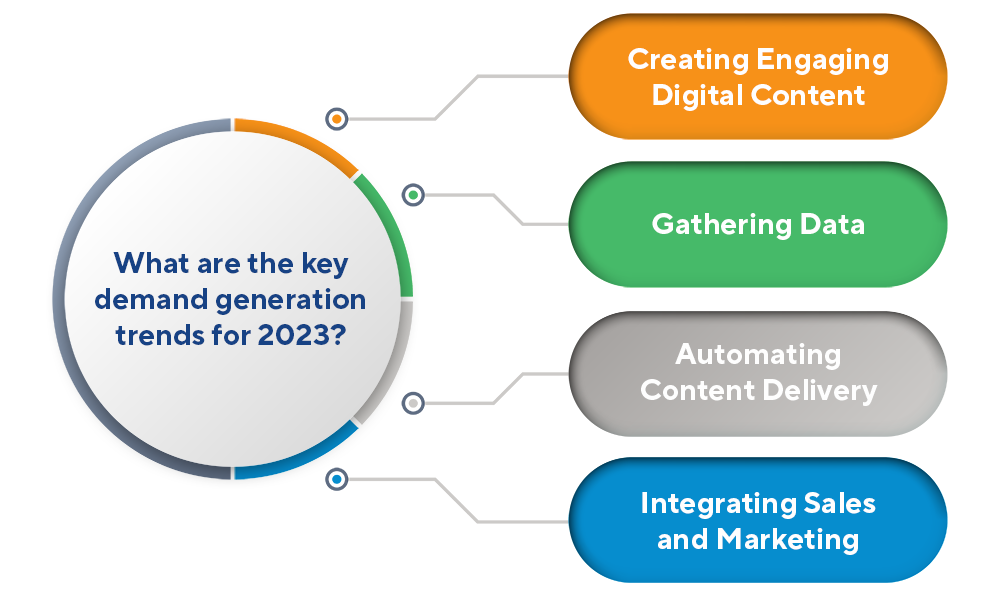 1. Creating engaging digital content
Digitally produced content has become a crucial component in B2B marketing. High-quality digital content is the founding pillar that makes demand-generation campaigns successful.
Marketers use engaging content to enlighten buyers about a brand's products, what separates their products from other alternatives, and the possible solutions these buyers can avail. To capture the attention of different buyers, one needs to master the art of curating captivating content that perfectly fits every stage of a buyer's journey. The pandemic has revealed how important digital content is in B2B marketing. Relevant and accessible content is what one needs to address buyers' needs, demonstrate industry knowledge and secure a brand's image.
Here are the three most important goals marketers can accomplish with high-performing content:
Creating brand awareness
Educating target audiences
Building credibility
B2B demand generation ensures marketers find more efficient ways to generate content.
2. Gathering data
Marketers rely heavily on gathering data to create relevant content that speaks to their audience's needs and offers appropriate solutions. Thus, demand-generation marketing trends in 2023 will focus on collecting and evaluating data.
Marketers gain access to intent data through third-party vendors. Nevertheless, privacy regulations can majorly affect the quality and accessibility of intent data. Hence, it's best to use better alternatives such as Google's Privacy Sandbox, identity mapping software, and first-party cookies instead of the data available through third-party vendors. 
3. Automating content delivery
Technology provides users with a personalized experience. Automation technology ensures that buyers can access the relevant data without much difficulty. Demand generation strategies allow marketers to identify their audience's persona as they are driven by accurate data.
Automation technology is the need of the hour in sales and marketing because every buyer matters. Marketers can pitch for any product or service if they can pique buyers' interest. Automation technology can be explored through emails, social media posts, etc. 
4. Integrating sales and marketing
The true success of B2B demand generation depends mainly on customer experience. Automated processes and relevant data are crucial to comprehend and respond to the target buyers' needs. Additionally, creating a user-friendly and consistent message for the buyers while guaranteeing a flawless transition from marketing to sales is equally important.
Buyers go through different stages in their journey. Maintaining a long-term relationship with the buyer even after they purchase from you is a constructive approach because it promotes customer retention and loyalty. Sales and marketing can unite through CRMs or data analytics software and create seamless experiences for customers so that they can swiftly move from the awareness stage to the decision-making stage and beyond. 
Unlike lead generation strategies, effective demand generation strategies focus on the potential buyers who will most likely convert. It is futile to waste valuable marketing resources on those who do not and may never be interested in buying a particular product or service. This is precisely why locating your target customers and finding your niche market are crucial for your business to grow by leaps and bounds.
How are demand generation and ABM similar?
Demand generation and account-based marketing are similar in their approaches. Let us find what a quintessential demand generation agency and an ABM agency bring to the table:
1. Both adopt building strong customer relationships as one of their most prominent long-term marketing strategies.
2. Both aim to drive growth and spend marketing dollars sensibly through a strategic and data-informed approach to their campaigns.
Thus, defining the buyers' pain points, mapping their journeys, creating tailored content, and tracking accounts that engage and transcend the different sales funnel stages are some of the most vital features of competent demand-generation campaigns.
Steps for building an effective demand generation strategy
Now, to follow the core trends in B2B demand generation, marketers must understand the fundamental steps for building a good demand generation strategy:

1. Building awareness
Brand building, a lasting strategy for raising brand awareness, is necessary to ensure a consistent and regular flow of valuable leads. Temporarily capturing a potential buyer's attention is not enough. Marketers must find innovative ways to establish lasting relationships with their buyers and offer relevant solutions when they face challenges.
To increase customer credibility, businesses must rely on authentic customer reviews. Loyal and happy customers will always get back with their brief product summaries, which can inspire other potential buyers to buy a product or a service.
2. Developing a powerful content strategy
A content strategy that extends helpful insights at every step of the buyer's journey will help you cement a good relationship with your user base.
Developing personalized content is one of the best ways to cater to the demands of a high-value lead. Content that offers segment-specific information, answers to anticipated questions, and calls-to-action to guide buyers is highly effective for demand-generation campaigns.
3. Nurturing potential leads
Demand generation campaigns must include a solid lead-nurturing strategy for various sales funnel stages. Before selling a product, marketers must consider a buyer's attitude, needs, and concerns. Marketing teams must unite with sales and collaborate to deliver their message to customers through relevant content. To make this work, one needs to closely monitor lead feedback and keep track of the stages that involve greater engagement.
4. Incorporating account-based marketing (ABM)
An ABM strategy helps businesses fast-track their high-value leads. This strategy can be implemented by carefully selecting accounts and nurturing them through customized support, guidance, and engagement.
Conclusion
As incorporating lead generation strategies in businesses is not easy anymore, companies can increase their revenues through reliable demand generation strategies and build strategic content and brand awareness for their prospective high-quality clients.
Identifying an organization's ideal decision-makers and strategists can be challenging for demand-generation campaigns. However, the most prominent demand generation trends for 2023 can change the modern-day marketing narrative and bring remarkable changes in future marketing programs.
If you are struggling with making your demand-gen strategies work, book a free consultation with an expert Smarketer today!
The Smarketers is an ITSMA awarded ABM agency and we can help you ace your demand-generation campaigns. Reach out to our experts to know how we can help you elevate your growth marketing efforts.