According to the Social Media Marketing Industry Report 2016, a significant 89% of all marketers indicated that their social media marketing strategy efforts have generated more exposure for their businesses. Increasing traffic was one of the major benefits, with 75% reporting positive results.
First, let's delve into what social media is and is not:
Social media marketing is more than just creating social accounts and posting updates once in a while.

It is not merely a tool to share company or product or service-related updates.

And you definitely can not derive business value from social media by gathering as many "likes" or "followers" as possible.



Is social media really important? And if it is, what makes it so?
Social media is one of, if not the most effective tool we have in engaging with our audience, who can be a wide mix of prospects, cold leads, hot leads, customers, returning customers, ex-customers, future customers, etc.
For any business, a social media marketing strategy defines how your organization will utilize social media to engage with a targeted audience.
An effective strategy will allow you to build personal connections with future employees, customers, brands to partner with, and so on, by answering their questions, addressing their concerns, and in so many other ways.
Social media marketing itself is a catch-all term for various sites that offer different kinds of value.
The most prominent social media platforms today are:
Instagram

: is a social site designed to let people share images with others.

Twitter

: allows you to share short messages and updates with others.

Facebook

: can be used to update messages, images, videos, put up ads, run campaigns, etc.
LinkedIn

: is more like a virtual network of corporate people, and helps you establish yourself as a thought leader.

Google+

: lets you share messages and posts to gain traction from your audience.

Flickr

: allows you to share your collection of pictures, so it's more or less like your online portfolio.
Why exactly do
businesses need social media marketing?
Other Businesses, including your competitors (gasp!), are actively involved on Social Media platforms
91% of brands
are using more than one social media platform!
You don't want to be falling behind the competition, do you? Because it's much harder to play catch up than it is to get in the game as early as possible.
First movers have a tremendous advantage with social media because they don't have as much competition initially.
Not engaging actively on social media also could result in you losing most of your potential customers because your competitors have a chance to get to them first.
Your Customers are on Social Media Too.
Using social media effectively to engage with current customers will ensure that you're able to resolve their concerns, as well as reward them for loyalty, thereby ensuring that they're in for the long haul.
What makes platforms like Instagram and Twitter so cool is the personal interaction you can have with your customer base — you can read their comments, status updates, and tweets to get insights into their daily lives (a great way to tweak your marketing strategy as well).
It also allows you to "humanize" your brand, ultimately fostering deep and meaningful relationships with your prospects and customers.
Understanding that the virtual world is where many people hold conversations, and joining the conversation will help you understand your audience better and enable you to influence their buying decisions.
Ensuring Brand Recall
According to a survey, most marketers are using social media to develop loyal fans (68%) and gain marketplace intelligence (66%).
When you 'follow' and 'respond,' you get updated about what is being said on the web.
Your timely responses will ensure that your customers have a positive image of your brand.
Here's an example of our favorite cookie, Oreo.
Oreo was the brand with the highest increase of 'buzz' in 2013. And today, it stands as one of the most popular brands when it comes to brand presence.
Look at the increase in Oreo's Instagram followers from 2013 through the year 2016:
In 2013…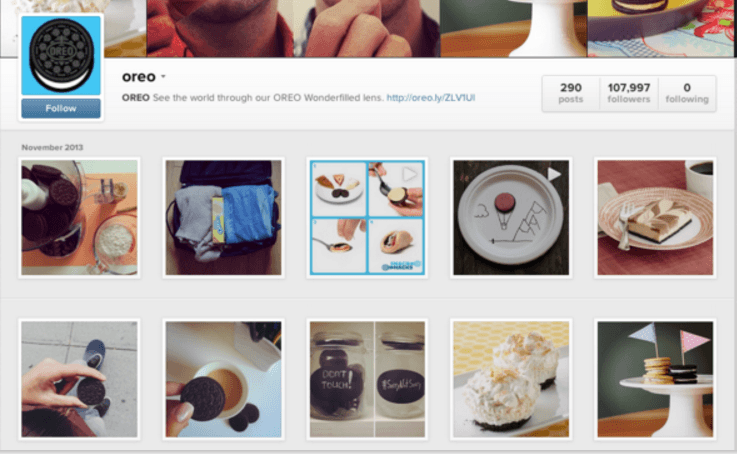 In 2016…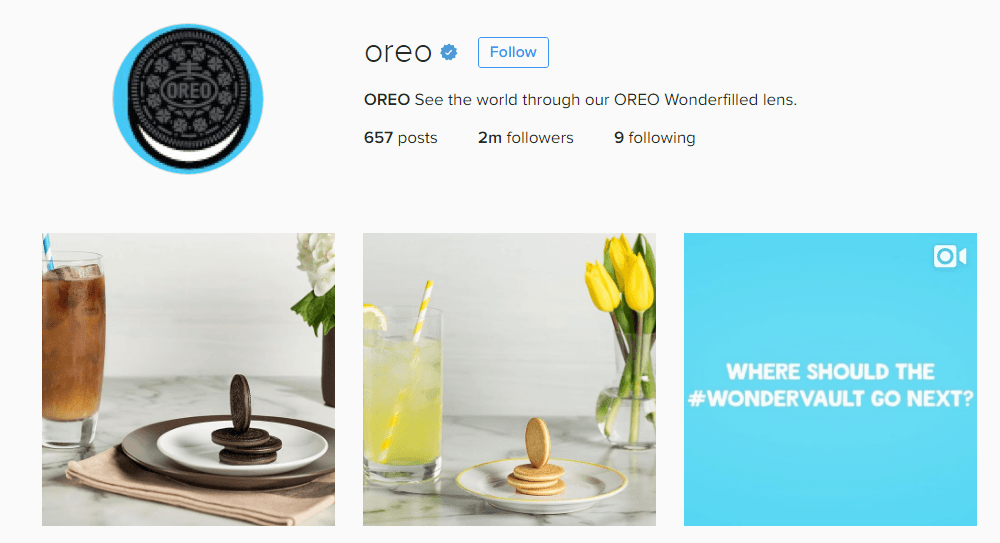 Arranging a Twitter chat to celebrate a new product launch, creating and sharing pop-culture polls for your audience to weigh in on, or getting your geek on while you A/B split testing Facebook ads— these are all activities that can help in building brand awareness, boost website traffic and ultimately lead to loyal consumers.
Many traditional marketing tactics have the same goals, but unlike them, these tasks are actually fun besides also drive real value for your organization.
Twitter is the hub for various brands to interact with their audience in addition to interacting with other brands. Take a look at this funny banter between Amazon IN and Zomato IN:
Amazon India had launched a campaign #AurDikhao.
Amazon India put out a funny tweet commenting on the number of times Zomato has changed its logo;

And this is what Zomato had to say: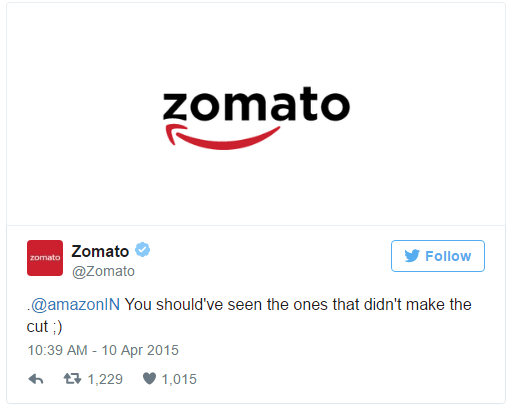 Amazon India took it a bit further in this friendly battle to give a fitting reply: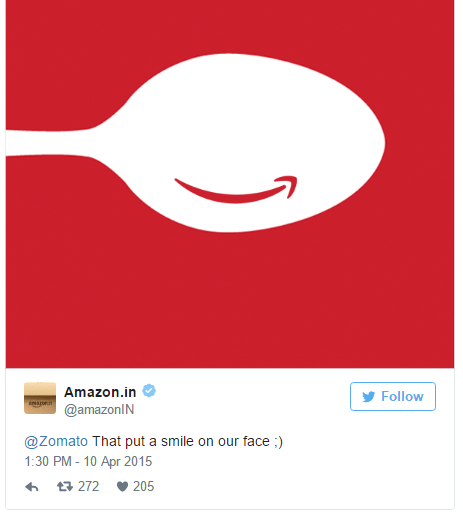 Other official Twitter pages contributed to this hilarious conversation, while UrbanLadder and FlatChat just added the cherry on top: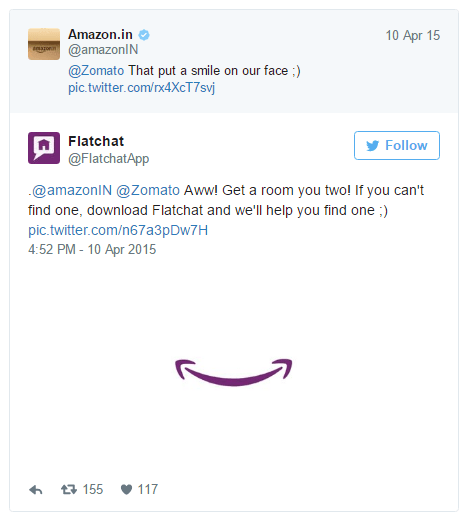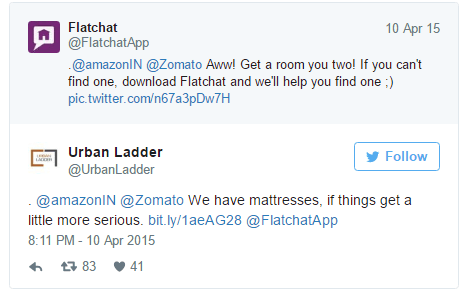 This witty banter made you smile, didn't it?
Did we make you at least a little bit eager to start out with social media marketing strategy already? So without much further ado, let's dig in.
Here's a step-by-step breakdown to get started:
Before you begin exploring the opportunities of social media, it is important to identify and document your buyer personas.
Buyer personas are abstract representations of your ideal customers.
Focus on 4-5 kinds (or more based on your business type) of people that represent the majority of your consumers.
Begin by comprehensively listing down the key demographics of the audience you're trying to reach out to – gender, location, age, income, interests, occupation, hobbies, etc.
Consider the possible challenges they face, and what problems you are trying to solve for them.
Identify what channels these Buyer Personas spend time on
Most businesses create social profiles on every popular network without adequate research and knowledge about which platform will bring the most return.
Use the information from your buyer personas to determine which platforms would work best for your target audience. This will ensure that both your time and efforts are headed in the right direction.
When your customers are using a particular social network, that is where you should be— rather than on every social media platform there is.
Suppose your prospects or consumers tell you that they spend 30% of their online time on Facebook and 10% on Twitter, you know which secondary and primary social networks you should focus on.
Create personalized and useful posts for each channel for maximum Engagement
To match the expectations of your customer, educational and fresh content is key.
Commit to creating quality content on every channel that you focus on.
You can share your best blog posts, ebooks, audio podcasts, videos, SlideShare presentations, etc. on relevant channels.
If the content is truly informational and helpful, people are more likely to share it with their own networks, effectively extending your reach.
It's not only important to share quality content, but it's equally important to be regular or consistent.
Creating and curating content on a regular basis will ensure that your followers stick with you.
Understand what interests your audience and craft content that will be of value to them. Being regular with content sharing will also help improve search engine visibility and build credibility in the business community.
You don't always have to create content either – effectively recycling popular posts (for example: converting a blog post into an infographic) can also help you be consistent.
For instance, a Twitter poll about your latest service or product launch, quizzes, and surveys can work wonders for customer engagement.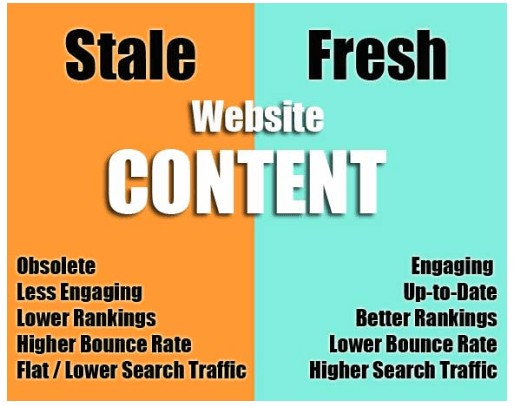 Find appropriate tools to track and analyze how to campaign or a specific piece of content is performing.
Observe your posts to see what people are engaging with– original content, trending posts, current affairs-related posts, etc.
Here are some examples of tools that can be used to measure your objectives:
Hootsuite

: It offers advanced analytics and reporting which will help you mold your content strategy, and find out who's sharing and responding to your content.

Facebook Insights

: This tool shares insights into your content and Facebook audience.

Google Analytics

: Helps you see who's engaging with and viewing your web pages.
By quantifying your progress, you can clearly recognize the problems early and adjust your course accordingly.
Make sure you measure your analytics against your objectives to ascertain you're on the right path.
Allow Room for Flexibility and Improvement
Social media does not start yielding results overnight. It takes time to establish a follower base, make an impact as an influencer, and begin seeing results.
With time, you'll be able to upgrade your social media recipe, personas, content, etc. depending on the data you're collecting.
Leveraging insights into what resonates best with your consumers and supports your objectives, will allow you to tweak your social media marketing strategy to produce effective results.
Check for the number of visits to your site from various social media channels, the total number of followers/likes/fans, engagement levels, etc.
As you see a pattern as to what works and what doesn't, you can begin setting new goals, and measure your progress- which will help you generate consistently incredible results! Follow basic steps and you're good to go.
> Re-work your content strategy depending upon your analysis.
> Update your objectives as you keep meeting them.
> Use feedback and analytics to guide you through updates.
> Adjust your strategy as a continual and recurring process.
According to Paton, 80% of businesses now maintain a dedicated team for social media optimization!
Social media is here to stay.
In order to make social media work for your business, you need to approach social media strategically and seriously.
Whether your business objectives are to increase exposure to your brand or sales, engage consumers, increase customer experience, etc. – social media can work wonders for you.
Do you want help crafting an effective social media marketing strategy for your business? Sign up for a free marketing review, so we can get you started!